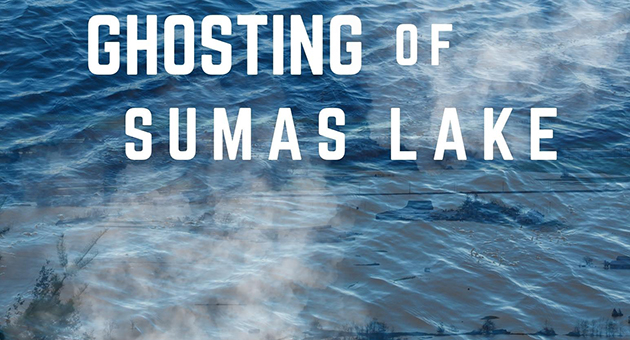 In addition to the innovative UFV Theatre production Ghosting of Sumas Lake, UFV's School of Creative Arts presents a visual arts installation of the same name, with concept and direction by Dr. Michelle La Flamme.
The Ghosting of Sumas Lake exhibition will be on view Nov 16-Dec 7, 2022.
Ghosting of Sumas Lake is an installation in the S'eliyemetaxwtexw Art Gallery in building B, room B136, at the UFV Abbotsford campus, that accompanies the UFV Theatre fall season show of the same name. The installation documents the impact of the November 2021 flooding of the Sumas Prairie region. It will contain an immersive audio/visual element, a guest book for your reflections, and an overview of the archival data that was researched to support the Fall performance, Ghosting of Sumas Lake, opening on December 1, 2022.
Join us for the opening of the installation on November 16 from 4-7pm. After this, the S'eliyemetaxwtexw Art Gallery will be open Mon-Fri from 12-5pm until December 7, 2022, for your perusal. Reserve your spot: https://www.eventbrite.com/e/ghosting-of-sumas-lake-tickets-463763468017
Credits
Research by Kai Pollock
Concept and direction by Michelle La Flamme
Video sounds and visuals by Arty Urdabayev and Ramina Akhmetova