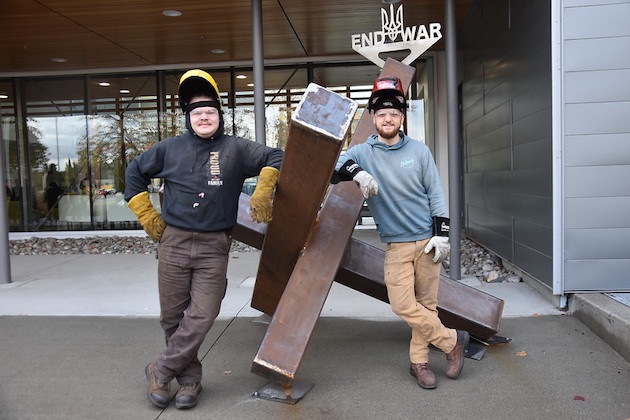 The war being waged by Russia against Ukraine hits a little too close to home for Maciej Kaczor, a program technician in the Faculty of Applied and Technical Studies at the University of the Fraser Valley, who is originally from Poland.
"The whole thing weighs heavily on me. I have friends from Ukraine, and they are now fighting to save their country," he says.
Kaczor's colleague, welding instructor Matt Olafson, felt bad for his friend and it got him thinking about ways that they could help the university express a message of peace and solidarity with the beleaguered Ukrainian people.
"I like to engage in what I call 'industrial mischief' — all in aid of good causes," says Olafson.
Give a welder a communications challenge and they will express it in metalwork.
So Olafson and Kaczor worked together to craft a symbol of peace: a 'hedgehog' mounted on top of a map of Ukraine, with the words End War and a Ukrainian symbol mounted on top.
This hedgehog is no little rodent, although it is inspired by the animal version's ability to protect itself with protruding spikes. Hedgehogs formed with steel are defensive devices used during wartime to disrupt invading tanks and prevent them from advancing down streets.
"The idea is to deny mobility to the enemy while defending your turf," says Kaczor.
Olafson and Kaczor placed their version of a hedgehog, with its message of peace, on the UFV grounds at its Chilliwack campus, near the boundary of Vedder Park so that the general public could see it. Then they got ambitious.
What about making a bigger version of the peace hedgehog, but this time making it a learning opportunity for students?
They challenged a couple of beginner-level students in the Welding Foundation program to create their own peace hedgehog. And received permission to place it in a prominent spot at a main entrance to the Chilliwack campus.
"The guys jumped all over the opportunity," says Ed Williams, instructor for the foundation program. "They bought into the idea of doing something inspired by a social conscience."
"Quite often what beginning welding students produce is repetitive and ends up in the scrap bin because it is just for practice," explains Kaczor. "So this was a special experience for them."
Students Ian Lees and Josh McKenzie produced the larger version of the hedgehog, and are proud to see it displayed on campus.
"It was a massive learning experience that was not just a by-the-book assignment," says McKenzie. "There were a lot of challenges we encountered that we didn't think about until we got into it."
"It was one of our first projects and an introduction to what we'll be doing in the field," says Lees. "It was a difficult project technically, but we are happy that we get to make a statement that this war is wrong."
Seeing the idea through from concept to placement involved working with UFV Facilities Management and Materials Handling to find a spot for the metal sculpture and placement, and liaising with UFV administration to secure permission to do so.
"It was a learning experience for us instructors too," noted Olafson, who along with Kaczor is also a UFV trades alumnus. "We learned about what it is and is not possible to achieve on campus, and the value of cooperating with other departments."