UFV is BC's first institution to achieve Age-Friendly University status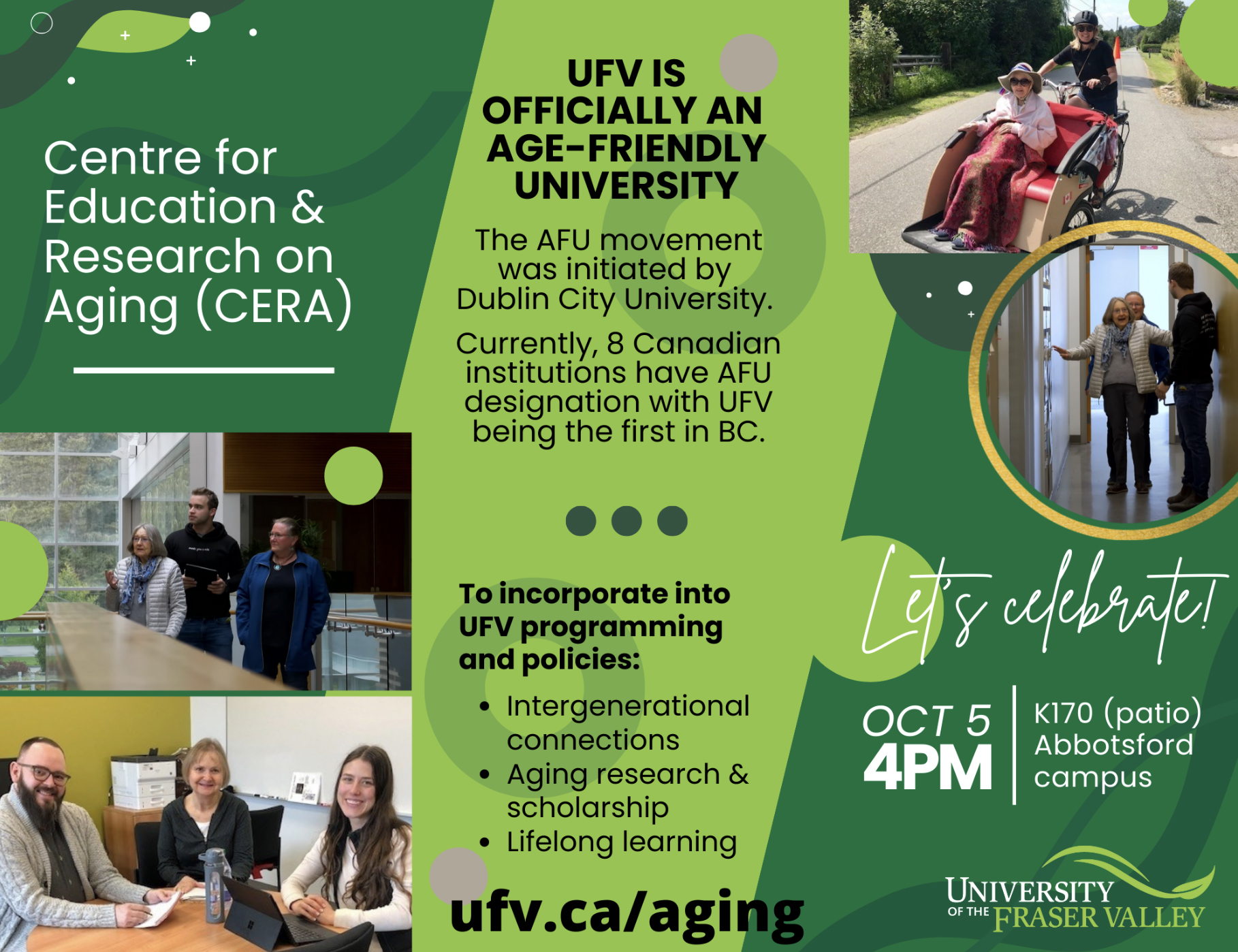 On October 5, UFV celebrates its designation as B.C's only institution to achieve Age-Friendly University status with a gathering on the K Building patio at 4pm.
The achievement is no surprise to Bachelor of Arts bookworm Kathleen (Brown) Paddington.
Earn a degree and become a teacher. That was always Paddington's goal as a student at UBC in the late 1960s. 
The plan seemed airtight and on schedule, until Paddington spontaneously decided to take a year off school to travel the world with her then-boyfriend. That year off became two, which then became three…and so on to the point that the dream just slipped away.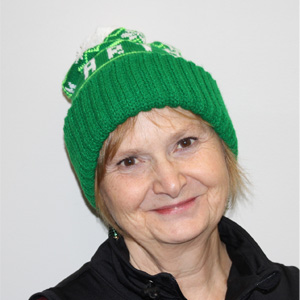 The intention was always to return to school, but marriage soon came, followed by a new career in the commercial printing business, then a divorce and eventually, a new marriage. In other words, life happened.
Even with a fulfilling and accomplished life, Paddington still felt a void.
"It was always a regret that I never completed my bachelor's," says Paddington, now 71. "Being widowed six years ago and now semi-retired, I have the time and the ability to complete that goal."
In the fall of 2019, at age 68, Paddington resumed her academic journey. But this time, it was at UFV, and instead of majoring in education, she studies sociology and anthropology. Over the past three years, she has made friends who are more than 50 years her junior, worked as a student researcher, even attended social functions like the Kickback event.
"It's been fantastic," says Paddington, who takes at least two courses a semester. "The young students are just awesome; they've been really accepting."
Creating a diverse and inclusive learning environment for mature students like Paddington has long been a priority for UFV as outlined in the university's Integrated Strategic Plan. In addition to UFV's strong reputation and the Abbotsford campus' proximity to her home in Maple Ridge, she chose to attend UFV because it offers free tuition for students 65 and older — a rarity in post-secondary institutions. Equally as important, UFV also honoured Paddington's UBC credits earned all those decades ago.
In June 2022, UFV's Centre Education and Research on Aging (CERA) submitted a comprehensive report after completing a campus-wide audit of UFV's age-friendly initiatives to Dublin City University (DCU), with the goal of achieving Age-Friendly University (AFU) status. 
In August, DCU announced that UFV had been granted AFU status. There are currently only eight other universities across Canada with AFU status, and UFV is the first university in British Columbia to receive this prestigious status.
"We have known for quite a long time that the population is ageing and there is now a disproportionate number of people over 65," says Dr. Shelley Canning, the director for CERA, noting that the new AFU status comes with an increased commitment and responsibility.
"Receiving the AFU status shines a light on the work that we have been doing and what needs to be done in order to support this ageing demographic and integrate them within UFV."
Being an Age-Friendly University goes far beyond increasing older student enrolment. It means considering physical accessibility when building additions and conducting renovations on campus. It means ensuring inclusivity by providing meaningful opportunities for older students to be active in the core activities of the university, including educational and research programs. It means supporting older students as they pursue second careers or lifelong educational interests.
It also means spreading intergenerational awareness among the younger students and broader community, helping to combat ageism by ensuring older students are involved, respected and heard.
"There is an unfair stigma that somebody who is old is disabled and somehow not relatable," says Canning, who has conducted several research projects involving creative social and learning opportunities between older and younger generations. "Kathleen is such a good example of someone who is breaking those stereotypes. She's writing the same papers, writing the same exams and working towards a degree successfully."
Paddington has one more semester before reaching that ultimate goal of a Bachelor of Arts degree. She is near the end of an academic road that started somewhere else, went on a long pause, and resumed in a new setting, with a new generation and with a unique set of differences and challenges. 
She admits initially worrying about fitting in with other students and struggling at times with new technology – but what student doesn't have these issues? In the first few months, she enjoyed being on the Abbotsford campus with the smaller classes and neatly manicured lawns. Then the pandemic threw a wrench in her renewed educational journey.
"The pandemic, especially in the beginning, was the same for everybody…it was difficult," remembers Paddington. "The workload felt a bit heavier because how can you show participation except by doing assignments when you're not there in person? No one can see that."
Not surprisingly, Paddington has also participated as a student researcher with CERA. She played an important role in CERA's recent age-friendly audit by interviewing stakeholders, compiling financial data, researching other age-friendly initiatives at other universities, and, of course, writing her own testimonial as a mature student.
One stat she learned during the process that resonated with her: 29 percent of UFV students do not come directly from high school. Whether they are five years removed, or 50 years like Paddington, it is never too late to further your education. Or in Paddington's case, finish it.
She has no plans to start a new career after graduating. Nor was returning to school primarily a method to deal with grief after Barry, her husband of 40 years, passed away from dementia in 2016.
"I just thought, 'well, this is a worthwhile project' that to me shows a completion of a lifelong goal," she says. "To say that I've done it and to come away with a renewed appreciation of lifelong learning…is priceless to me."