The Keeping in Touch section of UFV's Skookum magazine features brief updates from a variety of alumni.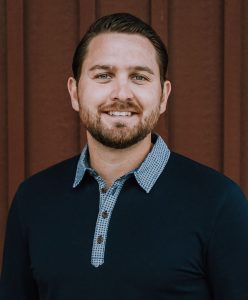 Derek Epp (BSW '15), whose Xwélmexw name is Weli'leq, is the elected Chief of the Tzeachten First Nation, part of the Ch'iyàqtel Tribe. He is a proud descendant of the Wealick family. 
During his studies at UFV he pursued an overseas practicum at an Aboriginal Child Protection Agency in Melbourne, Australia, where he learned about similarities between issues faced by 
the Stó:lō people and the Indigenous people of Australia. 
After returning home, he decided to use his education to serve his community by working with Xyólheméylh (Fraser Valley Aboriginal Child and Family Services Society). 
"I look forward to making our members, our ancestors and future generations proud by progressing Tzeachten 
through the community's vision and ensuring to continue to build a healthy community through culture and developing social services." 
Derek is also leading the launch of the new Tzeachten FC soccer club. 
Mark Filiatrault (BBA '11) started his professional life working as a Certified Public Accountant (CPA) for a public practice firm for several years and subsequently as a controller for a local produce business.

"I was exposed to a wide variety of businesses and industries and always had an interest in starting my own business." 
He began talking to a long-time friend who has a background in the waste industry and was also looking to make a career change. 
They decided to start Mountain View Disposal, their own waste management company, offering garbage, recycling, and organics services. 
He now works part-time as an accountant while also operating the new business. 
"Although my days are very busy, I really enjoy the variety of work and the challenges in establishing a new business. Within the same day, you can find me doing a variety of things, from auditing financial statements to making sales calls and hopping in one of our trucks to dispose of customers' waste. 
"We pride ourselves in developing strong, local relationships while offering unrestrictive contracts. We are very committed to being an environmentally sustainable company and are working diligently to partner with other local businesses to make sure that the waste we dispose of is processed in the most environmentally friendly way possible."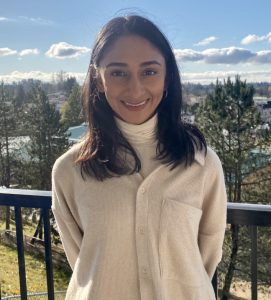 Rasleen Hans (nee Uppal) (BKin '17) is a senior occupational health and safety advisor for BC Municipal Safety Association (BCMSA), a non-profit organization committed to improving worker health and safety in all industries throughout the province. 
"I am able to do meaningful work to support local government in creating healthier and safer workplaces by reducing injuries and safety-related financial costs. I get to collaborate with many industry professionals like WSBC and industry health and safety experts. I love that every day is different, and I am always learning new skills. 
"There were two courses that stood out to me in my last year. One was a course on professional experience where I got to go out into the field and see the type of work a kinesiology graduate could do. The second was about examining the work environment, equipment design, and ergonomic assessments in the workplace. I really enjoyed these courses and decided to pursue further education in occupational health and safety management."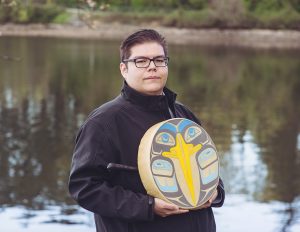 Rep'rep'skan Morris Prosser (BA '17) majored in sociology and English and is a policy analyst with the BC Public Service. "I currently work to implement the Together for Wildlife Strategy. My focus is working collaboratively with First Nations to co-develop pathways to shared-decision making between First Nations and the Province. 
"I always knew that I wanted to contribute to the expansion of my St'át'imc people's sovereignty and the recognition of Indigenous Title and Rights. I've always been on that pathway and the work that I am doing currently is part of that. 
The words of my ancestors are always present in my mind and I look to walk in this world through the lens of what they said in the Declaration of the Lillooet Tribe. 
"I love that I am contributing to the reconciliation efforts of the province and to broader reconciliation between Indigenous peoples and Canadian society. I also enjoy the collaborative nature of my work. 
"The staff and space at UFV Indigenous Student Centre helped me a lot to get to where I am now. The supportive and cultural environment allowed me to learn the value of my own culture and perspective as a St'át'imc man and instilled the confidence to bring that forward. The mentors I had at UFV were also extremely important. Professors and leaders like Wenona Hall, Katherine Watson, James Hutchinson, Shirley Hardman, Darren Blakeborough and others, all provided advice and the leeway to explore how Indigenous issues and perspectives could be applied to the everyday world."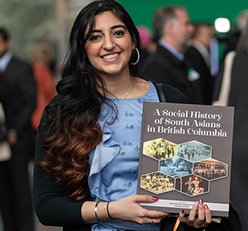 Rishma Johal (Cert Visual Arts '15) had already completed her BA and MA before attending UFV, but was interested in adding to her skill set. Taking the extended studies certificate in Visual Arts helped her acquire the skills for working in media as a reporter for a major South Asian network. While at UFV, she worked as a research assistant at the South Asian Studies Institute. She also acted in The Land Beyond the Waves, a play about the Komagata Maru.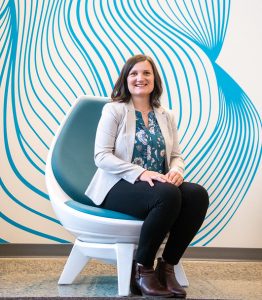 Dr. Judy Larsen (BSc '08) of UFV's Upgrading and University Preparation department has always taken the atypical route when it came to teaching mathematics and mathematics education courses. 
Guided by principles of the Building Thinking Classrooms framework, her classes are known to be a little loud, messy, and full of students out of their seats and standing at whiteboards immersed in discussion and engagement. Collaboration is required, creativity is encouraged, and problem-solving is inevitable. It's this ability to be flexible, inventive, and nimble that has made her one of UFV's most effective and engaging professors. Two years after earning the D2L Innovation Award in Teaching and Learning, she has been named the 2022 UFV Teaching Excellence award winner.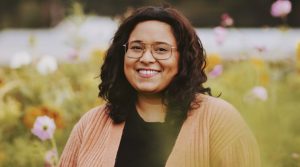 When shannon paladsingh (BFA '21) reclaimed her experiences of racism through philosophy and political science research essays, she never expected the ordeal to transform into an award-winning, and nationally recognized spoken word poem. Performed for her capstone Bachelor of Fine Arts project, her spoken word poem oh, thank goodness won her a national award. She was selected as the British Columbia winner for the BMO 1st Art! competition, which celebrates the creativity of art school students from over 100 post-secondary institutions across Canada. 
Since her graduation in 2021, shannon has been focusing on her work in anti-racism and graphic design. On March 21, the International Day for the Elimination of Racial Discrimination, the School of Social Work held a screening of Vinay Giridhar's Emergence: Out of the Shadows. shannon spoke as a panelist on her experience as a queer and non-binary person with an Indo-Caribbean background. She continues to challenge institutional and systemic oppression, while building her own non-profit organization for queer and trans Indigenous, Black, and people of colour. 
She hopes to use the skills she learned during her time at UFV for the betterment of marginalized communities and lands in Stó:lō Téméxw, where she humbly lives. 
FOUR
LAWYERS
AT
RDM
LLP
IN
ABBOTSFORD
ARE
UFV
ALUMNI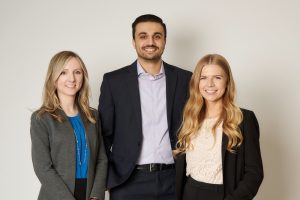 There is no shortage of UFV alumni at RDM Lawyers LLP in Abbotsford. 
Marta Dean (BA '04) majored in psychology and completed an extended minor in criminology at UFV, then went on to earn a Bachelor of Laws degree from the University of Alberta in 2009. She's now a lawyer focusing primarily on wills and estates. 
"I like that my career allows me to help people, often when they're going through a difficult time in their life," she says. 
Stephanie Driedger (BSc '17) majored in biology and minored in chemistry at UFV. She currently has a general solicitor's practice at which includes corporate law, real estate, and wills and estate planning.
"I love the interpersonal nature of my career and having the opportunity to assist people with important decisions in their lives. I also am constantly learning, which keeps my everyday work life interesting."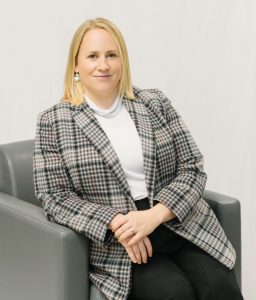 Stephanie Talbot (BA '05) majored in English and completed a French minor after graduating. She currently practises family law. 
"I enjoy practising in this area of law because it gives me the opportunity to assist people through very difficult life transitions, and there is never a dull moment." 
Ishpreet Rai (BA Crim '15, Hons) completed law school at the University of Alberta in 2018 and practises real estate and corporate/ commercial law. 
"One of the things I enjoy most about my practice is that I am able to add value to my clients' lives by assisting them through their real estate transactions, buying or selling a business, or otherwise helping them start up or expand their business."
ALL IN THE ALUMNI FAMILY AT CASCADE PHYSIOTHERAPY AND CHIROPRACTIC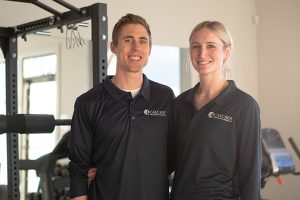 There's a UFV vibe at one of Chilliwack's newest health clinics. The husband-and-wife team of Chris and Sarah Les are both UFV kinesiology alumni. Following graduation, Chris (BKin '12) pursued his Master of Physical Therapy at UBC, graduating in 2015, and Sarah (BKin '15) pursued her Doctor of Chiropractic at Palmer College of Chiropractic in San Jose, graduating in 2018. 
Sarah played for the UFV women's basketball team for five years, making multiple national tournament appearances, and eventually placing third. It was during her time as an athlete that Sarah developed an interest in health, fitness, and rehab. 
Sarah always enjoyed living an active, healthy, lifestyle and loves to help others to do the same. 
Since graduating, they have worked towards their goal of creating a multidisciplinary health-care clinic prioritizing client-centred care in Chilliwack. They are also proud new parents of a beautiful baby girl.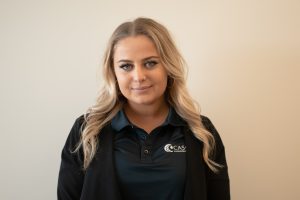 Their multidisciplinary team includes physiotherapy, chiropractic, kinesiology and massage therapy. And they hired another UFV Kinesiology alumna, Katy Bergen (BKin '18), as their kinesiologist. 
Katy honed in her kinesiology and athletic therapy skills through placements with the Cascades volleyball team, and sends thanks to former Cascade athletic therapist Tyne Campbell, who was a tremendous mentor. 
CELEBRATING

THE

NEWEST

FUTURE

STUDENTS

TRIO

—

ALL

ALUMNI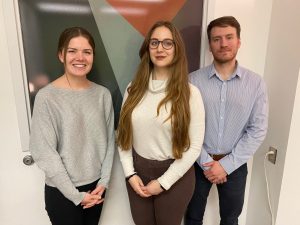 UFV is known as a welcoming place, and the Future Students office does a lot to reinforce that reputation. 
So it's only fitting that the staff who go out to meet future students at post-secondary education fairs, high school visits, and campus tours are UFV alumni themselves, bringing an insider's perspective to their duties. 
UFV has recently welcomed three UFV alumni as permanent staff in the Future Students office. This office is the first point 
of contact for many students, focusing on showcasing what UFV has to offer and how students can get started on their post-secondary journey. Student recruiters and the Future Students office help potential students reach the starting line, navigate obstacles and get on the path to their university education. 
The office is now staffed by (left to right) Chelan Scott (BA '21), Lauren Dallow (BA Crim '18), and Brayden Tielmann (BBA '18). 
Lauren Dallow is the Future Students office coordinator. She has always been passionate about education and has a desire to improve access to all prospective students. 
"This position provides me with the opportunity to advocate for and help students," she says. Having been a student at UFV herself, she understands the barriers and processes that can be overwhelming to new students as they begin their journey, no matter what age they are when they start. 
Student recruiter Chelan Scott is a believer in education who approached her educational journey with an open mind. It's her job to ensure students know their options. 
"I encourage students to be open to opportunities they may not have planned for," says Chelan, noting that she went into the classroom with a specific goal, but allowed herself time to think, pivot, and find a career she loves helping the next generation. 
Student recruiter Brayden Tielmann kicked off his UFV career when he was still a student in the Bachelor of Business Administration program. 
"I did a work-study with the Alumni Relations department, which gave me the desire to pursue a career in post-secondary," he says. 
This article originally appeared in the 2022 edition of UFV's Skookum magazine. See the PDF version of Skookum here.