Science alumnus Chris Pascoe leads innovative cellular research on origins of asthma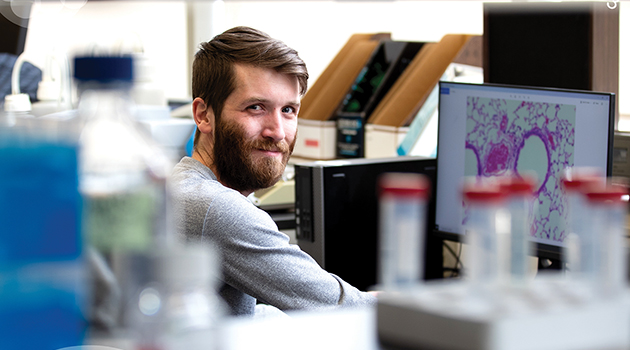 Dr. Christopher Pascoe likens life as a research scientist to that of an explorer. 
"You stand on the edge of what we know and peer out into the fog of the unknown." 
Now a tenure-track assistant professor, Pascoe (BSc '10) chose to follow his curiosity over the edge and into the field of asthma research. 
At age 34, Pascoe heads his own research lab in the department of physiology and pathophysiology at the University of Manitoba. 
His journey started as an undergraduate science student at UFV. 
The same medical condition that prevented him from pursuing his first career choice of veterinary medicine also led to his current career. 
"I initially wanted to be a vet but my allergies and asthma caught up with me and I realized I'd be in a room all day with a bunch of dogs and cats that shed and there'd be so much dander I'd have to buy stock in antihistamines." 
Then he entered the pre-med stream at UFV. But he had a second "aha" moment. 
"It was a number of courses I took at UFV that really started to switch my thinking," he recalls. "Medical school and some other science learning has a heavy emphasis on rote memorization of a bunch of facts and then regurgitating it on the test. But then some of the classes I took were much more focused on problem-based learning. 
"I really enjoyed the type of learning where you're taught critical thinking, you're taught ideas, then asked to apply those ideas to an experiment. 
"My first introduction to that would have been in first-year calculus class taught by Susan Milner. We were taught all the concepts, but then a large part of our mark was based on a project. We were given a general statement and invited to design something that fit the criteria. It was open-ended. There was no right or wrong answer, as long as you defended your work. For example, you could design a water-holding tank. It was all about the process and you had to show the work you put in to get the correct answer. That was kind of my first involvement with experiential learning." 
A molecular biology class taught by Dr. Terry Starr further spurred him on to get more into research. 
"It was a fantastic class. We learned all the molecular biology needed to master the techniques that I now use almost daily in my lab. If you wanted to show that air pollution was associated with inflammation you would design a set of experiments and detail your rationale." 
He then took a number of courses from Dr. Dave Harper in kinesiology that further developed his research skills, all helping to reinforce his decision to continue in research at the master's level.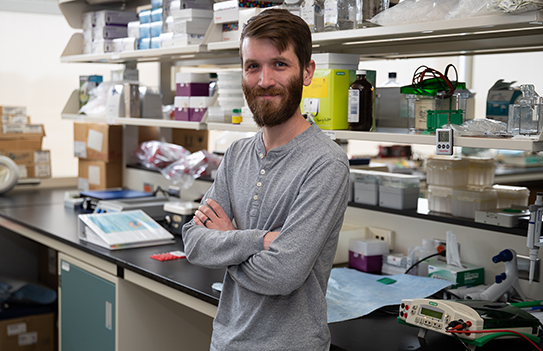 "I reached out to the University of BC near the end of my undergrad to see if I could get on as a summer research student. That's something I do with my own research lab too, bring in undergrads to give them that experience. It's a great way to find out if you enjoy research, which is not for everyone." 
His research that summer was focused on asthma, the same condition that had prevented him from becoming a veterinarian. 
"I got on at a research lab and my primary supervisor was winding down his research and didn't have many grad students so he had a lot of time for me. 
It was a great opportunity to learn and be mentored. I ended up being mentored by two brilliant scientists, Drs. Peter Paré and Chun Seow." 
His next step was a master's degree in the experimental medicine program at UBC. After eight months he transferred directly into the PhD program. 
His research was focused on structural determinants of airway and lung function in asthma. He and his colleagues found changes that occur in development at the cellular level and are at the root of differences in disease susceptibility between individuals. 
He really started to garner attention during his doctoral studies, according to colleague Dr. Andrew Halayko, who noticed the work Pascoe was doing and invited the young scientist to do a post-doctoral fellowship with him at the University of Manitoba. 
"Even as a PhD student he exhibited an outstanding scientific record, with widely recognized discoveries related to structural determinants of airway and lung function in asthma. His work was among the first to decipher the structural determinants of lung dysfunction in asthma — this has contributed to fundamental understanding of what is different in the lungs of individuals who develop asthma," noted Halayko. 
"These advances have led him to realize that changes occurring in development are at the root of person-to-person differences in disease susceptibility and severity. They led him to establish a unique independent niche in the lung pathobiology research community as a recognized leader on developmental origins of lung disease, in particular asthma in children." 
In 2017 Pascoe successfully applied for the very prestigious Canadian Institute of Health Research (CIHR) Banting Fellowship — only 25 of which are given out in Canada annually. He was the first person to bring one to the University of Manitoba. This enabled him to establish his own research program, focusing on the impact of maternal diabetes on the lung health of infants, particularly when there is also maternal use of artificial sweeteners.
"There is now a lot of evidence that shows that if you're exposed to maternal diabetes while you are in the womb, you have a greater risk of developing asthma," Pascoe notes.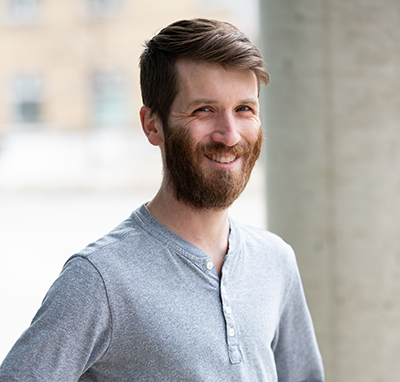 The Pascoe Lab's research also focuses on the role of lipid mediators in asthma, postulating that these molecules might be the reason why some patients do not respond to asthma therapies. 
"We're very interested in the cells of the smooth muscles that line the airways in our lungs. In somebody with asthma, these are the cells that cause airway narrowing, and the difficulty breathing and wheezing. So we are interested in smooth muscle cell physiology and the different lipid mediators that regulate contraction and function." 
Pascoe's research uses cell culture models, based on cells extracted from people, as well as lab animals such as mice for modeling exposure to variables during pregnancy. They have also recently been funded to analyze amniotic fluid for signatures related to cigarette smoke exposure during pregnancy. 
In addition to the influence of maternal diabetes on infant lung health, the lab also looks at air pollution, nicotine from vaping, and other environmental factors. 
Pascoe is also active in the field of bioinformatics, a way of evaluating massive datasets of biological markers to gain insight into networks and biological pathways linked to disease and the response to therapies. 
His colleague Andrew Halayko is amazed at Pascoe's career trajectory for such a young scientist. 
"My unofficial accounting indicates he is nearing close to $1 million in research funding already. A basis for his success is that he is a builder and sought-after collaborator. He has built new research models in mice to study asthma. 
He has established new ways to examine the lipids in the lung. He has established new way to analyze large data sets to uncover mechanisms and contributors to asthma pathogenesis that we had not known before." 
Pascoe lives in Winnipeg with his wife Amanda (nee Hargreaves) also a UFV alumna (BA '13), and their two young sons.
CHRIS PASCOE'S EDUCATIONAL JOURNEY
2006 — WJ Mouat Secondary graduation
2010 — UFV Bachelor of Science grad; Master of Science student at UBC
2011 — Transferred to PhD program — UBC Centre for Heart Lung Innovation
2015 — Post-doctoral Fellow — Children's Hospital Research Institute of Manitoba
2019 — Assistant Professor, University of Manitoba

CHRIS PASCOE'S ADVICE FOR SCIENCE UNDERGRADS
Find research opportunities in a lab as early as possible. Don't wait for graduation
Make use of the science centre and other ways of mixing with your peers
Keep your options open; you don't yet know all the places your education could take you
Explore co-operative education through Centre for Experiential and Career Education
Build your network while still at university; reach out to those who do what you want to do
Get your nose out of the books sometimes and experience science in action
Do the types of activities that will help you get to the next level: network, volunteer, ask your professors about research
This article originally appeared in the 2022 edition of UFV's Skookum magazine. See the PDF version of Skookum here.