New UFV political science professor details gun culture and the NRA in debut book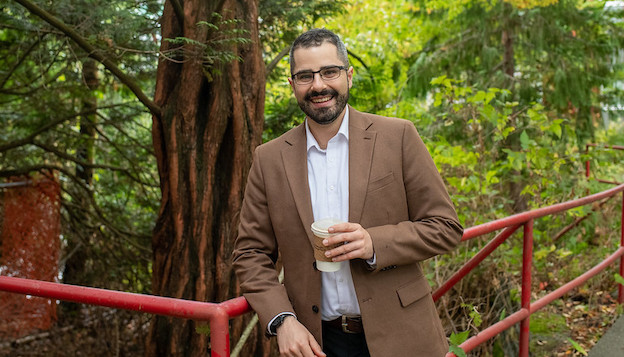 For a self-described anxious kid growing up in Ottawa, Dr. Noah S. Schwartz dreaded the active shooter drills in elementary school. The teacher would lock the door and turn off the lights; the children would duck and cover. Silence ensued in the classroom. The fear would persist long after the drill ended.
This was the post-Columbine era in the early 2000s, when school shootings became a reality and a frequent occurrence in schools across the United States. Schwartz may have grown up in Canada, but the active shooter drills were a constant reminder that he was not exempt from mass violence.
"My perspective on guns was very negative growing up," says Schwartz, an assistant professor of political science who started at UFV this fall. "I came from a long lineage of pacifists. I wasn't even allowed to play with toy guns."
Two decades later, understanding guns in North America — both from a policy and social impact perspective — has been the focus of his PhD research. It is also the subject of his debut book, On Target: Gun Culture, Storytelling, and the NRA, published by the University of Toronto Press. There will be a book release event on UFV's Abbotsford campus on Thursday, November 3, from 4-6 pm in room A225.
In 2019, Schwartz spent three months in the United States shadowing the organization at the centre of the gun debate, the highly controversial National Rifle Association (NRA), to understand its influence and the people who religiously support it. He attended their events and training sessions, interacting with leaders and members.
"Part of the mission of the project was to understand why the NRA is so powerful," says Schwartz. "But to answer that, you have to answer that personal question of: why are people so attached to firearms?"
His curiosity and passion for politics and history began at an early age. Of course there was a general political buzz that came from living in the capital city of Canada. But the Schwartz family would also have spirited political discussions at the dinner table and gather around the TV to watch the Rick Mercer Report. 
Schwartz received a bachelor's degree in global politics from Carleton University before broadening his political horizons for his master's to study defence, development and diplomacy at Durham University in the United Kingdom. For his PhD back at Carleton, Schwartz came up with the idea to explore the parallels between the NRA culture and storytelling after randomly stumbling upon a trend.
"I was on the NRA website after seeing another gun violence event on the news and I found out that they had a museum," he says. "And me being someone who loves history and loves politics, I was curious, wondering 'why the heck does the NRA have a museum?' 
"I started noticing that key figures in the gun debate often draw on the past to articulate their side of the story, to create their arguments and their narratives."
Schwartz spent over a year and a half researching the NRA and its reach. He immersed himself in gun culture, acquiring his Canadian firearms licence and completing the required safety courses. He read NRA literature — both historic and current — and watched thousands of hours of YouTube content. In the summer of 2019, he took his research down south.
"There is only so much that I could understand sitting at my desk in Ottawa," Schwartz says. "I felt the need to go on the ground to talk to people, to do interviews and find out how the NRA spreads its messages to people."
Schwartz attended the NRA's annual convention in Indianapolis, which drew over 75,000 people. He spoke to long-time members, met lobbyists, and interviewed NRA executives. He watched speeches from then-President Donald Trump, and then-Vice President Mike Pence. He participated in firearm safety classes and shot handguns and rifles, including the infamous AR-15, at gun ranges in Virginia. He conducted in-depth analysis of NRA literature and advertising content. 
"Storytelling is key to all political debates," observes Schwartz. "On gun control issues, they do this by telling stories like the good guy with a gun, the courageous individuals who have stopped mass shootings or crimes using firearms. Or they tell stories about what guns mean to people personally."
The project was not a Michael Moore-esque exposé, Schwartz was transparent with his subjects and approached his research with an open mind, setting aside his biases. His project was approved by an ethics committee and every subject he interviewed signed a consent form.
"It was important for me to engage genuinely with the other side," he says. "There's room for ambiguity. There's room for colour in a formally black-and-white world. I found that was a really important personal transformation for me, that sense of understanding."
Three years after the research, Schwartz is embarking on a new journey on the west coast of Canada. He joined UFV over the summer after a teaching position at Concordia University. In the first months teaching political science at UFV, he has enjoyed the opportunity to connect with a diverse student body including Indigenous and South Asian students. He is awestruck by the area's beauty, even if he is still getting used to the rain.
Schwartz believes his book is especially relevant today. Just months after his research concluded, the global pandemic disrupted our way of living. With a tense social justice climate, divisiveness and an uprising in crime and gun violence, Schwartz hopes the book can spark discussion and encourage empathy, education and understanding.
"We all have our beliefs, our own media that we go to, our own social media bubble," he says. "If anything, I want the book to encourage people to go past their beliefs and engage with people you disagree with to find common ground. And, to just listen to each other's stories."