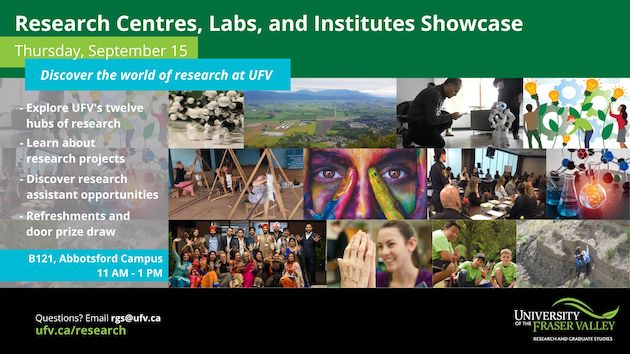 This is what research looks like at UFV: pairing children with the elderly as dance partners, exploring cellular agriculture and indoor farming, collecting and preserving South Asian settlers' stories, and an innovative hub that fuels out-of-the-box thinking about health and social issues.
Research here is different. It is impactful. It is curious and creative. It is fun. It is socially and environmentally conscious. 
UFV has 12 different research centres, institutes, and labs ranging from the Centre for Education and Research on Ageing (CERA) to the Food and Agriculture Institute (FAI). They consist of both full-time researchers and student research assistants. Research projects are conducted 365 days a year.
"We offer undergraduate research opportunities across a wide range of disciplines here that are unheard of in most other institutions," says Leona Oakman, communications and events coordinator for UFV Research and Graduate Studies.
The folks from the UFV Research Office want students, faculty, and the greater Fraser Valley community to discover the world of research at UFV. People will get that chance with the Research Centres, Labs, and Institutes Showcase, on Thurs, Sept 15 in B121 on the Abbotsford campus from 11 am to 1 pm. View the full list of the research centres, institutes and labs.
Students  will learn about the unique opportunities that research presents as well as the hands-on learning experience beyond the classroom — which can often open new doors or fast-track their path to a post-university career.
"Dr. Garry Fehr, our associate vice-president, often talks about how the level of opportunity for undergraduate research being comparable to what students would have access to at a graduate level at other universities," says Elicia Tournier, Research Office assistant. "We are able to give them that early stepping stone into research and maybe help them find a passion that they didn't know they had."
"We just want people to know that these opportunities are out there and it's very easy to get involved," added Oakman. "And, that we will be there to support them."
The organizers point to examples like Alicia Dyck, who entered UFV as a self-described "shy student" but discovered her passion for global equality through a practicum with a lawyers group (Advocates Without Borders in South Sudan) and a research project on gender-equity in Sierra Leone. 
"UFV is so unique in the fact that students get to do student research assistantships and conduct academic research as an undergrad," says Dyck, who graduated with a degree in Global Development Studies (GDS) last spring and is planning on attending law school. "It's a small community but when you make good connections, they really stick."
Building unexpected connections is key. The UFV Research Centres, Labs, and Institutes Showcase is the first of its kind, inspired by Student Research Day, held each March, where over 100 students display and present their research projects, and get to network with fellow researchers and faculty members. 
This September's showcase will enable the different research centres, labs, and institutes to highlight the diversity and breadth of their work to the UFV community and beyond, while promoting the many research opportunities available to students and faculty on campus.
"Being a research assistant taught me important communication skills and helped me develop professionally as an individual," says Ishpreet Anand, an international student from Chandigarh, India (now an alumnus), who was a research assistant for the UFV South Asian Studies Institute's (SASI) Komagata Maru 100th anniversary project.
"The projects had no direct correlation with my degree, but through these opportunities, you get exposed to different things, discover your passion, and hone your skills. Employers want you to have diverse work experiences to expand your perspectives."