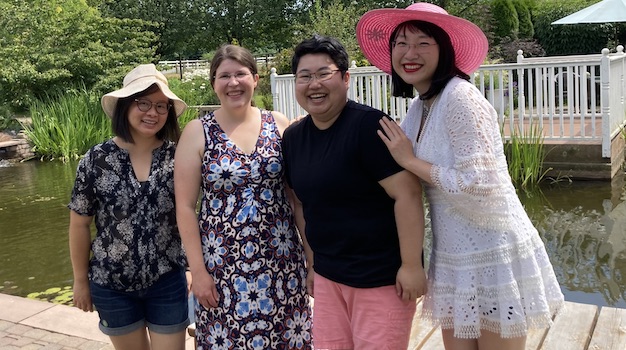 For Sumin Fang, life as a faculty member at UFV got off to a very lonely start in the fall of 2020.
Hired as an assistant professor of communication, all her classes were online due to the pandemic.
She lived in Vancouver and had no physical connection to the Fraser Valley. She had met a few of her colleagues online but not in person.
When 2021 rolled around, classes started to be offered in a hybrid format so she moved to a condo in Abbotsford.
But she still hadn't met many colleagues in person.
"I felt very isolated," she recalls. "It was stressful and lonely. I did not have many opportunities to get to know my colleagues, and I didn't know where to go or what to do to find hobbies or interests for my leisure time in the Abbotsford area."
A solo walk around Abbotsford's Mill Lake changed all that.
"I saw two people walking whose faces looked familiar, but I only knew them from Zoom meetings," Fang says. She had met them via a new employee launch program held online in summer 2020.
Those faces belonged to Amy Tang and Jessica Price, two new faculty members from English and Political Science, respectively.
Fang got brave, struck up a conversation, and new, in-person friendships were born.
The three went for dim sum in Langley soon after, and talked about the need for a network to encourage connection and combat isolation.
"I thought, 'where can I meet interesting people who are also new to UFV and are motivated to explore?'" Fang explains.
She looked up the email addresses of others who also took part in the new employee launch in 2020 and invited them to form a loose network. They started a WhatsApp chat group that quickly grew to 19 members.
That's the origin story of the UFV Faculty Connection group, formed this spring to offer relatively new faculty a place to share ideas, socialize, and build connections.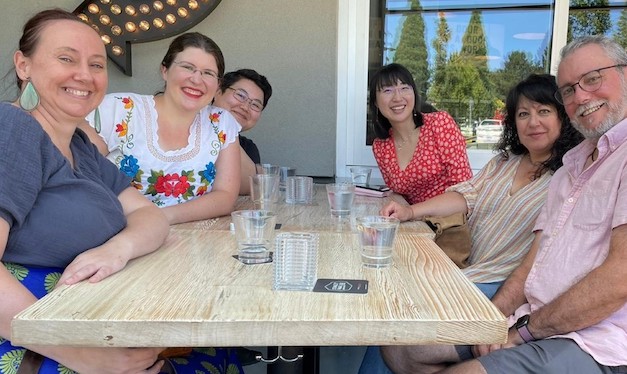 On the fun side, thegroup has held potlucks, celebrated birthdays, and visited a lavender farm. Fang and Tang have taken up badminton together, and made connections with other UFV employees through a love of the sport.
But they also want to support each other as new faculty members, so this spring and summer they held twice weekly writers' group meetings. In each two-hour session they hold a 20-minute discussion at the beginning, where they talk about topics such as manuscript tips, research methods, publishing research and syllabus design. They then mute the meeting for 45 minutes as each participant concentrates on their scholarly writing. Then they reconvene to brainstorm about research again, and cap it off with another 45 minutes of writing. Although they do not communicate during the quiet writing time, it's comforting and motivating to know that colleagues are engaged in their scholarly work at the same time.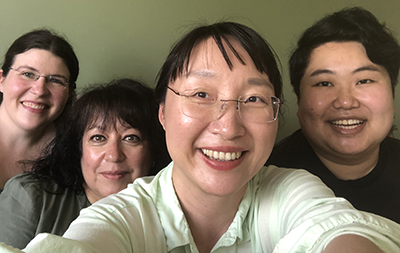 The sessions have been so beneficial that they are working with the Faculty and Staff Association to offer similar sessions to other faculty and staff this fall.
And the social group continues and is open to new members, who do not have to be newly hired employees.
All faculty are welcome to post events, seek research collaborations, ask questions, and help others by sharing their experiences.
"We are excited about building new relationships because of our connections to UFV," says Fang.
If you'd like to join the Faculty Connection group, contact Fang at sumin.fang@ufv.ca