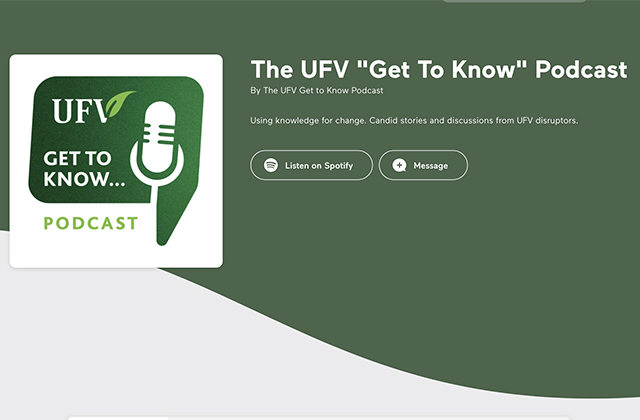 Heading out on a road trip this summer? We have the perfect driving companion for you. And maybe we're a little biased, but UFV has some of the most brilliant and fascinating minds in education. 
The UFV Get to Know podcast digs a little deeper with UFV's expert faculty and staff. You might know our subjects' academic accomplishments or be aware of their research, but we wanted to gain a greater understanding of their career journeys, the origin of their passions, their viewpoints on current events, and just getting to know our guests as people  (we even uncovered their favourite Netflix series and dream careers).
The Get to Know podcast is recorded at the CIVL Radio studio on UFV's Abbotsford campus.
As we take some time off this summer, we wanted to give you some fun and thought provoking listening in case you are on a road trip, bike ride or relaxing by the beach. We hope this podcast helps you get better acquainted with our incredible subjects, and we look forward to interviewing more subject matter experts in the coming months.
Without further ado, here are all the episodes and recaps for Season 1 of the Get to Know podcast!
Episode 1:  Lenore Newman, director of the Food and Agriculture Institute at the University of the Fraser Valley
On the inaugural episode of the UFV Get to Know podcast, Dr. Newman talks about her journey, the future of food, the devastating impact of the floods in the Fraser, and the challenges of growing food on Mars? 
Episode 2: Dr. Satwinder Bains, the director of the South Asian Studies Institute at the UFV and an associate professor in Social Cultural Media Studies
Dr. Bains discusses her career journey, experiencing racism after moving to Canada from India in the 1970s, and her fight towards inclusion, equality and cultural justice for women and people of colour.
Episode 3: Dr. Candy Ho, the first-ever assistant professor of Integrative Career & Capstone Learning at UFV
Dr. Ho explains why she encourages students to apply for jobs even if they don't meet all of the criteria and also provides tips for UFV students or anyone trying to manifest or discover their dream career.
Episode 4: Dr. Michael Gaetz, associate professor in Kinesiology at UFV and brain researcher
Dr. Gaetz discusses his atypical academic journey, the controversial research on CTE (Chronic traumatic encephalopathy) in relation to former NHL enforcers, and mental health research. Oh and chickens. He talks about chickens.