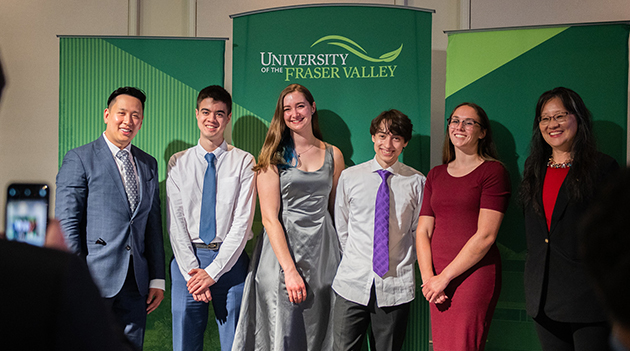 More than 40 student researchers were honoured May 31 at the annual Undergraduate Research Excellence Awards, held in person for the first time since 2019.
Nafeel Arshad and Heather Kelly, both of whom had presented at the microlecture event earlier this year, addressed the audience on behalf of students. Congratulations to all the recipients.
AWARD WINNERS
Community Service Research AwardSarah Thomasen – Child, Youth, and Family Studies
Indigenous Research AwardShelby Davis – Teacher Education
Carlanna Thompson – History.
College of Arts AwardsOlivia Daniel — Anthropology Maegen Sargent — Art History Avitasha Chand — Communications
Daniela Castroparedes Herrera — Criminology & Criminal Justice
Adena Penner — Economics Caroline Zenky — English
Colby Stinson — History
Thomas Wilson — Media and Communication Studies Ian Boese — Philosophy Adam Magalhaes — Political Science
Michelle Grafton — Psychology Brooke Higginbottom — Sociology Mia Davison — Theatre
Faculty of Health Sciences awardsKatrina Frankenberger — Kinesiology Nicole Cusick — Nursing
Faculty of Professional Studies awardsAddy Schnider — Business Trisha Kumar — Business
Chanzo Muema — Computing
Faculty of ScienceHeather Kelly — Biology Bach Nguyen — Chemistry Jennifer Heidt — Environmental Studies
Faculty of Education, Community, and Human DevelopmentLauren Rae Peterson – Teacher Education Sara Hoffman – Social Work and Human Services
Student Research Day awards
Heather Kelly -‐ Biology
Curtis Plug -‐ Chemistry
Jordan McEvoy -‐ Psychology
Jose Toffoli — Physic s& Mechatronics
Jennifer Heidt — Environmental Studies
Lisa Horton — Environmental Studies
Samantha Motola — Psychology
Katrina Frankenberger -‐ Kinesiology
Daylan Pritchard — Biology
Nicole Cusick — Nursing
Leah Hamm ‐- Agriculture
BC Graduate scholarships
Rebecca Edwards (MSW)
Joshua Millar (MSW)
NSERC Undergraduate student research awards
Ziana Kambere, Computer Information Systems; Faculty Researcher: Gabriel Murray
Heather Kelly, Biology; Faculty Researcher: Justin Lee
Ryan Goldbach, Biology; Faculty Researcher: Lucy Lee
Connor Frey, Chemistry; Faculty Researcher: Golfam Ghafourifar
Rachel Sailer, Chemistry; Faculty Researcher: Linus Chiang
Vanessa Brewer, Geography; Faculty Researcher: Olav Lian