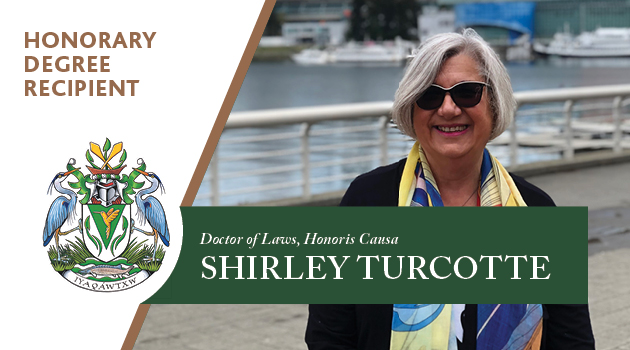 In April, when UFV presented Shirley Turcotte the opportunity to be a UFV honorary degree award recipient, she accepted. But she did so somewhat reluctantly.
It is not that the renowned Métis knowledge-carrier and registered clinical counsellor is not honoured. Or that she has anything against UFV.
Simply put, Turcotte hates attention.
"When I first heard, I stood back and took a deep breath because I really don't like to be in the limelight even though I have a very public job," admits Turcotte, 70. "I'm a complete introvert and I've often turned down awards and engagements, because I'm not entirely comfortable being out there."
Aware of the university's relationship and commitment to the Indigenous community and Reconciliation, Turcotte understood the greater good that could be served by stepping outside of her comfort zone.
"The work that I do is so collective and it involves so many peoples across the Nations, that it would be really an insult not to accept it," says Turcotte, a resident of Vancouver. "I can appreciate that this award is honouring the work that we've done in Indigenous psychotherapy and in attempting to change child welfare and to reshape things in Canada."
Improving the circumstances of Indigenous peoples on a systematic level, as well as providing the community with mental health support and tools, has been Turcotte's work for the past three-plus decades. Her expertise has been recognized throughout Canada, and she has received YWCA British Columbia's Woman of Distinction Award in Health and Education.
Fighting for the well-being of her people is the way she deals with the deep scars left by her horrific childhood.
Turcotte was born in Winnipeg to a Métis father and a mother who was raised in the Russian Mennonite tradition. She and her siblings grew up poor, and for as long as she could remember, their household was always dysfunctional and her memories are harrowing.
"My childhood was one of a lot of terror, homelessness, starvation, hunger, all those things that would inspire you to want to change the world," Turcotte says. "The tragedy of my childhood was that you could clearly see things were really wrong."
The greatest betrayal in her early years came at the hands of her father, who was physically violent with her family and routinely sexually abused Turcotte and her older sister Linda. Confronting and surviving the abuse, incest, and trauma Turcotte experienced as a child was the topic of To a Safer Place a critically acclaimed and controversial documentary released in 1987.
At age 14, Turcotte and some of her younger siblings escaped their toxic home in Winnipeg, entering the foster care system. She overcame the odds and excelled in school, determined to break the cycle of poverty and provide for family members. In the late 1960s, she entered the male-dominated field of engineering, studying at George Brown College in Toronto, and eventually landing at Bell Canada.
"There were no other women there in that field at all at that time, but I really felt it was important to be able to make a man's wages," says Turcotte. "I had a lifetime of starvation and homelessness. I was not going to be poor again."
In her teens, Turcotte battled with mental health issues that derived from her deep-seated trauma. She was diagnosed with post-traumatic stress disorder (PTSD). She had been institutionalized on a few occasions and had attempted suicide multiple times. These experiences informed her desire to change mental health outcomes for Indigenous peoples.
The release of the documentary in 1987 created a public backlash.
"Our family was constantly harassed, stalked, and threatened," says Turcotte, noting the attention forced her to leave her engineering job. "There had never been people openly talking about child sexual abuse, and you certainly didn't show your face in any film before that."
Even before the film project, Turcotte had an interest in understanding the psychological aspect of her experiences. She wondered how much the abuse contributed to her mental health issues. She wondered what role poverty and Indigenous culture played in it. Turcotte wanted to educate herself not only to help herself, but help Indigenous communities with similar struggles that had limited coping tools. But most importantly, she wanted to know if Indigenous-inspired teachings could bring about better health outcomes for survivors of trauma.
In her second career as a Métis knowledge-carrier and registered clinical counsellor, Turcotte created new tools and forms of therapy to help survivors of childhood abuse and complex trauma.
She created a health program called Indigenous Focusing-Oriented Therapy (IFOT), which blends Indigenous traditions of healing with current needs of Indigenous individuals and communities. The program focuses on addressing trauma resulting from a range of causes including the residential school and child welfare systems, to the contemporary aftermath of colonization in Canada.
Turcotte also conceptualized a workshop series called "Indigenous Tools for Living," designed to provide front-line workers with the means to assist people in remote and urban Indigenous communities. During the pandemic, she expanded those tools to the Indigenous community directly, through her YouTube channel.
"I felt it was necessary to put some immediate help out there," she says. "One of the things I did over the last couple of years was to try to make short videos that spoke to particular issues like anxiety, isolation, grief, or other issues."
Even at age 70, Turcotte maintains a passion and energy for building community and facilitating meaningful change. When she wasn't making YouTube videos or mentoring people during the pandemic, she was connecting with Indigenous psychotherapists from various Nations — from Haida-Gwaii to downtown Manhattan — on group Zoom calls every other week, discussing Indigenous methods that might assist their communities.
In the summer months, Turcotte's level of activity goes from 100 to zero. This tradition happens every year.
"I slowly do a road trip all by myself," Turcotte says. "I sleep in my car and take a month to slowly wind my way across the country, stopping to swim in various rivers and lakes."
Before she arrives at her final destination — her cottage in northern Ontario, where she spends two months watching over her grandchildren — she stops at different Indigenous communities and she also visits family.
But more so than catch-up sessions, this is her time to connect with herself and the earth, her life-long refuge. Even when she was at her lowest and most lonely. Even when she was suicidal. Even when she was in Manitoba as a child, trapped and violated by her father. She always had the land to fall back on and centre her.
"The land is always there — the water, the trees, the animals," she says. "I always knew that as a child because I would turn to that. So, I never felt that paralyzing loneliness that survivors talk about because the land would give me peace and comfort."