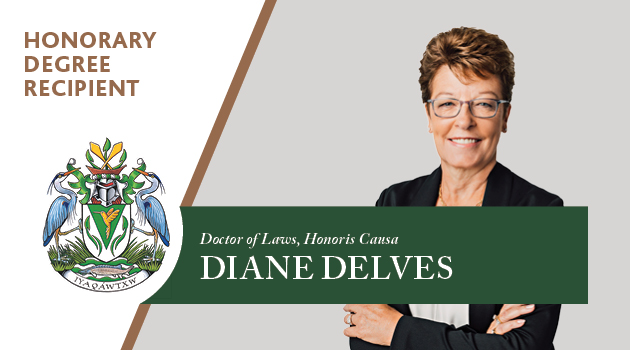 Diane Delves says she wants to slow down, but she can't. Or at least she has no desire to.
Even though she is of retirement age, the prominent Abbotsford-based real estate developer and philanthropist still operates at a similar speed to what she did decades ago. Every morning, Delves wakes up and checks email as soon as she has a cup of coffee in hand. She works on the weekends, on vacation, and on the plane.
However, Delves thinks she has scaled back.
"I don't work such long days anymore," says Delves, who is the President of Quantum Properties Group, before quickly correcting herself. "Well, that's probably not true.
"There's never a shortage of things to do. So, I just keep doing them."
And she's not kidding. Since 2000, Delves and her team at Quantum have been responsible for developing dozens of properties across the Lower Mainland and the Fraser Valley. But recently, she has jumped at the unexpected opportunity to add restaurateur to her growing portfolio.
"We're opening a new bistro this week, which is a new venture for me!" Delves said in mid-May interview. After a restaurant tenant in one of her buildings closed down, she took over the space, partnering with a visionary young entrepreneur from the industry. "He's running the show, but I got to do the fun part like redecorating and redesigning the interior."
Her entrepreneurial spirit, significant and long-term impact on the development of the Fraser Valley and beyond, and support for her community are among the reasons why she will be receiving an honorary degree from the University of the Fraser Valley at its June convocation ceremonies.
"The university is obviously very important in the region where I do business, and I always like to support the communities that we work in," she says. "But UFV is even more special because actually all three of my children went there. As did my daughter-in-law and son-in-law, who met my son and daughter there."
While she lives in the Fraser Valley now, her origins as an entrepreneur began in the vast farmlands that occupied Richmond in the 1960s. As a young child, Delves and her neighbour, who was her best friend, took over a small stake of her friend's mother's garden, harvesting their own vegetables.
"We didn't want to eat vegetables, we actually sold them to neighbours," Delves says proudly. "We'd go door to door, selling potatoes, carrots, and peas. We'd make a little bit of money, and then we'd ride our bikes down to the store and buy junk food. So, that was my first taste of running my own business."
Being in Richmond during that era also exposed her to residential growth and real estate development as new subdivisions of homes started to pop up around them. Delves and her mother would tour these homes for fun before moving into one themselves eventually. Those experiences helped mould Delves' passion for real estate.
Delves spent the first half of her career as an appraiser, even starting her own appraisal business at one point. Her first opportunity to develop property was when she convinced her accountant husband and his partners to hire her to build them an office building. She became friends with the structural engineer on the project and figured they should combine forces to develop properties.
"In 2000, we started Quantum Properties together sort of as a side business," says Delves. "I had my appraisal office, he had his engineering firm and then we worked on Quantum Properties together when we could, doing land deals."
Eventually, Delves wanted to make Quantum Properties a full-time business. As her partner did not, she bought out his stake in 2006. In two decades, her development group has built over 1,300 new homes, including Mahogany at Mill Lake, which is Abbotsford's tallest building.
Quantum was recently ranked 13th in Business in Vancouver's list of Biggest BC Businesses Owned by Women in 2021. She has served on multiple boards including the Abbotsford Airport Authority, Partnerships BC, and the BC Expropriation Compensation Board. Delves currently serves as a Vice Chair at Large for the Urban Development Institute, Pacific Region.
"Diane has paved the way to excel in a field traditionally dominated by men and she is an inspiration," notes UFV Chancellor Andy Sidhu, who supported her nomination.
Possibly more impressive than her impact on the real estate industry in British Columbia has been Delves' generosity and commitment to improving the lives of people. She is a benefactor on behalf of Quantum to charities such as Habitat for Humanity, Canuck Place Children's Hospice, Abbotsford Hospice, and Hawthorne Senior Care Community. Philanthropy, she says, has been an evolution and something she has always taken pleasure in doing — even when she didn't have the means.
"I've always tried to give back through volunteer work, mainly through professional organizations," says Delves. "But it's just a basic philosophy that when you do well, you kind of have a moral obligation to help other people too, so I've been as philanthropic as I can be."
Delves has also been a long-time supporter of UFV. She has sponsored and hosted events and since 2008, funded an annual Women in Trades scholarship at UFV. She is adding a second scholarship this fall.
"I really like to encourage everybody to go into the trades, but for women, it's an opportunity to have a really good paying job," she says. "I mean it really helps the entire economy. We need more women in construction or we can't build the housing that's needed."
As much as she enjoys mentoring the next generation, she is planning on being an example of a successful entrepreneur for years to come. She has witnessed the ebbs and flows of her industry. She's weathered the challenges from overheated markets and downturns. This is a sector she has and will always love.
That is the key message she gives aspiring entrepreneurs or real estate professionals: forget the money, do what gets you up in the morning.
"You know, way back in the day, I remember I met a young man who worked in a factory that made steel wire and many people wouldn't typically find that very interesting," she says. "But he spoke about his job with absolute passion. He took pride in the job he did. So, whatever you choose to do in life, put your heart and soul into it and do it well."
This is why she hasn't been able to slow down. Not yet at least.