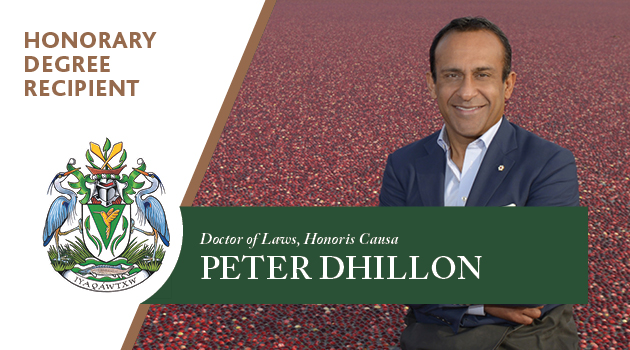 A groundbreaking businessman from humble beginnings whose company now produces billions of pounds of cranberries and employs hundreds across the world, Peter Dhillon is a tireless leader, philanthropist, and cultural advocate.
And as of June 14, he's also the proud recipient of an honorary Doctor of Laws degree from the University of the Fraser Valley.
"Peter Dhillon soars with integrity, is an inspiration for the future generation, and has achieved much success in business," says Anthony von Mandl, visionary wine entrepreneur and himself a UFV honorary degree recipient in 2019. "In my respectful opinion, Mr. Dhillon not only represents the core values of the University of the Fraser Valley, but also the core values of what our nation stands for."
Those values were ingrained by Dhillon's parents Rashpal and Surinder, who slept on a sawdust floor after immigrating from a village in the Punjab region of India, not far from Chandigarh. He cleaned ditches on their first farm — eventually transforming the family cranberry business into a global leader. When asked what he learned from those early days, the answer comes quickly.
"Work hard," he says.
"My dad was a man that worked three jobs at one time. As an immigrant, he wanted to make sure his kids never had to go through what he went through. At the same time, be respectful of the people you work with; I look at our company like a team — we win as a team and we lose as a team. Everybody is important."
As the youngest, first non-American, and first visible minority to serve as chair in the history of Ocean Spray — the world's premier cranberry cooperative with more than $2 billion in annual sales across 90 countries — Dhillon often uses his platform to support others. Appointed to the Bank of Canada's board of directors, he's taken a leadership role in governance for such leading public entities as the B.C. Agricultural Land Reserve, Atomic Energy Canada, the Vancouver 2010 Olympic Games, and the Canada Customs and Revenue Agency, and served on boards for the Vancouver Airport Authority, BC Ferries, the Canada Customs and Revenue Agency, Greater Vancouver Advisory Authority, and many more.
"You get to learn about businesses and meet people and share your experiences with them," Dhillon says of his work with various boards.
"You get to see the success of what you're trying to work towards take shape. You don't do it for the money, because there's very little pay in all of this, but you do give up your time, which is a very valuable commodity. I think as a Canadian and as a British Columbian, we all have a responsibility to make this place where we live better."
A keen advocate for healthy communities through nutrition, sports, and community-building, Dhillon chaired the Vancouver branch of Right To Play and was recognized with the Order of British Columbia in 2009 for supporting a wide variety of critically important areas including health care and research, land management, sport, and education. He has been inducted into the Canadian Agricultural Hall of Fame, received the United States Ellis Island International medal of honour for global business leadership and philanthropy, and was awarded the Queen's Golden Jubilee and Queen's Diamond Jubilee Medals.
Born in Burnaby, Dhillon holds a BA in History from UBC and a law degree from the University of Leeds. As a business leader and CEO of the Richberry Group of Companies, a strong sense of ethics and duty led him to donate millions to causes throughout B.C. and across the country in the last decade alone.
Breaking the colour barrier time and time again, he counts his individual successes as successes for his community. For this reason, he cherishes such recognition as the NRI India Award, Darpan Magazine Extraordinary Achievement Award, Indo-Canada Chamber of Commerce CEO of the Year, and Canada Sikh Centennial Gala Inductee.
His leadership approach is simple: listen to everyone's opinion, show respect, and genuinely understand and appreciate what people do.
"I love jumping on machinery. I can back an 18-wheeler down a narrow road, I can run an excavator, a forklift, a bulldozer. I want the people I work with to know that I know what they do and I appreciate what they do, and that takes more than just saying it."
With that same contagious energy, Dhillon says he's "thrilled" to receive his honorary degree.
"I have so much respect for what UFV is doing, your academics and administrative staff are amazing, some of the best I've seen, and I just think the future is so bright."
And his message for this year's graduates?
"Just because you finish university doesn't mean you've finished learning. We're all students. UFV is releasing you into the world and it's up to you to go out and make the biggest difference, and you will, but always know that your learning isn't over — it's just beginning."
-30-