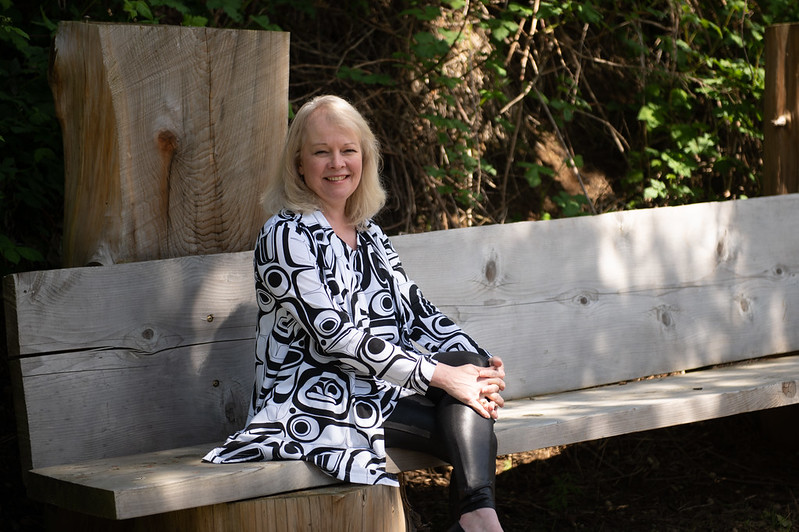 When Carol Dickson started working as Executive Assistant to the Vice Provost in 2012, she had no idea that the new job was going to take her on a journey of transformation.
She was aware that as part of the role she would be working with Shirley Hardman, UFV's Senior Advisor on Indigenous Affairs, but did not know that less than a decade later, she would have immersed herself wholeheartedly into Indigenization on a personal and professional level.
In recognition of her dedication to ensuring that UFV is an authentically welcoming place for Indigenous people, Dickson has received the Staff Excellence award for 2022.
Hardman was among the colleagues who nominated Dickson for the award.
"Carol has worked hard at Indigenizing her attitudes, knowledge, and language. She has also worked hard to serve the Stó:lō communities," Hardman says. "It wasn't part of her formal job to undertake this learning, but she has actively sought out opportunities to learn from the Stó:lō people. The energy that she has put into Indigenizing herself and her worldview is astounding."
Dickson was seconded into the Coordinator of Indigenous Initiatives in 2019. In addition to supporting the initiatives of the Office of Indigenous Affairs, she works with Dr. Eric Davis on projects related to increasing the number of Indigenous faculty and staff at UFV. He also supported her nomination for the Staff Excellence award.
"UFV calls itself Iyaqawtxw — a House of Transformation," notes Davis. "Over the past decade, no employee has transformed themselves as dramatically as Carol Dickson. In the process, she has substantially advanced the institution's transformation, thus better enabling us to fulfill our commitment to Indigenization and realize our vision of Reconciliation and our mission of transforming lives. She has become the most Indigenized non-Indigenous employee at UFV.
"We learn Indigenization — how we build respectful relationships with the Indigenous community, honour and understand Indigenous knowledge and ways of knowing and being, and more — by witnessing examples of good behaviour, of the proper way to get things done, of following protocol — and then by doing it ourselves with the support and guidance of the knowledgeable colleagues we are observing. We learn Indigenization by following the example set by Carol. The transformation that Indigenization requires is fundamentally a transformation of the heart. Which is why, at its core, Indigenization is a matter of experiential education."
Xotwes Jonny Shaw of Cheam First Nation has had many interactions with Dickson as a member of the community who is often invited to campus to drum and otherwise participate in Indigenous-focused community events.
"Kolol (the Halq'eméylem version of her first name), is not Xwelmexw (one of the Stó:lō people) and was not raised in our communities, but she has learned the Stó:lō ways by being with us, watching, and listening," he says. "I believe Kolol should be recognized by the university for all of the service she has provided with and for Indigenous people in S'olh Temexw."
Dickson says she's "honoured and humbled" to receive the Staff Excellence award and has found her new role focusing on Indigenization very rewarding.
And she credits Hardman with helping her understand how important it was to truly embrace and understand Indigenization if she was going to be a productive member of the Indigenization team.
"I was writing a report about an event we had put on and it was very fact-oriented and dry. And I showed it to Shirley — we had not been working together very long — and she said, 'no, that's not what we need.' And I said 'but we did all of these things that I listed. Isn't that good enough?' And she said no, and I realized from her face that I had deeply hurt her feelings, and I did not know why.
"I knew I had messed up and needed to do better. I asked Shirley to teach me. And she did. I keep going back to that moment when I hurt her so deeply and knew I never wanted to do that again to an Indigenous person. I needed to own that responsibility."
Dickson threw herself into learning about protocols, processes, and ceremonies so that she could do a proper job of welcoming Indigenous people to campus.
Her "other related duties" can include zooming to the Cheam First Nation in her red sports car to pick up Siyamiyateliyot Elizabeth Phillips (who received an honorary degree in 2018) for special events and making sure that carver Rocky LaRock had what he needed to feel at home while carving on campus.
"It's things like making campus less intimidating and more welcoming for our Indigenous guests and partners so that they are comfortable and feel valued. I have learned that their connection to the land, to the air and plants, and to their families is very important to them, as is the ability to gather safely. We try to create that same sense of welcome at UFV, and that we treat guests in a good way. We welcome them, we get them something to eat, make sure that their needs are met and that they can find their way around and feel comfortable."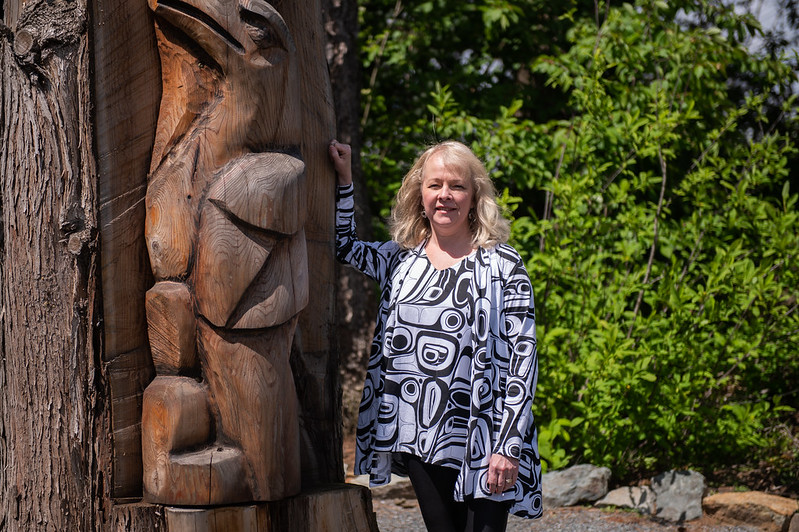 One of her career highlights was flying to Bella Coola on the BC coast for a graduation celebration for a remote program offered in that community by UFV.
"It was a celebration for nine Indigenous students, but it was the first university bachelor's degree program offered fully in the community, and we were invited to participate in the graduation celebration — we even brought grad gowns. Three hundred people from a community of 600 came out to the grad: little kids, Elders, and everyone in between. It was amazing to see how excited and proud they were, and how much of a difference it made to their community for our university to be there."
She has also played a key role in hosting the months-long Witness Blanket exhibit and associated lectures and events in 2017. She has invited many colleagues to stretch themselves to learn more about Indigenization, such as asking them to take a course offered at the time of the exhibit.
"There were many people who took that class because I asked them to, and they were nervous at first, but became true allies by the end. The trust that those people have placed in me, to be willing to take those scary steps – it's a great honour that people are willing to stretch themselves and do this work."
Dickson has been associated with UFV since 2003. She started out by working for the Faculty and Staff Association, and became an assistant to the Dean of Professional Studies in 2007, then moving to the Office of the Vice Provost in 2012, and taking the secondment as Coordinator of Indigenous Initiatives in 2019.