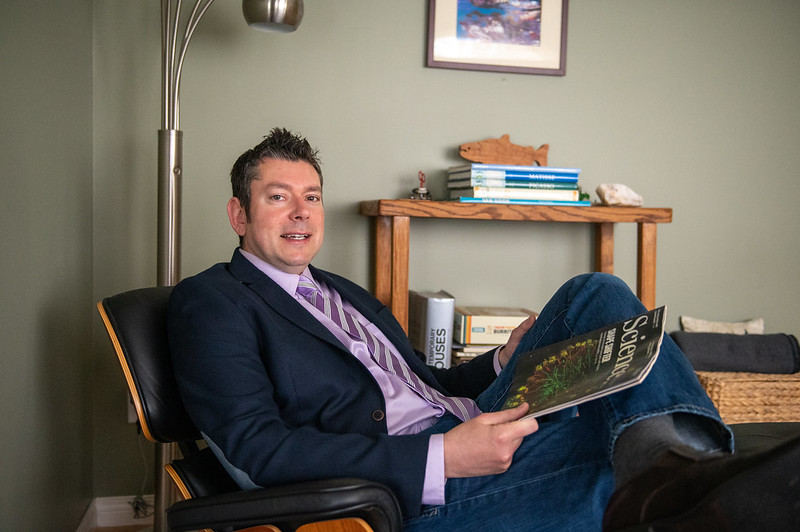 For Dr. James Bedard, the 2022 winner of the Research Excellence award at UFV, a faculty posting in the biology department turned out to be the perfect fit.
His mentor during his undergraduate and graduate years studying microbiology in Manitoba had told him that he'd make a good teaching-focused professor with a minor focus on research.
But he went the big research route first, doing post-doc fellowships at the Genome Research Institute in Ohio and Cincinnati Children's Hospital Medical Center, focusing on molecular genetics.
Bedard got tired of focusing only on research. He wanted to teach as well. Teaching one course part-time confirmed this. Then he took a job at a teaching-focused university in Colorado. Eventually, he felt the pull to return to his home country of Canada and went looking for an academic institution with a mix of teaching and research, and with mountains and wilderness opportunities nearby. UFV fit the bill!
And now 10 years since joining UFV, he's well established as a researcher who also teaches and mentors student researchers.
He brought his interest in genomics with him, along with his connection to the Genomics Education Partnership, which provides him with resources to train students in research on model organism genomes such as the fruit-fly (Drosophila).
"We work with fruit flies. We basically extract all the DNA from the flies and examine the sequences of that DNA. So we look at genes, which make proteins. We look at and compare species and look how these genomes have evolved. Once my students have learned how to do genome annotation, you can apply to any organism with the tools they've learned. You don't have to be excited about fruit flies. You just have to be interested in working with DNA.
"Our students are the researchers, and we send the data back to the Genome Education Partnership and it is original research. What they're doing is novel. No one else has done it before. The students are the key scientists in this work, contributing to the body of science knowledge that this GEP project worldwide is doing."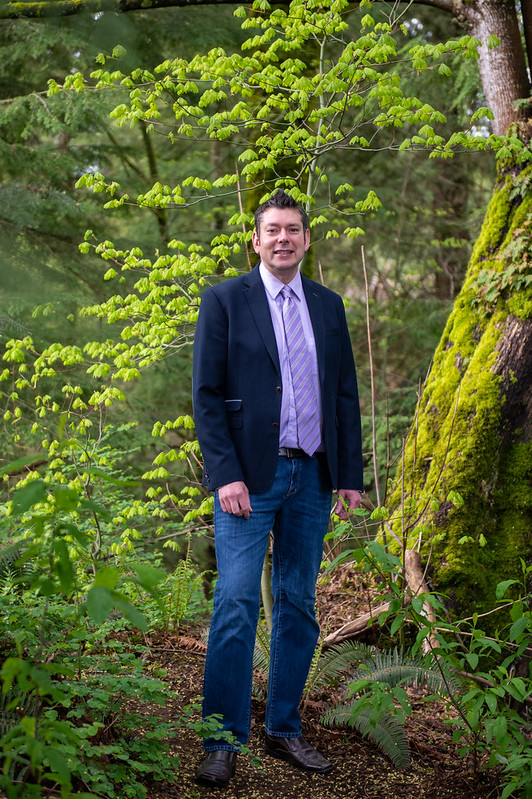 UFV Dean of Science Lucy Lee praises Bedard for finding a way to educate students in genomics research on a small budget with minimal infrastructure.
"By studying and comparing the genomes of the Drosophila species under Dr. Bedard's supervision, our students learn how to interpret unique genomic data. They can then apply that knowledge to human-related issues, be it contributing to studies in human cancer, specific diseases, or genetic counselling. This is a task that could help unravel many mysteries of life. Contributing to the genome annotation of more than 2,000 species of Drosophila contributes to the advancement of genomics in unique ways."
He also does research in partnership with BC Cancer based on topics that his senior students are interested in, often focused on hereditary cancer.
"The projects might focus on genetic counselling, or certain types of cancer, such as Lynch syndrome. We basically tailor it to what the student is excited about. If students have a really creative, interesting type research project that interests them, I'm always willing to work on that."
Lee is proud of the ways that Bedard's work is enhancing UFV's reputation as a research university.
"By partnering with the Genomics Education Partnership and BC Cancer, James is making a name for UFV locally and beyond."
UFV alumna Eryn Braley, now completing a Master of Public Health degree at UBC, praises Bedard as an excellent research supervisor and mentor. In a directed studies project supervised by Bedard, she examined sociodemographic factors associated with cancer genetic testing uptake in BC/Yukon through population-based assessments to identify underserved patient populations.
"I have Dr. Bedard to thank for the exceptional research and educational opportunities I had throughout my BSc at UFV," she notes.
As for Bedard, he's happy that fate and circumstance brought him to UFV.
"If I could go back in time and had known about schools like UFV, I would have considered going to one for my undergraduate years. At a big university you are just sort of sucked into this vortex with big classes. And it wasn't until I was doing bench work for a professor doing research that I got excited about it.
"One of main reasons I am so excited about UFV is that I have the opportunity to help undergraduate students work on smaller projects. And I'm happy that our research office provides or helps us find pockets of grant money to make it happen."