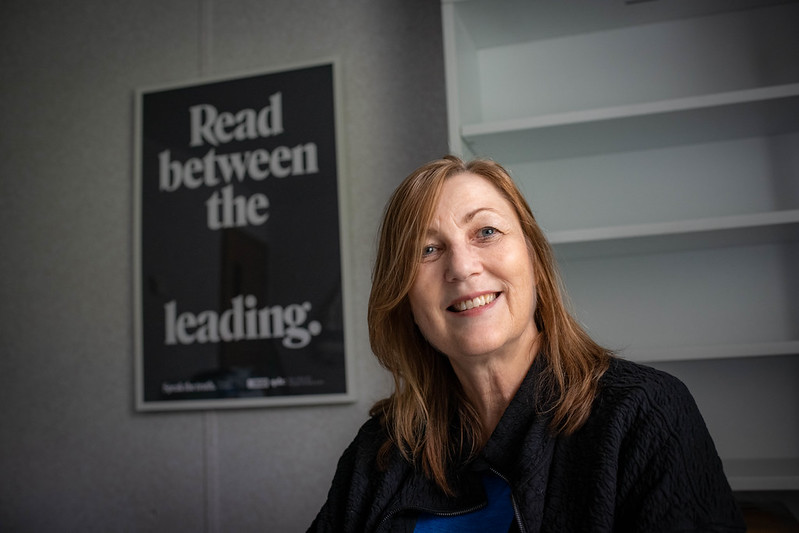 From building UFV's Graphic and Digital Design program from the ground up, to instilling a deep understanding of community and the power of design to generations of students, Karin Jager's contribution to creative work in the Fraser Valley and beyond is immeasurable.
For this and much more, Jager has been named UFV's 2022 Faculty Service Excellence Award winner.
"She's one of those rare academics who bridges the classroom, industry, and community and, in so doing, sets her students up for success in the pursuit of their dreams once they leave the safety of the classroom," says Dr. Sylvie Murray, UFV Dean of Arts.
"Karin worked tirelessly and determinedly, overcoming hurdles and always returning with creative solutions to the obstacles. She's a consummate professional, a visionary, a leader, and someone who lives and breathes 'service' to her students, faculty, and community. Her contributions to the creative arts and to design and communications at UFV and in the valley will be long lasting."
The daughter of German immigrants, Jager made her way west from Barrie, Ontario at 18, landing in the south-eastern B.C. mining town of Elkford, where she met her future husband, a steel fabricator named Ben. They have three children — Max, Jack, and Aimee— plus a Staffordshire terrier named Petunia who sometimes guest stars in stressful GDD classes.
Karin and Ben moved west so Karin could begin her education at the Emily Carr Institute of Art and Design in 1981. Along with a cohort that included Douglas Coupland, she developed foundational skills that would serve her for life, all while the AIDS crisis and a devastating recession swelled outside their door.
"It was a really crazy time to be in art school," Jager recalls.
She graduated with a four-year advanced diploma in graphic design in 1985, enjoying work as an in-house designer for CBC and freelancing for the National Film Board, Canadian Cancer Society, and with Environment Canada, designing collateral for environmental issues including a new Fraser River flood control program. Her practice continued to grow, leading to her own design studio that employed seven others.
Her talents caught the attention of Capilano College, which coaxed Jager into teaching and becoming the institution's task force leader charged with redesigning its graphic design program. She stayed until 2012 when she was asked to act as a consultant for UFV's newly revamped  GDD program in Mission (the program was relaunched then after being dormant since 2002). Inspired by a shorter commute and UFV's research and sabbatical opportunities, she left Capilano after 16 years, stepping in as the department head for UFV's GDD program shortly after earning a Master of Education degree in Educational Leadership from Simon Fraser University.
Over the years her students have participated in design events as diverse PechaKucha, Creative Mornings, Vancouver and Abbotsford design studio tours, countless guest speaker events from local business communities in Mission and the design industry at large. Community projects range from resolving design challenges at the Kilby Historic Site to a redesign of the Vancouver Zoo's interpretive signage.
Jager's eyes light up when talking about her students and their work, much of which has recently focused on social issues, from creating an Indigenous community space (SparkConvo) and Black Lives Matter to textile waste, food security, and equal access to recreation and sport for youth (Pocket).
"I guess what a lot of people don't realize is that design isn't just an artifact; it can change an attitude, it can change a direction. It can influence people, and the more research that you do at the beginning of a design project, the more that you understand your audience and understand the intent," Jager says.
"We really try and instill in our students that they're not just designing beautiful things, they're creating meaningful things.
"Design isn't about the logo, it's about the visual language. So, when you're creating an identity for an organization, you're developing strategy, positioning, and voice. All the assets that go along with that, like the typography, image styles, patterns or textures, work together to create an agile system, and that's really where design is now."
Jager's legacy with UFV's GDD program grew even deeper by designing and delivering UFV's new Graphic and Design major within the BFA, the only one of its kind in B.C. The program already has its first alumnus, currently working on his graduate degree while using a SSHRC grant to continue a project he started at UFV that supports the Punjabi community's access to health care.
In her free time, Jager draws, paints, and enjoys her "pandemic hobby" of crocheting blankets — now working on her 12th. She only uses her computer to engage with her design community and practice, which includes a new book with her writing group about design education.
After a decade at the helm, Jager recently stepped out of the GDD department Hhead role to focus more on teaching and creating purpose-driven community experiences for our students. The move comes as all GDD programming prepares to transition out of Mission and into a renovated space in the Abbotsford campus C Building.
Jager calls the move "bittersweet".
"We really built a good program and a community in Mission, and as soon as we started offering a few courses in Abbotsford, we had students from other disciplines discovering design. I am excited about new opportunities and expanding our reach in the Fraser Valley."
Next up for Jager is a trip to Spain's Guggenheim Museum Bilbao to present at a conference along with a design incubation writing group that she meets with every Sunday morning.
"She's an inspiration to us all," says Jager's successor, GDD department head Jennifer Deon.
"Her inexhaustible ability for creative thinking coupled with deep compassion for our students' experience in the program is instrumental to the success of our department and a boon for the university."
That appreciation is felt across UFV, but perhaps most importantly by GDD students. Maria-Tatiana Pauna remembers being a shy student who eventually developed into a commanding graphic designer thanks to Jager's guidance.
"Karin is an exceptional educator that impacted my life like no other," Pauna says.
"I cannot thank her enough for everything she taught me."
-30-