Graphic design grad aims to save a historic community with new documentary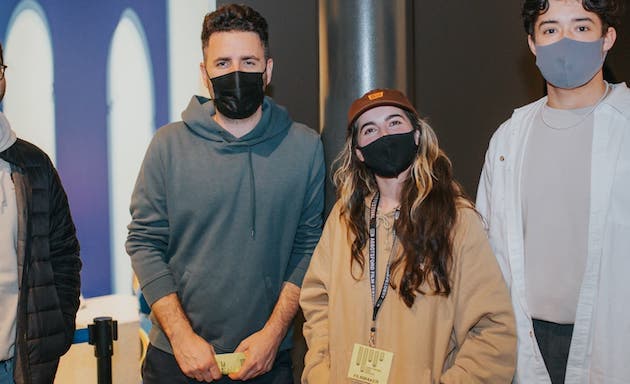 To direct a documentary by age 23 was never the goal for Camille Candia.
Not that she wasn't capable. A life-long creative with artistic pedigree, Candia has always been a gifted photographer, freelancing since high school. But it was a series of chance encounters that shifted her career and educational trajectory and ultimately led her to be the creator and director of Forgoing: The Future of Edelweiss Village. 
The short documentary, about the uncertain future of a historic Swiss village in Golden, BC, premiered at the 2021 Abbotsford Film Festival and has received global praise and press. 
"I was expecting this to get maybe 120 views on YouTube, and honestly, that would have been enough for me," says Candia, whose film has already accumulated over 78,000 impressions and seen in over 85 countries. "I thought this was an important story to document and share."
Candia entered UFV originally to study math and psychology. She eventually met Karin Jager, associate professor in the Graphic and Design program, who was the Dean of the department at the time, was impressed with Candia's creative instincts and motivated her to take some design courses. Candia quickly switched majors, attracted to the balance between visual arts, communications, and education that the graphic arts field offered.
When it was time for Candia to do an independent study project, Jager had suggested she contact Johann Roduit, the founding partner of the innovation studio Conexkt for a special design project. Roduit, who is from Switzerland, wanted to digitally preserve the historical Edelweiss Village, which was built in the early 1900s to accommodate Swiss mountain guides employed by Canadian Pacific Railway to help open up mountain tourism in the area. 
The site, which has been named one of Canada's Top Ten Endangered Places by the National Trust, has no heritage protection and is currently for sale. Maintenance has been challenging — especially during the pandemic — and the majestic houses are now in danger of being taken down in the near future.
"I couldn't understand why such a piece of history could go on sale and possibly not be accessible to future generations," says Roduit. "So the idea of digitally preserving the village and creating a lasting snapshot with technology was something we could do. Camille was instrumental in conceptualizing the idea of the documentary."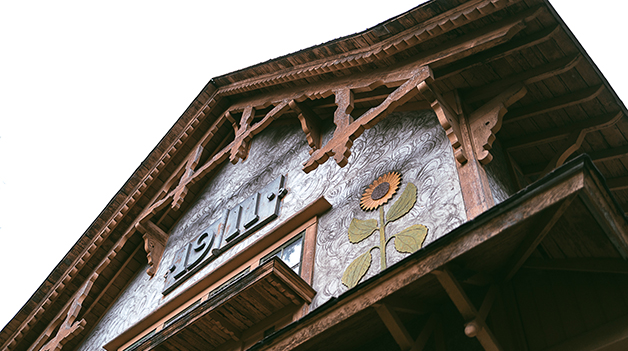 The 12-minute film explores the significance of the village and the Swiss settlers during that period, as well the architectural originality of the houses. Local historians and Conexkt are exploring ways — digitally and physically — for the legacy of Edelweiss Village to live on. The story blends nostalgia, reality, and ways that emerging tech and community could possibly merge the past, present, and future.
Even with her wide array of visual and storytelling capabilities, along with the support of Roduit and Conexkt, Candia experienced the growing pains and barriers of being a first-time filmmaker during a pandemic.
"Since it was an independent study, it was really on my shoulders, which was a fantastic learning opportunity for dealing with travel or budget issues," says Candia, noting that the local lockdowns due to the pandemic made it difficult to travel to Golden. The interviews were originally going to be conducted on Zoom.
"Luckily, we waited until we were able to do in-person interviews, which I think made the story more authentic," she says.
Capturing the intimate interviews on site helps the audience connect with the story more.  
"Her documentary has had a huge impact," says Roduit. "It has been showcased in so many media worldwide and has been a catalyst to a fascinating chain of events."
On top of applying to other film festivals with Candia, Conexkt has now been collaborating with the University of Calgary for a digital preservation project, including the launch of a crowdfunding campaign — which includes a goFundMe page and an NFT digital art collection on the blockchain.
The hope, Candia says, is to spark awareness that may save the essence of the village. Even if it cannot physically be saved, technology can help anyone who is interested access and learn about the houses — whether it is through virtual reality, 3D modelling, or her documentary.
"My part is small, but just seeing this interest be reactivated and all these different potential projects that are happening has been amazing," says Candia, who graduated from UFV in 2021. 
This process has challenged her and let her know she is capable of doing extraordinary things. Unexpected opportunities came at unexpected times for Candia. Her message for UFV students unsure about their potential is to stay ready and never second guess your power.
"Being female and being part of the Gen-Z generation, I think we are underestimated," she says. "In this era of technology, our greatest asset is understanding how to reach and connect with people anywhere.
"As long as you are passionate about what you're doing and you treat your subjects with care, it's really amazing what you're able to accomplish."