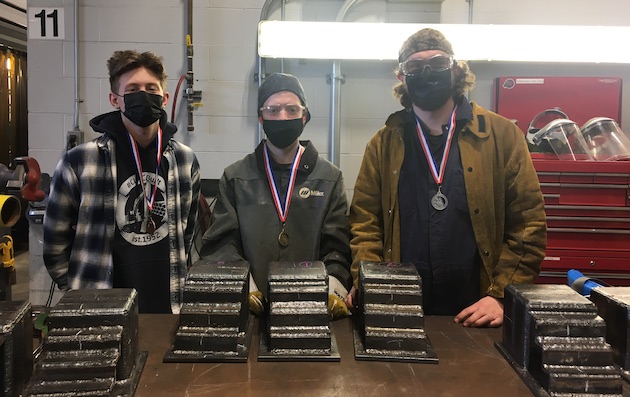 Skills Canada provides a showcase of talent and training for skilled trades and technology throughout the country with Regional, Provincial, National and World Championship events.
Skills Canada together with UFV Trades has a vision to see today's youth become the skilled trades and technology leaders of the future. Their mission is to act as "the catalyst that creates and fosters connections within communities facilitating exposure to trades, technology and career opportunities for youth." (Skills Canada BC website https://skillscanada.bc.ca/.)
Competitions are generally divided into "Secondary" for students completing trades training as a component of their Grade 12 year, and "post-secondary" for apprentices enrolled over the age of 18 and under the age of 26.
The University of the Fraser Valley supports Skills Canada by hosting a regional skills competition and providing technical chairs (UFV Faculty) and contest winners to provincial and national competitions. The regional competitions, while well-attended by UFV students, are open to other training providers within the Fraser Valley. In addition to providing community engagement, these competitions help foster links between training institutions, as well as between apprentices and industry.
The competitions were limited due to COVID-19 protocols resulting in the postponement of in-person events for two years. Efforts were made by Skills Canada to provide continuity and engagement in a "remote-learning environment"; however, as most trades and technology students are "tactile" learners by nature, engagement with students and staff (already "zoomed" out, as it were) in this format proved a challenge.
The latest change to provincial guidelines meant that UFV was able to host a competition with COVID-safe protocols in place (except for pictures as agreed by participants) on March 3.
Engagement was down slightly from previous years; however, the tech chairs persevered and delivered competitions in Electrical, Automotive, Carpentry and Welding at the Trades and Technology Centre on the UFV Chilliwack campus. The faculty and staff should be celebrated, along with the participants, for maintaining the vision and mission of Skills Canada.
"UFV Electrical is proud of all our participants and especially pleased that half of our competitors (including the Gold Medal winner) were women," noted Electrical professor Cary Britton. "UFV Automotive also had a female gold medalist. The event was very close to International Women's Day and while we don't yet see equal numbers in terms of class make-up, it was wonderful to see a competition balance to accompany the parity of skills."
Congratulations to all of the competitors, who will have the opportunity to move on and continue to showcase skills developed through UFV Trades to a provincial and possibly national audience.
Tech chairs for the Skills Canada competition hosted at UFV
Automotive: Greg Wedel and Kris Miller
Welding: Matt Olafson
Electrical: Mike Deileman and Cary Britton
Carpentry: Patrick Watchorn.