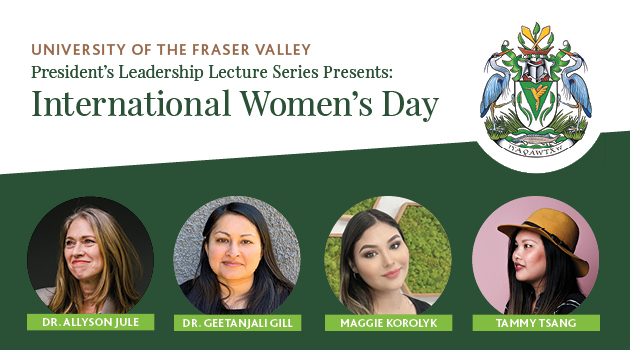 For nearly her entire academic career, Dr. Allyson Jule has studied how gender intersects with sociological variables like race, social class, and religion. Dr. Jule, who will start as Dean of Education, Community and Human Development at UFV in July, has seen encouraging progress of women in the past decade. But, she has also seen familiar barriers and imbalances for women remain archaic. 
"Certainly, the academic accomplishments of women have increased significantly in the last 50 years…and yet gender stereotypes linger," says Dr. Jule, who notes examples of modern-day misogyny and early sexist conditioning in children. "This persists in Canada but also around the world."
Addressing these problems and discussing the solutions will be the focus of Where Do We Go Now? Biases and Barriers Faced by Women and Girls in Education, a UFV panel discussion in conjunction with International Women's Day on Tuesday, March 8 at 2:30 pm in B-101 (lecture theatre) on the Abbotsford campus. 
Admission is free, reserve your space here: 
Dr. Jule will deliver a keynote speech focusing on the use of 'linguistic space' and how the amount of words spoken in classrooms tells us something about significance, silence, and the presentation of self. 
"I hope people see how mindfulness and attention to what we say and do can impact others for good," says Dr. Jule, who comes to UFV from Trinity Western University, where she is Dean of Education until the end of the academic year. "Being silenced is a terrible thing; being ignored, diminished, and abused are tragedies that happen every day in our schools, workplaces, homes, and communities."
Panelists Dr. Geetanjali Gill, Maggie Korolyk, and Tammy Tsang will join the conversation to engage in discussion around the biases and barriers women and girls face in the education system. Through the sharing of real-life stories, research, and experiences they will shed light on ways in which we can build inclusive education spaces where all women and girls can thrive. 
"It is also important to remember that everyone plays a role — we are, after all, talking about changing attitudes, beliefs, and behaviours," says Dr. Gill, assistant professor and program co-chair of UFV's Global Development Studies program. "We can change our own attitudes and we can also encourage others to do so. That is the kind of change that is required."
The worldwide theme for International Women's Day 2022 is #BreakTheBias. Whether you attend the panel discussion or not, you can post about the women who inspire you. Tag #goUFV #BreakTheBias #IWD2022 (and women who inspire you).
Keynote speaker and panelist information
Allyson Jule
Dr. Allyson Jule has been an educator for almost 35 years, teaching English in high schools and colleges in Alberta, Ontario and BC. Her PhD in Education is from the University of Roehampton in London, UK, in 2002. She is currently Full Professor and Dean of the School of Education at Trinity Western University in Langley, but will be joining UFV this summer as Dean of Education, Community and Human Development. In 2008 she established and then co-directed the Gender Studies Institute at TWU where she created safe spaces and engaged in dialogue concerning gender and sexuality. Her efforts were recognized in 2012 by the Canadian Association for the Study of Women in Education's Award. Dr. Jule was awarded Canada's 3M Teaching Fellowship in 2016. She has written widely on the topic of silence and language use in classrooms alongside gender and schooling, including Shushing the Girls, Speaking Up: Gender and Language and, her most recent book, The Compassionate Educator, was published last year by Canadian Scholars Press.
Geetanjali Gill
Dr. Geetanjali Gill is an Assistant Professor in Global Development Studies at the University of the Fraser Valley, and a gender and development practitioner with more than 16 years of experience working with local and international organizations in Canada, UK, Sub-Saharan Africa, and South Asia. She has a PhD in Development Studies from the University of Sussex, UK, a MSc in Social Policy and Planning in Developing Countries with Distinction (specialization in gender and development) from the London School of Economics and Political Science, UK, and a BA Specialist Honours in International Development Studies from the University of Toronto. Geetanjali is currently carrying out research projects on gender equality amongst stigmatized groups in Sierra Leone, gender-based violence amongst adolescents in refugee camps in Lebanon and Uganda, and gender-responsive play-based education in Rwanda, Mozambique, and Ghana. As a scholar-practitioner, she engages in efforts to address socio-cultural norms that result in gender inequalities in the global South, she applies an intersectional gender lens to global development issues, and she tackles stereotypes and biases that can lead to discrimination and marginalization.
Maggie Korolyk
Maggie Korolyk is Sus'tud'Dene (part of Carrier Sekani), Metis, and a member of the Takla Nation. Maggie was born in the Northern Interior and grew up between her homeland, Takla Landing, and the Lower mainland. She comes from a long history of strong activism in the Indigenous communities and has a passion for advocacy herself. Maggie has worked alongside her community to assist members with employment, training, and treatment opportunities. She is particularly drawn to supporting Indigenous young women and girls and has both created and hosted girls' empowerment workshops in her home community to boost their wellbeing and confidence. Maggie joined the team at Justice for Girls in 2021 as a legal Outreach Advocate. In her role as an Outreach Advocate, Maggie aims to bring awareness to the barriers that girls face, particularly Indigenous girls and girls in remote communities, and to help them overcome those barriers for a prosperous future. Maggie is now transitioning into a new role, where she will be leading JFG's Northern Advocacy and Research.
Tammy Tsang
Tammy Tsang (She/Her) is a Cantonese Canadian settler who lives and works on the stolen territory of the Coast Salish peoples–Sḵwx̱wú7mesh (Squamish), Stó:lō , Səl̓ílwətaʔ/Selilwitulh (Tsleil-Waututh) and xʷməθkʷəy̓əm (Musqueam) Nations. She works towards Truth and Reconciliation through regular bi-weekly Justice, Diversity, Equity and Inclusion training sessions, which include the truth of our history. She also partners with Indigenous people to ensure their voices are heard at the table and we pay fairly for their time and efforts.