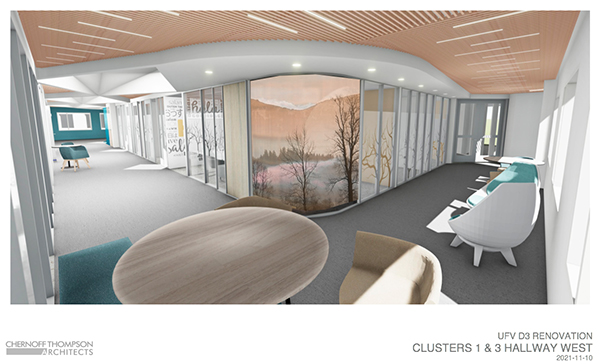 A brighter, more modern third floor is coming to Building D on UFV's Abbotsford campus.
Following extensive planning and consultation, the demolition process began Feb. 22 for a completely redesigned D3. Demo work will continue through early April — conducted at night to minimize disturbance.
D3's narrow halls and office-only windows will be transformed to accommodate larger shared areas intended to make the most of existing windows and skylights. Like previous projects in Building K and B150, UFV's Campus Planning department is collaborating with DIRTT (Doing It Right This Time) to ensure a practical and flexible layout.
According to senior campus designer Shelley Young, project leaders are working with Indigenous partners to incorporate traditional Sto:lo elements into the design — both physically in the form of wall graphics and privacy screenings, but also culturally through educational opportunities focusing on the meanings and traditions associated with the project's art and depictions of nature.
"This is an exciting project for UFV," says Young.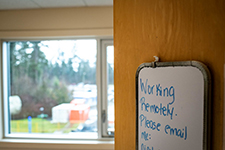 "It's going to be tech-rich but also have a lot of natural light. We expect it to serve faculty, staff, and students in a new and engaging way for many years to come."
Construction is expected to wrap up in October, 2022, with faculty moving into their new environment in time for the winter semester in January, 2023.
See photos of the pre-demolition D3 area here.