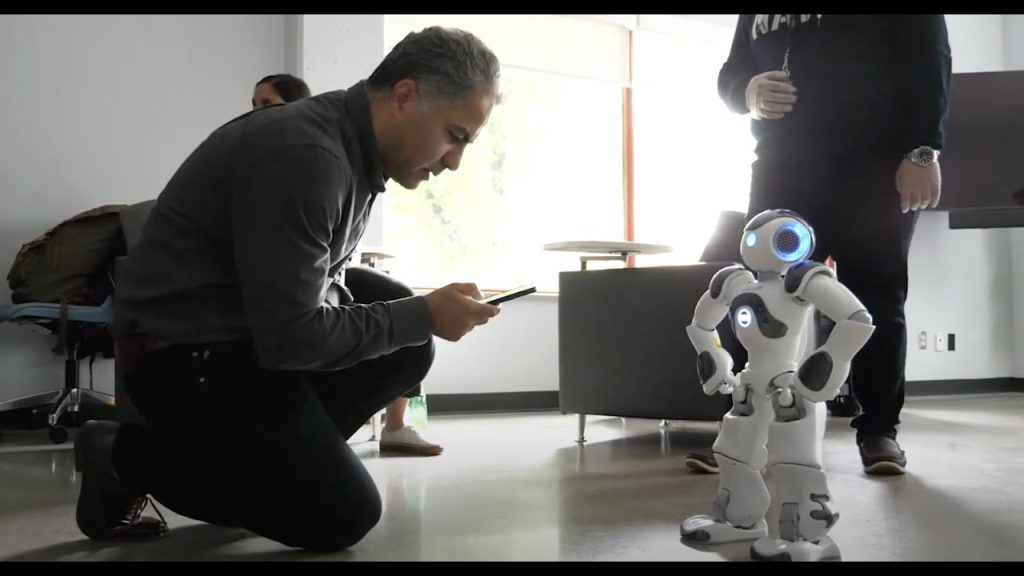 The Community Health and Social Innovation (CHASI) Hub at the University of the Fraser Valley (UFV) has received $225,000 over three years from the TD Bank Group to use artificial intelligence and social companion robots to reduce social isolation and loneliness in youth and older adults during the pandemic.
The TD Ready Commitment funding will support research augmented by artificial intelligence and machine learning to examine the impact of the pandemic on two populations that have been disproportionately impacted — youth and older adults.
Along with other research methods, smart algorithms will be developed to detect audio-visual cues, recognize emotions, and respond to symptoms of anxiety and depression, as well as teach new coping strategies. The project team will assess the success of these methods in helping offset social isolation and loneliness.
"We are excited to partner with TD on this project to examine the effectiveness of various interventions in helping these two population groups that have been deeply affected by the pandemic," noted Dr. Martha Dow, Director of CHASI. "These findings will be shared with government, industry, and community partners to enhance social and emotional wellness in our community."
The World Health Organization (WHO) has identified loneliness as a significant predictor of depression and anxiety in both older and younger adults. However, the rates of social isolation and loneliness are significantly higher amongst older adults compared to all other age groups, with around 40% of all older adults reporting feelings of loneliness.
"For people in communities everywhere, the pandemic has underscored the critical importance of maintaining good mental health, especially during periods of social isolation and loneliness," said Andy Cribb, Senior Vice President, Branch Banking, TD Pacific Region. "TD is proud to partner with UFV and CHASI as researchers seek to address this significant challenge so that they can help people and communities stay resilient for years to come."
While youth aged 15-24 are more likely than the general population to report worsening mental health due to COVID-19, the most dramatic impact of the pandemic has been felt by older adults, their families, and caregivers.
"We are particularly excited about this project and helping people affected by COVID-19," said Anita Nielsen, UFV Executive Director, Advancement & Alumni Relations. "We see UFV's role as central in supporting the health and wellness of communities and we know this partnership with TD will fuel innovative thinking from inception to implementation while training the next generation of student researchers."
About TD Bank Group
The Toronto-Dominion Bank and its subsidiaries are collectively known as TD Bank Group ("TD" or the "Bank"). TD is the fifth largest bank in North America by assets and serves more than 26 million customers in three key businesses operating in a number of locations in financial centres around the globe: Canadian Retail, including TD Canada Trust, TD Auto Finance Canada, TD Wealth (Canada), TD Direct Investing, and TD Insurance; U.S. Retail, including TD Bank, America's Most Convenient Bank®, TD Auto Finance U.S., TD Wealth (U.S.), and an investment in The Charles Schwab Corporation; and Wholesale Banking, including TD Securities. TD also ranks among the world's leading online financial services firms, with more than 15 million active online and mobile customers. TD had CDN$1.7 trillion in assets on October 31, 2021. The Toronto-Dominion Bank trades under the symbol "TD" on the Toronto and New York Stock Exchanges.
CHASI at UFV
The Community Health and Social Innovation Hub (CHASI) at the UFV supports the social, mental, emotional, physical, and economic health of those living in our communities. Through collaborative research and community engagement, the Hub acts as a strategic health partner in the region, working to identify challenges and opportunities to improve individual and community health.
For further information media should contact Dave Pinton, Director of Communications at 778.808.5661 or email dave.pinton@UFV.ca or Ryan-Sang Lee, Manager, Corporate and Public Affairs at email ryan-sang.lee@td.com
-30-