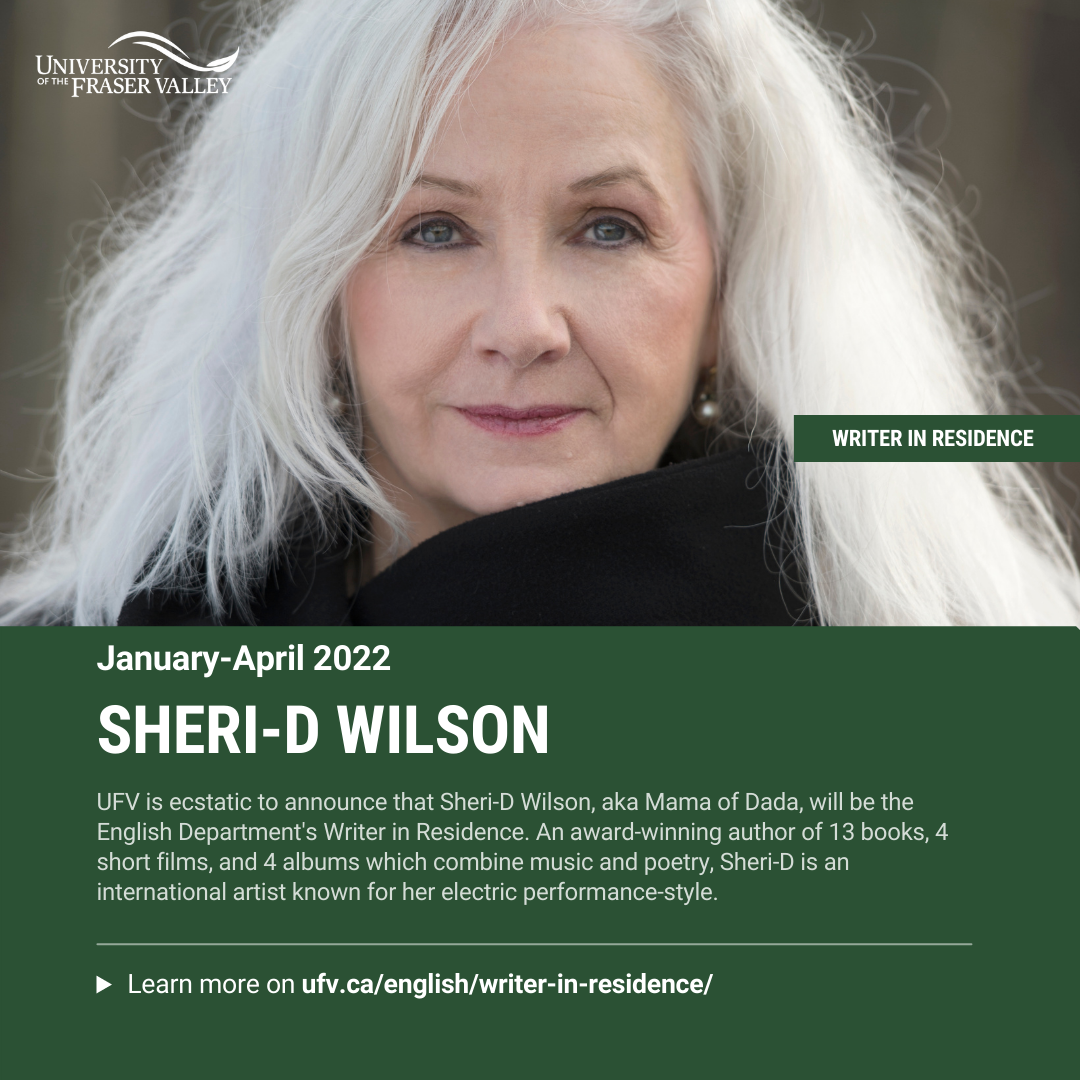 A writer who is best known for her spoken word poetry and who has been a leading light in Canadian literature for three decades will be Writer-in-Residence at UFV for the winter semester.
Sheri-D Wilson, aka Mama of Dada, is an award-winning author of 13 books, four short films, and four albums that combine music and poetry. An international artist known for her electric performance style, Sheri-D has performed and taught workshops at festivals around the world.
In her poems, Wilson uses personal narrative to address themes of personal story, social justice, lost languages, bullying, violence against women and the earth.
Sheri-D is available for appointments/class presentations with students and faculty across the College of Arts on Tuesdays and Wednesdays 10 am-5 pm from January 17-April 1, 2022. She can be contacted directly at: Sheri-D.Wilson@ufv.ca.
A strong advocate for social change & community building, she was founder & artistic director of Calgary Spoken Word Society (2003-2022) & Spoken Word Program | The Banff Centre (2005-2012).
In 2019 Sheri-D was appointed to the Order of Canada for her contributions as a spoken word poet and her leadership in the community. In 2017, she received an honorary Doctor of Letters degree from  from Kwantlen Polytechnic University.
Other honors: 2018-2020 Calgary Poet Laureate Emeritus * 2015 City of Calgary Arts Award * 2013 CBC Top 10 Poets in Canada * 2009 Ted Talk * 2006 Stephan G. Stephansson Award for Poetry * 2005 SpoCan Poet of Honour * 2006 People's Choice Award * 2006 Woman of Vision * 5 Rosie Awards * 2003 USA Heavyweight Title * Her 1991 jazz-play, Confessions, received 5 Vancouver Jessie Nominations * Ace Award.
Sheri-D is also a marriage celebrant and ceremonialist.
UFV's Writer in Residence position is supported by the Kuldip Gill Fellowship.
Sheri-D Wilson answered some questions about her writing and plans for her upcoming residency:What approach are you going to take to working with UFV students and the public? What are you looking forward to in connection with this experience?
Along with being a writer, I create ceremonies — mostly for marriage, and also for other times of transition. In the ceremonial space, I listen closely for what is being asked — what needs to be said — and I say it. It is my intention to apply this approach as I listen to the students.
Uncovering the authentic voice, story, is important for clear communication.
You are known mostly for your spoken word poetry. How are you adapting a form of literature that works best in front of a live audience to the current reality, where most performance is mediated through Zoom and other virtual formats?
During this time I immersed myself in writing an epic poem, which has taken me on an intriguing journey. I've been enjoying the isolation which has given me the time and space for deeper introspection and discovery. The poem will be launched in the fall of 2022.
At the beginning of 2020 I also put together some quirky videos of various poems already recorded — please see my YouTube channel.
In the interest of community I put together a reading series — Dogwood Rose: Zoom Into Poetry — a space for many poets to share their work (once a month). The connections between people have been amazing! Poetry brings us together. And I've also been developing an anthology called 'Lessons from Poets who Perform,' which will be published in 2023.
Spoken word, or performative poetry, may be adapted to any situation — live/wired. It finds its roots in the oral tradition (found in many cultures), wove its way through the invention of the printed press, Dadaism, Surrealism and the Beats. Spoken word artists have presented their work in digital form since the initiation of this incarnation. Spoken word lends itself to the electronic realm.
I love Zoom! It has given us the opportunity to connect with more people from many other places.
What was your journey into life as a professional writer and performance artist like? What advice are you going to share with new writers?
Wow. This is a huge question. It has been an interesting journey, and with every twist and turn — there was something to be learned. One of the most important openings in my spirit occurred when I based my thinking on what I could give back.
Change yourself. Know yourself. Let go of everything on the outside – it will bring you down. Follow spirit.Anything else you would like to add?
Love is the only path. Find love. Live love.
For more information on Sheri-D Wilson: https://www.ufv.ca/english/writer-in-residence/ and https://sheridwilson.com/