Monica Allemeersch is used to ferrying her kids around to after-school activities, but on November 15 they went for the commute of a lifetime, fleeing from the flood zone in her truck.
Along for the ride was Monica's mother-in-law, who was scheduled for hip surgery the next day.
All of them were escaping from rising waters after the Nooksack River in Washington State rose rapidly after extremely heavy rains and flooded adjacent Sumas Prairie in Abbotsford.
The second-year UFV horticulture student lives in a farmhouse at Vye and McDermott Road in Abbotsford; her brother-in-law's farm is right over the dike from them on the same property.
It was her family's side of the dike that had started to flood first as the water moved in over the U.S. border, and on that fateful Monday she kept her two sons home from elementary school as a precaution.
"By evening I was getting pretty stressed and we decided we needed to get my boys, my three dogs, and my mother-in-law out of there," she recalls. "With my friend's help we drove through about five feet of water just to get out of my driveway."
Her husband Jarret, who works in the dairy industry for Vyefield Farms, was busy helping farmers cope with the flooding.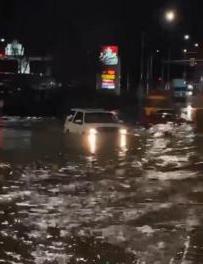 Monica got stuck at Whatcom Road and was in distress. A stranger offered to take her family across the rushing water in his larger truck and family members were there to meet them on the other side of the flood.
With the kids safe at her sister's house, she returned to Sumas Prairie to help evacuate cows on Tuesday, November 16.
She also briefly visited her home, finding to her dismay that her basement had been flooded in four feet of water. She had some warning about the dreary situation. The hired man on the family farm had sent photos to prepare them.
Many farms were trying to get their cows to safety on Tuesday morning.
Monica continued to work with farms to evacuate more cows.
"We hooked them up to cattle trailers being towed by a large tractor. Once we got them to high ground we transferred them to other trailers for transfer to farms outside the flood zone."
For part of the day, they felt like things were going okay.
"The water wasn't over our gumboots."
But as the day wore on and darkness approached, they got more fearful.
"We were in the thick of it. It was getting dark and we were worried the water was rising. We didn't expect it to get that high. We were all scared as the dikes began to give way. But we had to get the cows out. They were standing in flood water and they needed to get milked. It was worse for the farmers further in on the prairie."
Things got dire Tuesday evening. There were real fears that the Barrowtown pump station, which pumps water from the prairie into the Fraser River, would fail, and waters were rising rapidly.
The City of Abbotsford issued a strong statement in the early evening stating that conditions had escalated and posed a significant risk to life and that any farmers still fighting to save their livestock needed to leave immediately.
After ensuring that some calves were fed — their final chore on a long day, Monica and her husband Jarret headed up the hill to her sister's house to be reunited with their sons.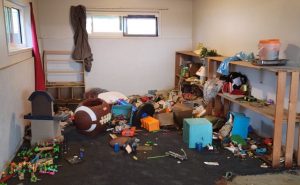 As her family home was on the edge of the crisis area, Monica and Jarret were able to return on the weekend to begin the clean-up process. They weren't as hard hit as others, but the flooding in the basement did destroy her kids' toys and all her notes from her first year of UFV horticulture studies.
"I may be asking some of my classmates if I can scan their notes."
She's happy her family is safe and that they will be able to return to live in their home. Things remain uncertain for many other Sumas Prairie farm families.
But what struck her the most was how the community worked together during the worst of flooding, and continues to do so in the aftermath. And many people reached out to see if they were okay.
"It's nice to see everyone coming together to help. It's been amazing. Some neighbours organized a church crew to get out stuff out of the basement, and then a rugby team came to help us rip out the drywall. We also had help from family and friends."
One thing she was not thinking about during the crisis were her horticulture studies. So she's grateful that UFV suspended classes from Nov 16-20 and went to a remote model for Nov 21-28. She was also offered a compassionate leave, meaning that she would only be graded on the work she completed before the flood crisis. She is taking UFV up on that offer for her berry production class, but has decided to continue ahead with her enterprise class, where students are challenged to create a business plan for an agriculture business.
Her dream business? It's about as far from the flooded-prairie nightmare as you could get.
She'd like to open a wellness greenhouse, offering yoga and other healing activities in a plant-filled space, where people could take classes and buy plants.
For now, she's concentrating on getting her house back in order, caring for her family, and helping her neighbours.
We are very grateful for all the help we have received and been offered."