Trades alum uses opportunity provided by hardship to transition into entrepreneur life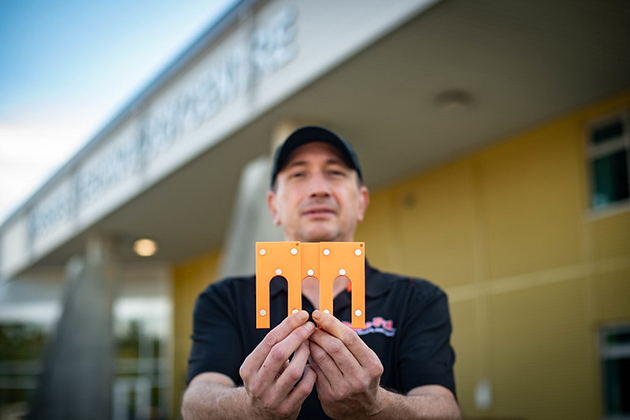 The thought of change has never made Ryan Morris of Chilliwack waver. He started off as a wedding DJ in his early 20s before transitioning to cabinet installation then ultimately landing at UFV, where he spent five years studying on and off to become an electrician. 
Upon earning a certificate and completing an electrical apprenticeship training at UFV in 2017, he found stability and purpose working on gargantuan vessels for the Coast Guard at the Vancouver shipyards.
​​But this most recent change in careers was not his choice. After an automobile accident in 2019 that resulted in nerve damage, his body was no longer able to meet the physical demands of his job.
"My back and my neck were constantly hurting," says Morris, now 50. "And the scope of work was really aggravating it, so I essentially had to take some time off."
By the start of the pandemic in early 2020, Morris found himself on sick leave provided by his employer. As dire as his situation appeared from a financial standpoint, he saw the extra time as an opportunity to chase a business idea that he had conceptualized five years earlier while conducting a routine electrical metalic tubing (EMT) conduit installation at BC Children's Hospital.  EMT conduits are tubes in which electrical wires are housed.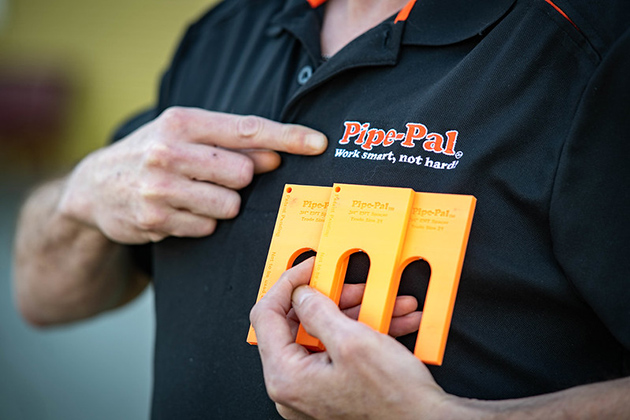 "There were literally hundreds of thousands of feet of EMT being installed in this building," he says. "I found that the spacing of the conduits to be inefficient and it was taking too much time to install something very simple. That essentially was when the idea started in my head." 
Over the next few years, he sketched out a design in his mind that was both aesthetically pleasing but also expedited the installation process. He used a laser CNC machine to craft the first prototypes of the innovative and efficient conduit. 
After opening up one of the prototypes, he immediately noticed some design flaws while identifying some solutions.
"I figured out that if I moved the placement of the magnets around that the spacers would actually magnetize in place," Morris says.
From there, he hired some patent lawyers, who helped protect his invention. He then founded Pipe-Pal, a manufacturing company specializing in jigging tools for the electrical industry. It's still a small operation, but Morris is doing the manufacturing himself using his state-of-the-art 3D printing machine. 
In just under a year, though, his product has been acclaimed in his industry, and the Pipe-Pal conduits are now carried by Gescan, the national tool wholesaler.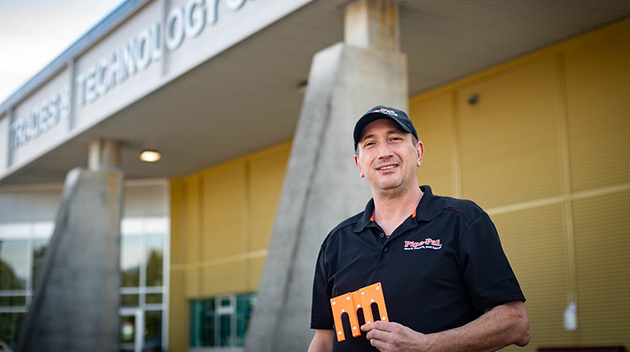 "Ryan has been able to use his experience working in the field and identifying opportunities to improve efficiencies," says Joel Feenstra, an associate professor in the UFV Electrical program. "In such a short period, he has been able to use creativity and an entrepreneurial spirit to create jobs that help electricians work faster and more accurately."
Even with a global sales platform like Gescan, Morris has no plans of slowing down. In the near future, he will look for a more efficient manufacturing strategy for his conduits — which will likely be injection molded. He says he has plenty more designs and ideas that he plans on patenting and getting out in the market.
Although Morris is still recovering physically, he believes nothing is an accident. Not the DJ stint. Not the electrical training at UFV. Not even the car wreck.
"I do feel it to be somewhat of a blessing in disguise," he says. "I believe success can really only be achieved by the determination and perseverance to overcome challenging circumstances. I feel confident on my current path and I will continue to seek and find avenues to help me realize that my dreams can come true."