We've all heard of COVID hair. A certain segment of the population saw the pandemic as an opportunity to unleash their 1980s hair-band or 1970s prog-rock look as people worked from home and were reluctant to venture out to the hairdresser or barber shop.
Now as people gradually return to the office, some come with luxurious locks more than 18 months in the growing.
As part of this phenomenon, a longtime Abbotsford manufacturing company came up with a creative way of supporting Indigenization efforts at UFV recently.
Phantom Screens ran a fundraiser allowing employee donors to choose whether three volunteer employees should "cut" or "keep" their lengthy manes.
This creative contest raised $20,000 that will go toward a scholarship that will help preserve the indigenous language of the local Stó:lō people. The income generated by the new endowed scholarship will fully cover the tuition of a student annually in perpetuity to learn the traditional Halq'eméylem language.
It all started with a much-needed haircut.
Stephen Hemphill, chief supply chain officer at Phantom Screens, started to grow his hair out at the start of the pandemic. Some of his colleagues and staff weren't fans of his ponytail, and CEO Esther De Wolde suggested that they put his mane to a good charitable use.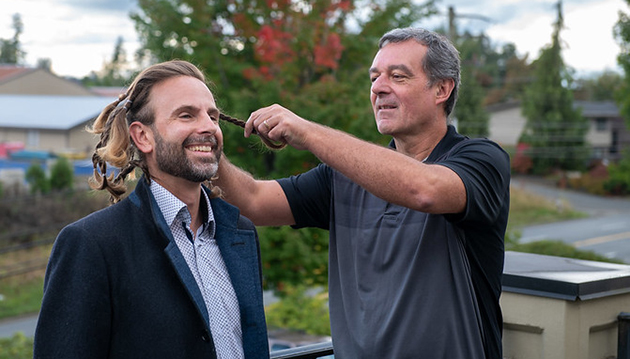 "I told him that if he would let us cut his hair, we'd raise funds as an organization towards any charity of his choosing," shares De Wolde. "Stephen took me up on it, and before I knew it, he recruited two other COVID-haired gentlemen on our staff to do the same in support of his charity."
Hemphill was inspired by learning he has been doing on his own about the historic and ongoing mistreatment of Indigenous people in Canada.
"I was taking the Indigenous Canada course online with the University of Alberta when we were talking about the idea of a fundraiser. With the backdrop of the stories of the residential schools, I started looking at options. I was pleased to hear about the Indigenous Studies program at UFV and specifically the Stó:lō Halq'emeylem language course. Reading about the Stó:lō Nation's efforts to preserve its language and culture after surviving through genocide and colonization, I thought it would be great if we could do something to help."
For the initiative, three Phantom staff members volunteered to let donors vote on whether to cut or keep growing their long COVID hair. Phantom Screens' fundraiser officially launched on September 13 and raised funds through to September 30, in line with Canada's first Truth and Reconciliation Day. Based on the results, 'cut the hair' won and the teams' manes were sheared in an outdoor event on October 6.
The two volunteer staff members in addition to Hemphill also shared why this initiative is important to them.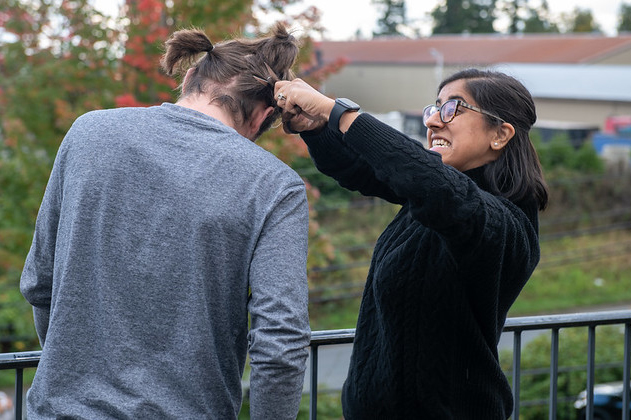 "The Stó:lō Nation has incredible culture, history, and community right here in the Fraser Valley. With under five remaining fluent speakers of the Halq'emeylem language, there is a great risk that part of this culture and history can be lost forever. If there is something we can do to help this local language's survival and longevity, I absolutely want to be a part of it," said Brandon Formosa.
Jeret Unger said he saw parallels between the importance of maintaining the mother tongue language in his culture and that of the Stó:lō.
"I believe language is central to preserving one's deep roots and identity. My grandparents' generation fled to Canada when their lands, possessions, and family members were stripped from them due to their ethnicity. Their mother-tongue was instrumental in preserving their family and community here in the traditional territory of the Stó:lō people. Canada has been a safe haven for us — and it's imperative that we do our part to restore it to the refuge it has been for centuries to the indigenous people."
Shirley Hardman, UFV's senior advisor on Indigenous Affairs, praised Phantom Screens for their support.
"The act of giving to the university to support Halq'emeylem language learning is an act of reconciliation," she said. "This support goes a long ways in changing the relationships between Indigenous and non-Indigenous people in our community.  My heart soars that the production workers contributed willingly and generously. It is a testament to the corporate culture of giving fostered at Phantom, but also to the understanding that language is culture. Tsetsel ey Si:yam.  Very good work , good people."
About Phantom Screens
Founded in 1992, Phantom Screens is based in Abbotsford, British Columbia, with 230 employees several of whom are UFV alumni. Phantom Screens offers customers a variety of retractable screen solutions for doors, windows, multi-panel systems and outdoor spaces. Phantom Screens products provide customers with insect protection, solar shading, temperature control and enhanced privacy in living spaces. For more information, visit http://www.phantomscreens.com.