The COVID-19 pandemic has had a profound effect on society. It has forced us to change many of our daily habits and challenged our assumptions about routines and activities we took for granted in the past.
It also provided researchers with the opportunity to conduct real-time research on the effects of a pandemic.
The UFV Research Office will be hosting an online public panel discussion to showcase the outstanding research some of our faculty have taken on over the past year and a half.
'Adapting to a Pandemic World – Exploring COVID-19 Research at UFV' will feature five of UFV's leading researchers each delivering a 10-minute presentation of their research to date, with an opportunity for Q&A at the end.
Thur, Nov 4
7–8:30 pm
Platform: Zoom, with pre-registration required
Structure: Ten-minute presentations on each topic, with Q&A to follow
Audience: Public
Register for this event here.
Panelists / topics:
Dr. Satwinder Bains

Mitigating the Effects of Epidemic/Pandemic Outbreaks on Temporary Foreign Agricultural Workers and Farm Operations in British Columbia

Dr. Cindy Jardine

Developing travel readiness strategies for Chinese and South Asian populations in the Fraser Valley who regularly travel back to their countries of origin to visit friends and relatives

Dr. Lesley Jessiman / Dr. Andrea Hughes

Social Isolation and Loneliness in the Face of COVID-19: An Examination of the Outcomes and the Key Protective/Predictive Factors

Dr. Shelley Canning

Nursing students and seniors: Using technology to maintain social connections during Covid19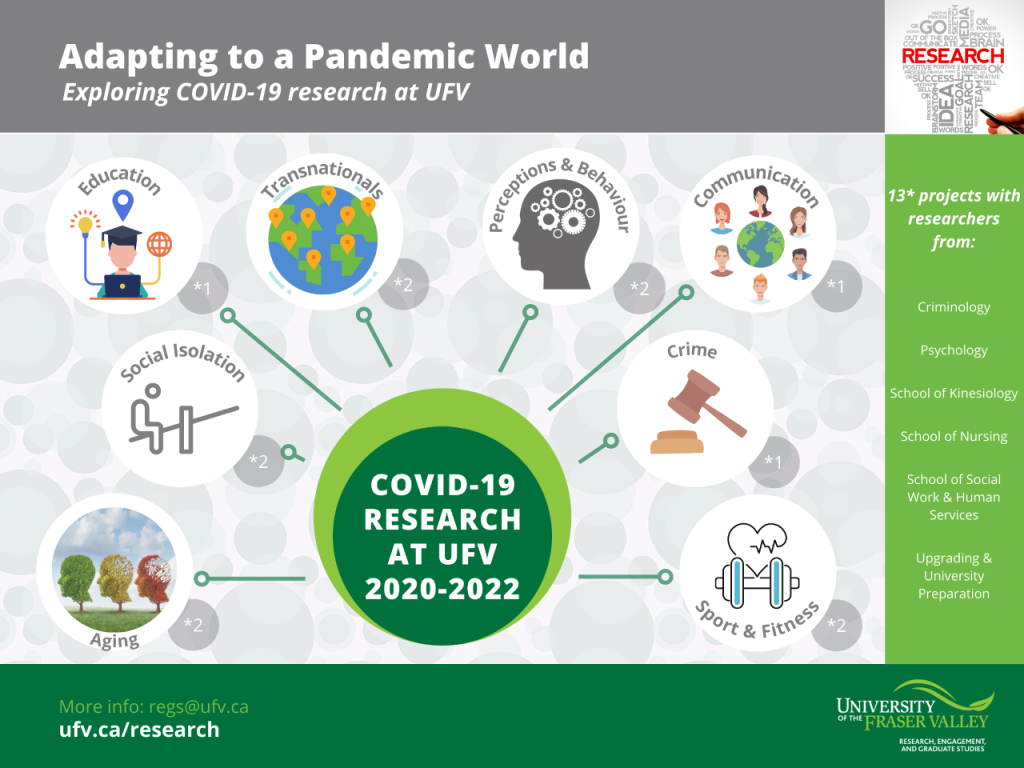 UFV researchers have been involved in several studies related to COVID-19. Here are summaries of a few of the research projects conducted so far.
COVID-19's impact on travel
A team led by Dr. Cindy Jardine, UFV's Canada Research Chair in Health and Community, conducted research on the health information needs and gaps faced by families visiting friends and relatives (VFR) in their countries of origin. The research was conducted in partnership with two UFV-based centres: The South Asian Studies Institute and the Community Health and Social Innovation Hub.
"Containing an emerging disease such as COVID-19 depends on stopping the spread of the disease to other areas around the world," Jardine notes. "People who travel back to their countries of origin to visit friends and relatives are often at a higher risk of getting the disease and then spreading it to others. A better understanding of these travelers' knowledge, risk perceptions, information needs, barriers to pre-travel care and advice, and access to protective measures will help us better develop strategies to keep travelers healthy."
Part of the team's research results have been summarized in a report titled UFV Student Experiences with Travel, Health, and COVID-19. The report summarizes the responses given by nearly 1,500 UFV students who participated in a survey issued in April 2020, at the outset of the pandemic.
Some of the key findings indicate:
Students demonstrated high awareness of COVID-19 symptoms and protective strategies, as known/recommended at the time of the survey
Most students get their COVID-19 information from the Internet, TV and social media
Students' overall vaccination rates for recommended diseases ranged from 60% (e.g. seasonal influenza) to 75% (measles).
Emails from the University of the Fraser Valley communications team were the most used channel for university-related COVID-19 information.
Read the full report on student responses here
Other components of the study included focus groups with members of the Chinese and South Asian populations in the Fraser Valley and a survey (with follow-up interviews) with family physicians about their experiences in providing pre-travel advice to VFR travelers.
Jardine and her research associates also conducted follow-up focus groups with volunteers from the University of the Fraser Valley student survey to provide some important context for their survey responses. The results from these study components are also being reported separately.
Anecdotal reporting from the focus groups
Although the results from focus groups conducted as part of the study have not been published yet, Jardine and research associates Kosum Soni and Sherry Wang report the following from their focus group sessions:
Most people acknowledge that the disease is riskier than the vaccine, but some think they can control behavior and other elements to reduce their risk to the disease.
Members of the Chinese and South Asian communities seek transparency in government communications about COVID-19, and also want information provided in their own language
Role models can be significant influencers: feature success stories from prominent community members who have taken the vaccine
Work with the "ethnic media", service organizations that focus on ethnic communities, and churches and gurdwaras to get the message out
Emphasize that by taking the vaccine, it will bring us closer to a time when we can travel to visit friends and family again
Acknowledge that the Chinese community took COVID-19 very seriously right from the beginning, and were early adopters of masks, physical distancing, and handwashing.
The pandemic's effect on temporary foreign agricultural workers
It became apparent very early in the COVID-19 pandemic that Canada's vital relationship with temporary foreign workers (TFWs) would need to be carefully managed.
Dr. Cindy Jardine, UFV's Canada Research Chair in Health and Community, and her research partners received $348,075 in funding from the Canadian Institutes of Health Research to determine the COVID-19 experiences of TFWs and farming operations in British Columbia during the 2020 season.
TFWs are known to experience many health and structural inequities such as occupational health hazards, inadequate hygiene, and barriers to health services. Often, they accept these conditions for fear of losing their jobs. This situation was made worse during the COVID-19 outbreak. Federal and provincial government agencies subsequently announced several programs to safeguard TFWs and relieve the burden on farmers.
"We will also assess whether workers and farmers think the government programs to safeguard them from COVID-19 were effective in controlling disease transmission and making it easier to continue farming operations in both 2020 and 2021," says Jardine.
The research team will interview 40 TFWs and 20 farm owners who employ TFWs for seasonal agriculture work in the Fraser Valley area of British Columbia, as well as eight members of BC agricultural councils.
The research will include cooperation and participation from knowledge users (including the BC Provincial Health Officer, BC Centre for Disease Control, BC Agricultural Council, regional health organizations and community organizations who provide assistance to TFWs) to ensure the research meets their needs and is conducted appropriately and respectfully. Their involvement also means the results can be readily mobilized into practice.
"The results from our research will be used to develop recommendations to continue to reduce the inequitable burden of disease for this population now and in the future, and to ensure food security for Canadians," notes Jardine.
Use of memes to promote COVID-19 vaccination 
The impact of memes on attitudes towards vaccination was the subject of a study by UFV psychology professor Shawn Geniole.
"We examined the effects of pro-vaccination memes (vs control images) on intentions to vaccinate and found they boosted such intentions, but that these effects surprisingly weakened (rather than strengthened) once a safe/effective vaccine was announced in November," he notes.
Despite global efforts to rapidly distribute COVID-19 vaccines, recent estimates suggest that 29-35% of the population are hesitant/unwilling to receive them.
"Countering vaccine hesitancy is an urgent priority if mass vaccinations are going to be successful," says Geniole, whose study was awaiting publication at the time of our print deadline. "We show that brief exposure to pro-vaccination memes boosts the potentially life-saving intention to vaccinate against COVID-19. These intention-boosting effects, however, weakened once a COVID-19 vaccine became a reality (i.e., after the announcement of a safe/effective vaccine) suggesting meme-based persuasion may be context-dependent and most influential in readying the public in anticipation of (rather than during) vaccine rollout.
"These data offer preliminary evidence that naturally circulating memes may be something that can be leveraged for increasing public intentions to vaccinate against COVID-19 and thus — given their brevity and virality — may hold potential more generally as a scalable tool for wide-spread influence."
Restrictions affecting physical activity affect women's mental health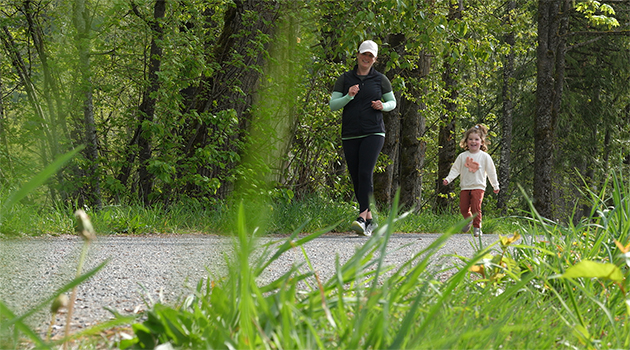 When the pandemic suddenly forced us all to change our habits and stay close to home, it had repercussions on all aspects of our lives, including our fitness routines.
A study by UFV kinesiologists looked at the impact of those restrictions and examined whether they impacted men and women differently.
The results showed that that the initial restrictions, including the closures of gyms and fitness studios, provincial parks, and some playgrounds, affected women more than men.
"We found that women were struggling with their mental health more during the pandemic," says Dr. Iris Lesser, an assistant professor of kinesiology at UFV, who conducted the study along with colleague Dr. Carl Nienhuis.
"Women are statistically shown to be more anxious and less physically active than men, and COVID-19 restrictions made it even more challenging for them to keep up with physical activity further impacting their mental health."
Those who were able to be active reported better mental health results than those were less active, the study reports.
Some of the barriers that women faced were unique to pandemic times, such as gym closures or having their children at home needing care 24 hours per day rather than going to school or daycare for part of the day. Other barriers were already present before the pandemic, such as the challenge of balancing multiple roles such as parent and full-time worker.
The research team's solution?
Encourage and promote physical activity options that allow parents to be active with their children.
Lesser notes that she was disappointed that playgrounds were closed off during the first phase of the pandemic restrictions and happy to see the yellow tape surrounding playground equipment come off during the less restrictive summer in British Columbia.
"We recognize that the threat posed by the pandemic is real and that the barriers were intended for our benefit, but we also need to consider the impact on physical activity and mental health," she said.
"Given the challenges that women uniquely face due to pandemic restrictions, we need to find ways to provide environments and support for physical activity to reduce the mental duress that some women are experiencing. We need to aim for physical activity options that can include and engage children."
Does physical fitness have an impact on COVID-19 severity?
As the pandemic continued to rage on impacting more and more people a team led by Dr. Jason Brandenburg in the School of Kinesiology at UFV questioned the importance of physical fitness on the severity of the COVID-19 virus. Regular physical activity and associated cardiorespiratory fitness has been shown to enhance immune function and therefore the investigators hypothesized that fitness individuals may have improved COVID-19 outcomes.
The results showed that those who self-reported higher cardiorespiratory fitness (as determined by the pace to cover 4.8km without becoming overly fatigued) had lower odds of self-reported hospitalization than those with the lowest cardiorespiratory fitness. However, we did not find an impact of fitness on COVID-19 symptom severity or the number of symptoms.
"We found that fitness may play a role in the likelihood of hospitalization from COVID-19, at least between the lowest and highest fitness groups," says Dr. Jason Brandenburg, the director of the School of Kinesiology, who conducted the study along with colleagues Dr. Cynthia Thompson, Dr. Iris Lesser, and Dr. Luisa Giles.
"This study parallels results seen from other large studies which have shown that higher cardio-respiratory fitness reduces the likelihood of severe COVID-19 resulting in hospitalization."
"It remains a public health priority to advocate for physical activity and ensure that there are opportunities to be active among all ethnicities and socioeconomic groups for both mental and physical health," says Dr. Iris Lesser one of the study team members who also studied the impact of the pandemic on physical activity and mental health.
---
Portions of  this article originally appeared in the 2021 edition of UFV's Skookum magazine. See the PDF version of Skookum here.