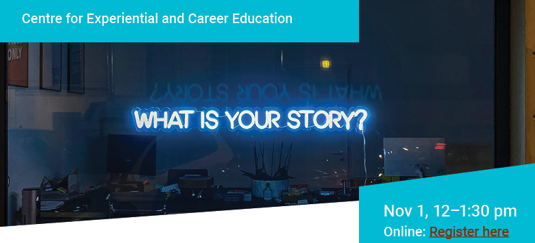 In the midst of a busy semester, it can be difficult for students to focus on life after university.
UFV's Centre for Experiential and Career Education is making it easier for students to integrate career planning into their university routine by offering more than 20 online (and a few in-person) workshops on a variety of career-based topics for Career Month, which runs throughout November.
Events kick off on Mon, Nov 1 with a keynote presentation on Crafting a Better Story through Hope-Filled Engagement, by Gary Poehnell.
In his keynote address, Poehnell will explore how we can be intentional about the life-long process of crafting a story of hope and possibilities, a story that can sustain and guide us as we explore all our potential on our life/career journeys.
Keynote presentation Mon, Nov 1 | 12–1:30 pm | Online: Register now
Liana Thompson, director of the Centre for Experiential and Career Education, says that Career Month activities are designed to help students connect the dots between what they're learning now and how they may be earning a living in the future.
'We want students to be thinking about how to connect their education to their career earlier, more often, with more exposure to more opportunities. The sessions we are offering during Career Month are relevant and reflect many of the areas of study offered by UFV."
She remembers thinking that there was a disconnection between her academic studies and her job skills when she entered the job market as a young university graduate. But in retrospect, she feels she was well actually well prepared, she just didn't know how to articulate it.
"We want to help students make the connection, and to recognize that their academic experience has career relevance," she said. "Their group assignments prove they can work on a team. Juggling courses shows that they have a handle on time management. Students learn how to meet deadlines, work with different people, collaborate in groups, advocate for themselves, and assess situations and propose solutions to problems."
The sessions include workshops on traditional areas such as how to become an accountant, and more 'outside the box' topics such as how to build a career in social activism by studying history. Most are online, but new livestock instructor Tadhg O Leary will welcome students to the livestock barn on the Chilliwack campus to discuss careers in the livestock and veterinary sector.
While most of the workshops are aimed primarily at students, UFV employees may find some of them relevant, such as Hope Centre coordinator Michelle Vandepol's Design Your Dream Job session, and UFV Counselling's offering Discover Your Career Compass.
UFV faculty, staff, students, and alumni are invited to take part in the various events (on-campus and online) that are taking place throughout the month of November. Make sure to keep checking back on this page for updates as new events get added.
Registration for the workshops is now open. Registration links are available under each event description: https://www.ufv.ca/jobs/career-fair/