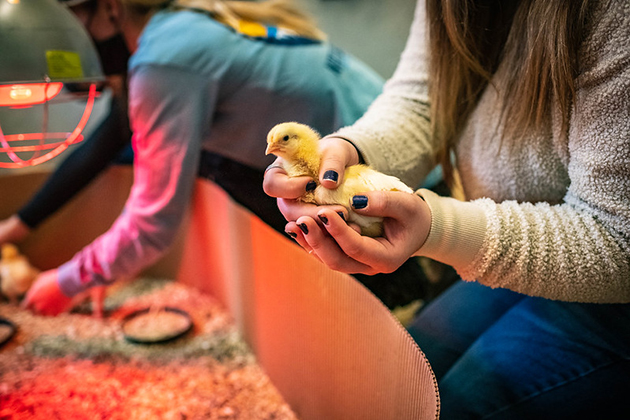 Name an animal, any animal. Chances are, you could have found them at Pandora Ferguson's 10-acre family farm, growing up in Bridge Lake, just outside 100 Mile House, BC, a remote town six hours north of Vancouver.
"Horses, a corral, cows, pigs, sheep, duck, geese, chickens, rabbits, like everything," said Ferguson. "And to be honest, I wasn't really into it too much when I was a kid. Didn't really appreciate it a lot."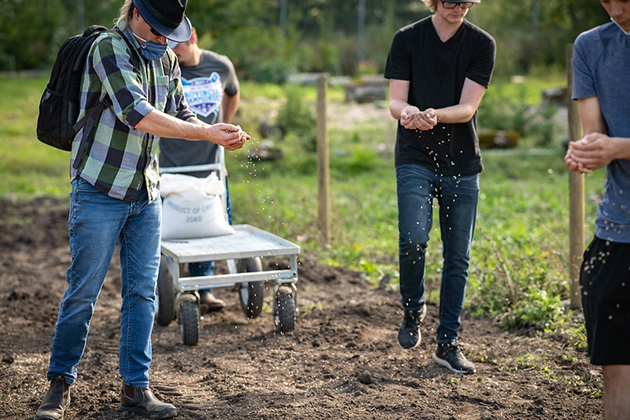 What she did appreciate back then (other than her parents' hard work) was how much she enjoyed the taste of the homegrown food. Fast forward almost three decades later, and those farming origins with a passion for nutrition and an unforeseen set of circumstances led her to UFV last year, enrolling in the Agriculture program.
"Then COVID hit last year and I got laid off from two jobs, so I had some time and I'm sitting here and I'm like, 'well, why not make the most of it?'" says Ferguson, who has been a part-time nutrition consultant for the past seven years and has long had a curiosity about  organic food production and sourcing.
"So I said, 'Okay, well, I'm going to pursue this dream and take the UFV Horticulture Crop Production and Protection certificate program.' And it just sort of came full circle." 
For Gursimran Khangura, studying horticulture has been her sole focus since moving to Canada from India as an International student in 2019. In her two years, she has gained a wide spectrum of experience, completing two practicums: one in a greenhouse learning technical skills in growing; and the other working in a flower field getting experience in the business side of agriculture.
"Our students might come in thinking, 'Oh I just love a particular animal or crop,'" says Dr. Renee Prasad, an associate professor and chair of the Agriculture department. "But then they realize there's so much more to agriculture than just what they might've experienced at their farm growing up or what concept they have of agriculture coming from a non-agricultural family."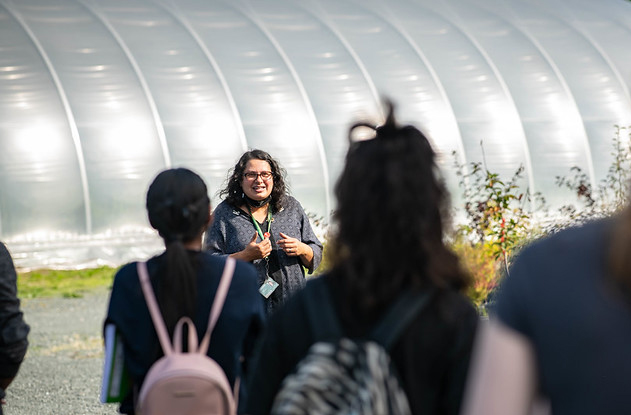 The Fraser Valley generates over $1 billion in annual agriculture revenue — top in the province. Because of its proximity to optimal farming land, UFV's agriculture program has been a coveted choice for more than 30 years. 
Part of the agriculture program experience is being out in the field (literally) and completing a practicum. Over the years, students have been placed in practicums in farms, wineries, greenhouses, food processing plants all over the Fraser Valley and the world. The program also offers livestock practicums that include dairy, beef, and poultry operations, cheese production, feed suppliers, among others.
Even during the pandemic year, when in-person interactions were limited, students were able to find hand-on training. In early 2021, there was a socially distanced soils lab as well as face-to-face pest management class in one of the campus greenhouses. 
Jade Sherwood spent the summer in Switzerland right now doing an internship with CABI, an international research organization for plant and crop safety. Noah Mylleville, who is studying livestock, did a practicum at the Smits and Co.w dairy farm and cheese producer in Chilliwack.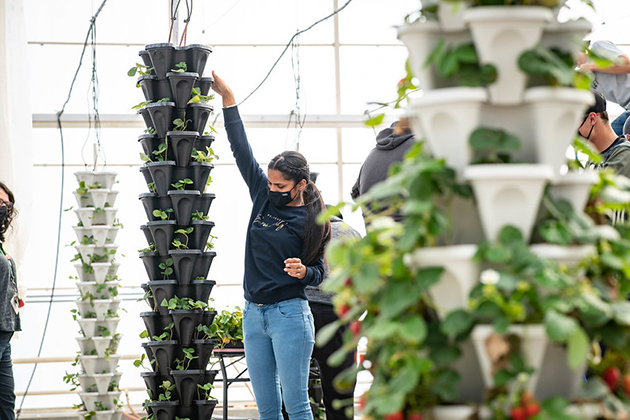 In April, Ferguson and Khangura paired up for a month-long, agriculture practicum at Lakeland Flowers in Abbotsford. Hosted by Paula Eraso, a UFV Bachelor of Agricultural Science student who has been working at Lakeland since late 2019, the two practicum students helped in customer support and education regarding cut flower care and in some basic site maintenance. While the job was not in Ferguson's primary field, the exposure to another side of agriculture proved to be invaluable.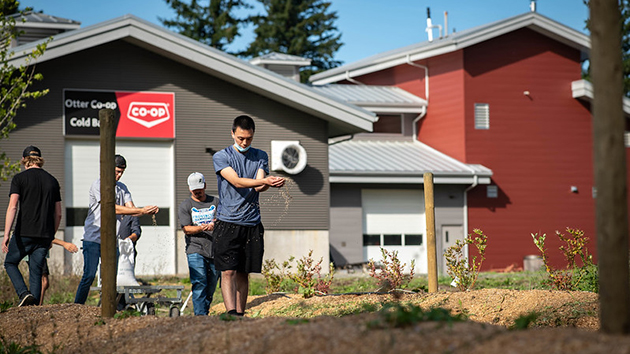 "At first, I was a bit hesitant because it was a tulip farm, so nothing to do with food production at all," says Ferguson. "But it turned out to be a really, really educational experience because I got exposed to the concept of cultivation and harvesting and pest management. In the end, it's not that dissimilar to growing food, you put something into the ground and watch it grow.
There were also many educational aspects as the students had the opportunity to learn about the production process, the different machinery, tour the facilities and our various flower fields (which also included daffodils, peonies, and sunflowers), and learn about floricultural production by picking the brains of the field supervisors and main grower, Nick Warmerdam.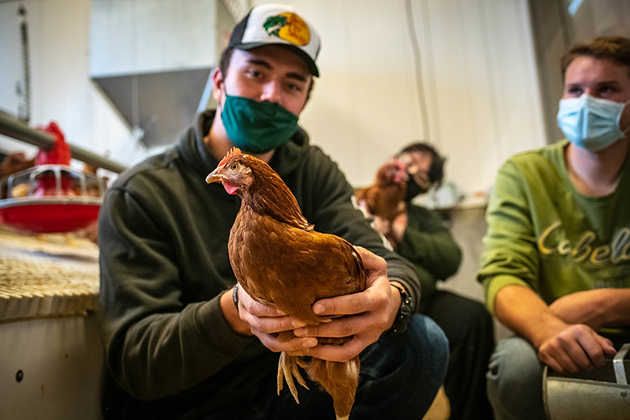 "They were both competent workers, but they were also engaged with their tasks," Eraso says.
Khangura graduated this year with a Agriculture Technology diploma and has aspirations to get a job as a food inspector for the Canadian Food Inspection Agency. During her first two practicums, she had already received a wide spectrum of experience — from crop production to soil management — and the latest practicum at Lakeland allowed Khangura to see the business side of the industry.
"It was a great experience for me because it wasn't just about the growing of different crops," she says. "A lot of it was about marketing and communications, such as learning to listen to customers and providing them good service. So it was pretty interesting and rewarding."
The variety and flexibility in the agriculture program, Eraso says, is what makes UFV agriculture graduates extremely valuable in the job force. Eraso, a veteran of three practicums herself as well as hosting Khangura and Ferguson at Lakeland, still has another year to complete in order to earn her bachelor's degree in agriculture science. She hopes to work in agribusiness or research, and she knows she will be well prepared. 
"I would suggest everyone in the program do practicums to take advantage of the work experience that we have available," says Eraso. "We are, after all, in the agricultural hub of British Columbia. There are many opportunities out there and even if it delays your studies by a semester, it's worth it because what you learn is priceless."
For more information about UFV's Agriculture programs, which include certificate, diploma, and degree options, visit www.ufv.ca/agriculture.