Sugar sheet initiative improves printing sustainability at UFV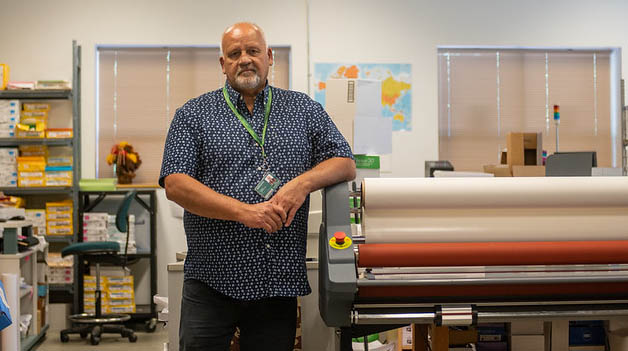 In over four decades in the printing industry, Chris Joakim has witnessed plenty of  evolution. Joakim, who once worked at the Canadian Bank Note Company where he printed Canadian currency, has been around long enough to remember when industry practices were both environmental and health hazards.
"The old inks were oil-based and there were some that were lead-based back in the day and it was dangerous," says Joakim, who is now the manager of Print Services at UFV. "I think at one time, more printers used to die from lung cancer than coal miners with the chemicals that we used to deal with it."
He adds: "But, it's been changing."
While printing machines have become more eco-friendly with water-based inks, low emission rates, and energy-saving technology, Joakim had long been wanting to switch to a greener paper option, but cost was always the barrier. Earlier this year, Diana Aguilar, the senior manager of Energy and Environmental Sustainability at UFV, approached Joakim's team pushing for more sustainable products and practices. 
After some research, Joakim discovered eco-friendly paper alternatives that were reasonably priced and high quality. The UFV printing team committed to using paper with a recycled content of 100 percent post-consumer waste (PCW). They also are transitioning to sugar sheet paper for uses in the near future. Sugar sheet paper is made from 100 percent agricultural fibre waste called bagasse, which is the residue waste of sugarcane after its been harvested. 
"It runs through machines the same as any non-recycled or partially-recycled material we used to run," says Joakim. "So, we're really happy with its performance."
Printing business cards is the first phase of using full biodegradable and recycled material. UFV Print Services will soon start manufacturing all course packs, manuals, and other print materials on sugar sheet paper.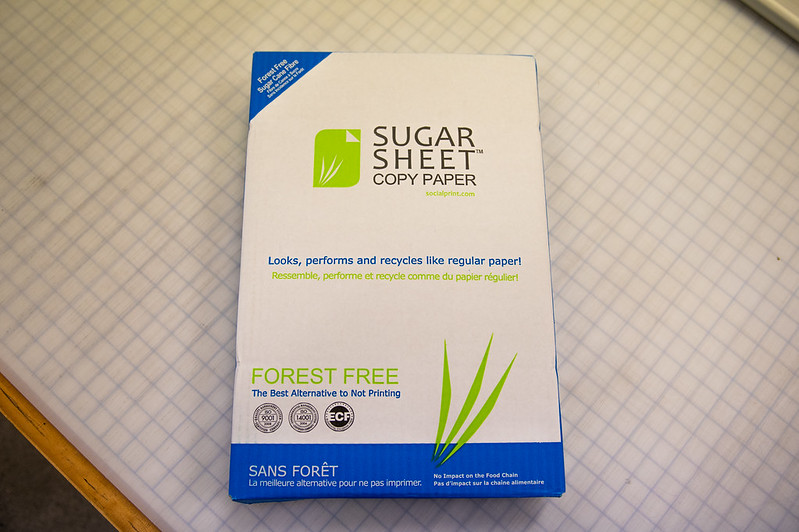 Aguilar, who joined UFV in April, helped create the institution's sustainability pathway, which aimed to align with the United Nations Sustainable Development Goals. One of the sustainability pathway goals will be to reduce the univeristy's carbon footprint, whether using more energy-efficient equipment in the kitchens or reducing paper consumption.
"Our greenhouse emissions are going to be reduced by implementing practices like the sustainable business cards," says Aguilar. "This is going to help us with UFV's overall integrated strategic plan to reduce our annual greenhouse gas emissions by 33 percent of 2009 levels by 2026."
Cameron Roy, the director of Ancillary Services at UFV, says that implementing clean practices in all facets across campus not only meets measured goals, but sets a strong example for students, staff, and even vendors.
"It just kind of encourages the whole mindset of sustainability if we're sourcing all kinds of alternatives to outdated products," says Roy. 
Being progressive and nimble is something that is not only appreciated by this generation of students, but demanded. 
"We have research that told us that 10 years ago, 40 percent of students used to choose a university based on their sustainability practices," Aguilar says. "Now that percentage has increased to 60 percent. So, if we want to be the university of the future and create an environment that is welcoming and responsible, we have to keep challenging ourselves to be better." 
To order your sustainable business cards, visit Print & Creative Services