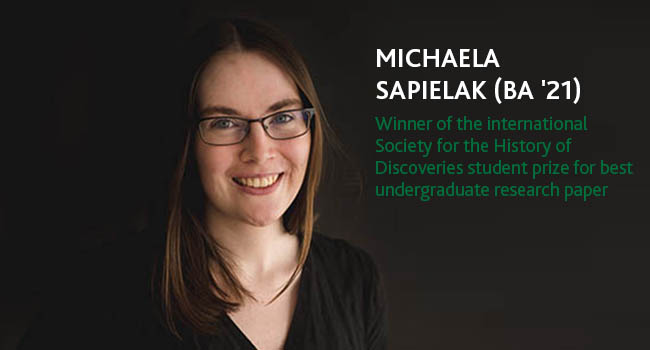 Michaela Sapielak always had an affinity for buildings. Not just any buildings, but heritage ones in particular. When she looked up at the ceiling of her grade school, Dunach Elementary in Abbotsford, as a 9-year-old, she marvelled at the towering ceilings and craftsmanship of the now-defunct 19th century structure. 
"There's just something about old buildings that make me feel like I'm in another world, but the same world at the same time, if that makes any sense," says Sapielak. "As I got older, the more I started to read about them and understand the meaning behind their designs. 
"I've always been fascinated."
In the years since, Sapielak has parlayed that early curiosity for history into her focus of her studies. At UFV, she has been a standout student in the History program, graduating top of her class this spring with a 4.03 GPA.
"She's known to the history faculty as somebody that always does outstanding work," says Barbara Messamore, a professor in the History department. "It's really wonderful when students are engaged and passionate, eager to uncover more in their own research."
Last spring, with the urging of Messamore, Sapielak submitted a research paper that she had previously written for a UFV History course into an international student essay competition held by the Society for the History of Discoveries (SHD). The criteria for the contest was originality, contribution to new knowledge, relevance, cogency of the argument, and quality of writing.
Several weeks later, she was informed that her essay on John Franklin, the 19th century British explorer who perished along with his shipmates as they searched for the Northwest Passage, had been selected as the winner for the SHD Student Prize for best undergraduate research paper.  
"I honestly forgot that I even applied because I've been working a couple jobs this summer, so when I got the email I was both surprised and really excited," admits Sapielak. 
The award was less of a surprise for Messamore, whose department had previously awarded Sapielak with the UFV Historical Biography Prize for the same essay. Messamore stated that the entire department was delighted to hear of the award.
"I said to Michaela, 'this is really of publishable quality,'" Messamore says. "She did an incredible job researching and crafting the story, drawing on Franklin's own narratives."
As part of her award, she was given a modest cash prize as well as the opportunity to present at the 2021 Annual Meeting of the Society for the History of Discoveries in New Orleans on November 19-20. Sapielak hopes to attend, but that's dependent on the status of the COVID-19 pandemic.
Since graduation, Sapielak has taken her time in deciding her next step. Currently, she is working as an architectural designer. But don't be surprised if she finds a way to merge her multiple passions including the one she developed as that intuitive 9-year old girl inside that heritage building.
"The hope is definitely to do grad school at some point," says Sapielak. "I just don't know in what context. Maybe there's a way to bring design and history together."