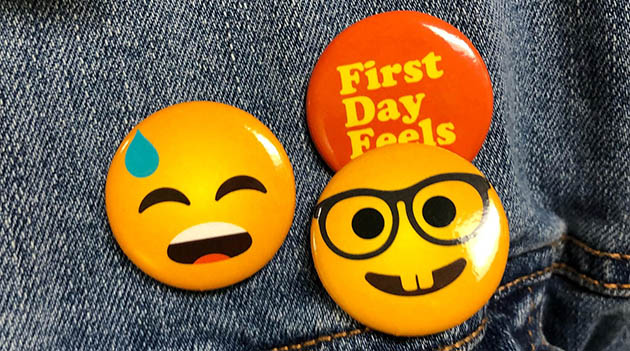 On a near perfect early fall morning on the Abbotsford campus, signs of normalcy — or at least the new normalcy — were evident. Droves of students, staff and faculty — all masked up — roamed around the outdoor walkways and inside the halls. Some people congregated on the grass together. Some sat at tables solo. 
It was the first week of classes — the first time in-person for most students and employees in nearly 18 months.
In the area outside the lecture theatre and outside the cafeteria in Building B, a large interactive billboard dubbed "The Spectrum of Feels" hung against the wall. Throughout the day, passersby placed emoji stickers on various positions on the board depending on their mood. Online, a plethora of Instagram stories in retro font and bold orange and yellow colours polled UFV followers, gauging their emotions on returning on campus.
"How are you feeling today?"
"Missing the comforts of home?"
"From slippers to your favourite sneakers. Which one are you wearing today?"   
In a time period marred by a global pandemic, isolation, and societal restrictions, shifting the focus to student and employee well-being was the goal behind the First Day Feels campaign.
"We really wanted to create an opportunity and space for people to say, 'here's where I'm at emotionally,'" says Breanna Willock, marketing manager at UFV. "Like, you don't have to be excited if you're not excited. Wherever you're at, it's fine."
First Day Feels was the brainchild of long-time UFV graphic designer Camilla Coates. A few weeks before the start of the semester, Coates, with the help of other designers and members of UFV marketing and communications teams, conjured up an interactive campaign aimed to welcome back students and staff to campus by both embracing the opportunity to resume traditional learning and acknowledging the anxiety of returning.
"UFV is different from other institutions; it's part of our brand promise that we are friendly and supportive," says Coates, who has worked at UFV since 2007. "So, thanking and checking in with everyone who stuck with us during this unending uncertainty felt like the natural expression of that promise."
Part of the concept of First Day Feels was incorporating feelings of nostalgia through vintage imagery and relatable messaging. 
"We wanted to unite people through a collective experience that I imagined most people shared — this concept of 'firsts,'" Coates says. "New experiences fall somewhere on a sliding scale between excitement and nervousness."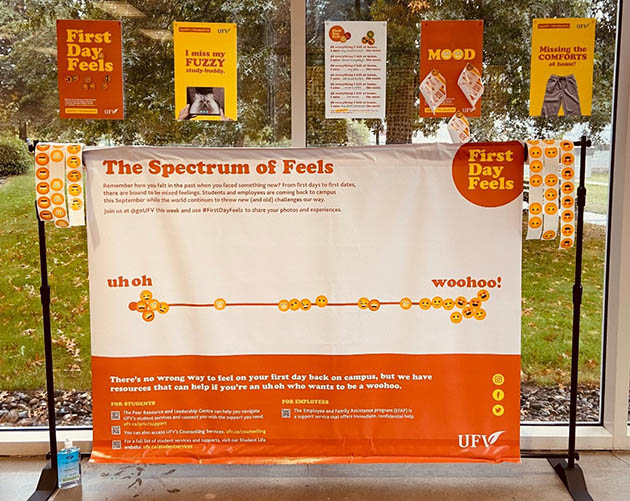 Given that we are living in the digital, social-media era filled with memes, emojis, and images, Coates and the team wanted to allow people to express themselves without having to verbalize or explain. On Instagram, they could just press a button to respond to a prompt. In person, they could wear emoji pins or place stickers on a board to convey their mood. The campaign allowed them to be anonymous or direct; online or in-person. There were counselling resources available if participants felt they needed them. 
The feedback, according to Willock, was overwhelmingly positive. From the participation on campus to people posting photos and sharing their stories with the hashtag #FirstDayFeels, people were vulnerable and supportive. Some chose a frustrated face emoji on Instagram. Some excitedly posted video stories of setting foot back on campus. 
Willock herself shared a photo with her kids and expressed her feelings returning to campus both to work and to the courses she's taking for her Bachelor of Integrated Studies degree.
"I'm nervous adding part-time studies to an already full plate, while juggling a full-time job and parenting two kids, but there will never be a perfect time to go back to school," she wrote on her Instagram caption.
Not everyone may have been as transparent as Willock or others who shared their experience. But if the campaign resonated with the audience; if it made them feel heard; if it allowed them to vent; if it allowed them to feel, then it was all worth it to the organizers.
And, doesn't Coates know it. She can attest that these are trying times and we are all doing the best that we can.
"As an introvert with buckets of anxiety — especially as I get older — I wanted to hold space for people like me and also for the much braver and more resilient among us," says Coates. "I wanted to remind people that they have already proven they can do hard things."
Resources
There's no wrong way to feel on your first days back on campus, but we have resources that can help if you are in need of support:
To reach out to a Peer Resource and Leadership Centre peer leader to build community connections and for one-to-one support from someone who understands the student experience: ufv.ca/prlc/support
To access UFV's counselling services for students: ufv.ca/counselling
For a full list of student services and supports: ufv.ca/studentservices
UFV employees, the Employee and Family Assistance program offers immediate and confidential help: ufv.ca/hr