As Canada marks the National Day for Truth and Reconciliation as a statutory holiday for the first time, there are a variety of events at UFV and in surrounding communities where you can learn more about the tragic and painful history and ongoing impacts of residential schools.
UFV will be closed on September 30 to give students and employees the opportunity to attend related events or reflect in their own way.
Orange Shirt Day event with Phyllis Webstad — Sept 30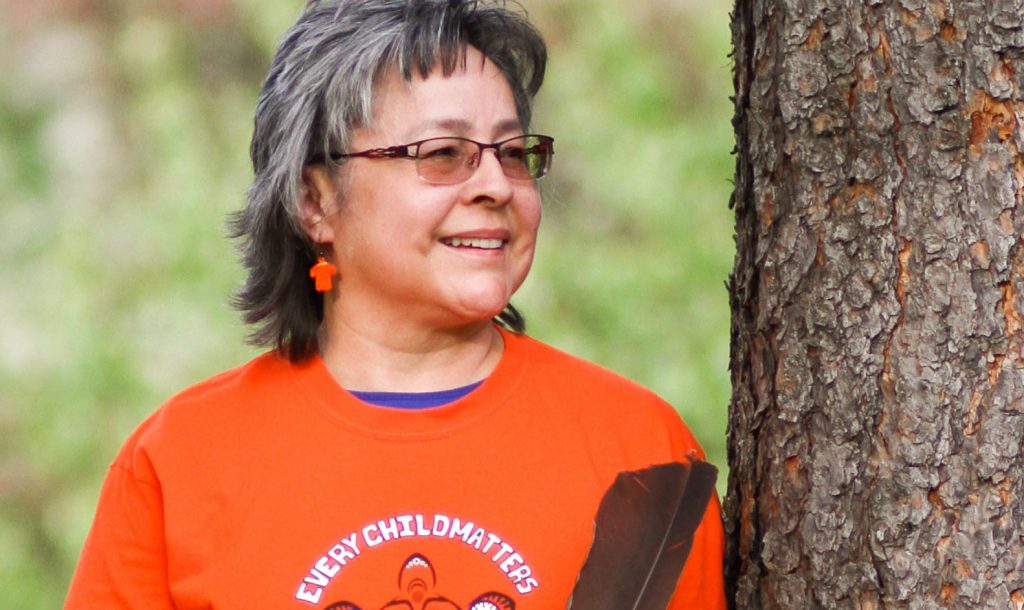 Everyone is encouraged to wear orange on September 30 in recognition of an Indigenous-led grassroots commemorative day that honours the children who survived Indian Residential Schools and remembers those who did not. This day relates to the experience of Phyllis Webstad from the Stswecem'c Xgat'tem First Nation on her first day of school, where she arrived dressed in a new orange shirt, which was taken from her. It is now a symbol of the stripping away of culture, freedom and self-esteem experienced by Indigenous children over generation.
Phyllis Webstad will be speaking at 11 am on Thursday, September 30 at Fraser Valley Heritage Park in Mission, an event that UFV Provost James Mandigo encourages everyone to attend.
The park is located on the site of the first Mission Indian Residential School, at 7494 Mary Street. Parking is available at the park and also the nearby Heritage Park Centre (location of UFV's Mission campus). Bring a chair and wear orange.
Lexéywa Art exhibit — Sept 28 and 29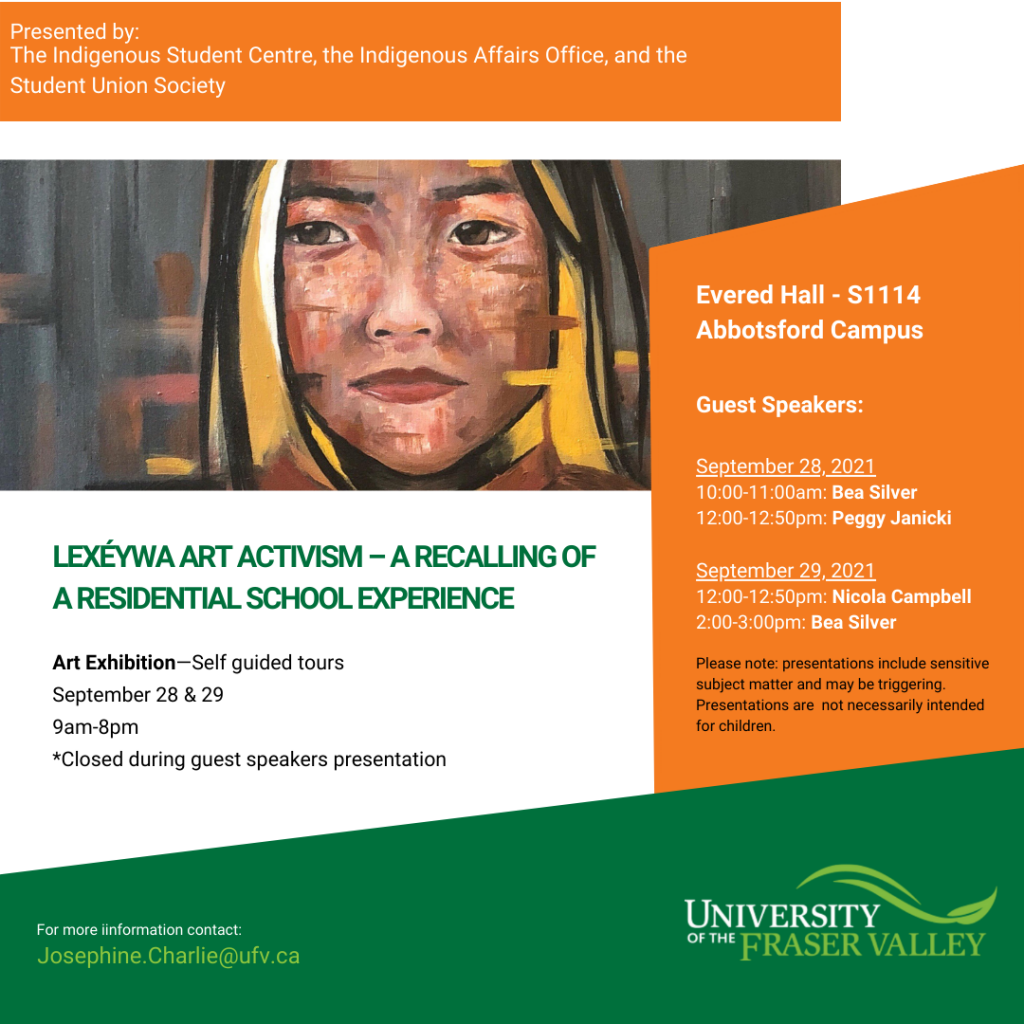 The UFV Indigenous Student Centre, in partnership with the Indigenous Affairs Office and the Student Union Society at UFV, presents Lexéywa Art Activism — A Recalling Of A Residential School Experience.
This art exhibition in Evered Hall (in the SUB on the Abbotsford campus) takes place Tues and Wed, Sept 28 & 29., 9 am-8 pm
Guest speakers
Tues, Sept 28:
10-11 am: Bea Silver
Wed, Sept 29:
12-12:50 pm: Nicola Campbell, author and UFV Indigenous Studies professor
2-3pm: Bea Silver, residential school survivor.
Open to all UFV community. No registration required.
Self-guided tours will be available throughout the day from 9 am to 8 pm on Sept 28 & 29,
This Art Activism initiative was created by the students of Robert Bateman Secondary. This will be an opportunity to witness their work which visually narrates the life story of Bea Silver, a prominent Elder, educator, leader and residential school survivor.
Lexéywa – "Torch" calls us to consider the history and impact of residential schools on a national level. Viewers will move through the circular exhibition of 20 large-scale paintings. These are paired with audio recordings that relay Bea's story chronologically, uncovering an individual experience that speaks to the lasting impact of residential schools.
*Presentations include sensitive subject matter and may be triggering
*Not intended for children
https://www.ufv.ca/isc/events/
For more information, contact Stacy Hulbert at stacy.hulbert@ufv.ca
Peace talk: Renaming and Destatuing: Challenging History in the Age of Reconciliation Building — Sept 30

UFV's Peace and Reconciliation Centre presents a panel discussion on renaming and destatuing. Moderated by Professor Keith Carlson, director of PARC, the panel will feature Indigenous and settler scholars from across Canada and the U.S., including Professor Jon Lutz of UVic, George Ironstack of the Myaamia Center at Miami University, and Professor Omeasoo Wahpasiw of UPEI, and Professor Brian Hosmer of Oklahoma State University.
The panel will take place on Thurs, Sept 30, at 11 am. Please click the link below to join the webinar:
https://ufv-ca.zoom.us/j/61630016385?pwd=WnNqcmRTdmJEWUZTSjVLZTlCdkFiUT09
City of Chilliwack activities
Find National Truth and Reconciliation Day activities in Chilliwack by following this link from the City's home page.\
Coqualeetza Grounds Tour
Discover the culture, traditions, history of the Stó:lō people; learn about the traditional art, plants, collections and language. Explore the Stó:lō Resource Centre and learn about the authentic Coast Salish basket and archaeological collections including Man Turned to Stone: T'xwelátse. Sonny McHalsie will guide you around the grounds while narrating stories about the grounds and the surrounding area. A great way to learn about the Stó:lō people, traditions, culture and language.
Wed, Sept 29
3-4:30 pm
7201 Vedder Rd, Chilliwack, BC
Register today by clicking the link below!
https://chilliwackchamber.chambermaster.com/eventregistration/register/1879
Envisioning Reconciliation – a Sto:lo website
If you are interested in learning more about the way Sto:lo people are envisioning genuine reconciliation please check out this website that was pulled together between the Sto:lo Research and Resource Management Centre and UFV with participation Professor Keith Carlson, Sto:lo individuals, the Mathxwi (Matsqui) and Chawathil communities, and students and teachers from Hope, Chilliwack, and Surrey: stoloreconciliation.com
Mental health supports available
Former Residential School students can call 1-866-925-4419 for emotional crisis referral services and information on other health supports from the Government of Canada.
Indigenous peoples across Canada can also go to The Hope for Wellness Help Line 24 hours a day, 7 days a week for counselling and crisis intervention.
Call the toll-free Help Line at 1-855-242-3310 or connect to the online chat.
Truth and Reconciliation Commission and its Calls to Action
There were 140 federally run Indian Residential Schools that operated in Canada between 1831 and 1998. The last school closed only 25 years ago. Survivors advocated for recognition and reparations and demanded accountability for the lasting legacy of harms caused. These efforts culminated in:
The Truth and Reconciliation Commission ran from 2008 to 2015 and provided those directly or indirectly affected by the legacy of the Indian Residential Schools policy with an opportunity to share their stories and experiences. The National Centre for Truth and Reconciliation has become the permanent archive for the statements, documents and other materials the Commission gathered, and its library and collections are the foundation for ongoing learning and research.
The Commission released its final report detailing 94 calls to action. The National Day for Truth and Reconciliation is a direct response to Call to Action 80, which called for a federal statutory day of commemoration.
Ey Swayel Si:yam Siya:ye.
Long before Canada was formed, the Stó:lō (people of the river) occupied the land on which UFV is located. They lived in the Fraser Valley and lower Fraser Canyon of British Columbia and they spoke Halq'eméylem, also known as the upriver dialect.
UFV recognizes and honours the contribution that Aboriginal people have made − and continue to make − to our community. The university supports Indigenous learners and seeks to incorporate indigenous ways of knowing in the curriculum