Put yourself in Ellie Sinclair's shoes.
Back on March 2, 2020, when she was introduced as part of the UFV women's volleyball team's class of incoming recruits, she had a very distinct picture of what her first year of university would look like.
She'd attend in-person classes primarily on the Abbotsford campus, pursuing her Criminal Justice degree alongside like-minded peers, with future employment with the Canadian Border Services Agency as the end goal. She'd compete in front of supportive home crowds at the UFV Athletic Centre, making history as part of the first Cascades women's volleyball team to play at the U SPORTS level. (The volleyball team made the leap up to this highest level of Canadian university competition in 2020.) She'd travel extensively, making volleyball road trips across Western Canada with a group of teammates who would become some of her closest friends.
That vision began to melt away in slow-motion in March of 2020, when the World Health Organization officially recognized COVID-19 as a pandemic. University classes shifted primarily to online. The U SPORTS season was cancelled in stages, limiting teams to practising within strict provincial protocols.
And thus, Ellie's freshman year became an exercise in adaptation.
"Personally, I found it pretty hard," she says, reflecting on watching her academic and athletic expectations slip away over the course of the spring, summer, and fall. "It was a struggle some days to find motivation."
Dating back to elementary school, Ellie's academic journey has been complicated by a reading comprehension learning disability.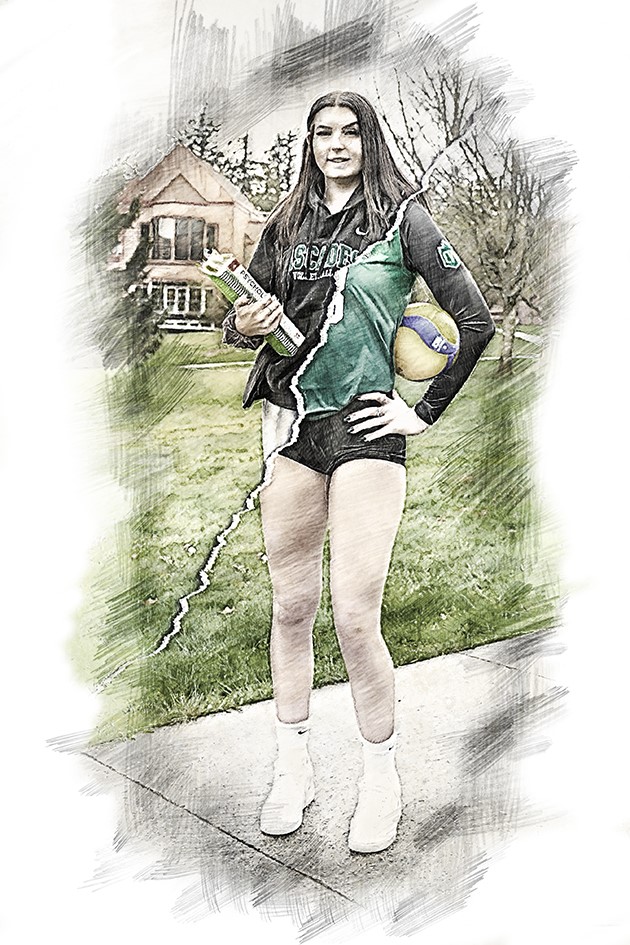 She was good with numbers, so math came easily. She had a good memory, so she generally tested well. But absorbing and interpreting the written word was a tremendous struggle. To fully comprehend a text, she'd have to read it over at least four times, whereas most of her classmates would achieve the same level of understanding in one or two readings.
Despite that, Ellie was a solid student during her time at Lord Tweedsmuir Secondary in Surrey, B.C., posting A's and B's while receiving supplementary academic input from learning support team (LST) teachers.
When it came time to pick a university, Ellie wasn't simply fixated on the volleyball situation. Recruited by volleyball programs at Simon Fraser University and Douglas College in addition to UFV, she spent a lot of time researching each school's academic support infrastructure. And in the end, what UFV could offer through its Centre for Accessibility Services (CAS) was a major factor in her decision to sign with the Cascades.
"They were super-welcoming at CAS," she says. "I had multiple meetings with them when I was in Grade 11 and 12. I didn't feel like I was going to be alone going to UFV."
Over the course of her senior year of high school, Ellie developed a relationship via email with CAS accessibility advisor Helen Twentyman, who gave her feedback on what academic supports would be available to her at UFV. When the fall 2020 semester began, though, Ellie didn't initially lean on those supports. The volleyball schedule proved to be a bit of a whirlwind, more demanding than she'd expected. Even with no games on the schedule, the Cascades were doing skill and fitness work daily. Keeping up with the readings across all of her classes proved a major challenge.
A subpar mark on her Psychology 101 midterm was Ellie's wake-up call — "like a punch in the face," she says. She reconnected with Helen at the CAS, who helped her obtain digital versions of her textbooks along with a software called Kurzweil 3000 that could read her textbooks out loud to her. The CAS also reached out to her professors, and she was granted additional time to complete exams.
She also leaned heavily on her veteran teammates with the Cascades women's volleyball team. Fourth-year student-athlete Lauren Poirier took Ellie under her wing academically, explaining how to use the Blackboard Learn software, and breaking down how to stay on top of her academic workload. That involved hanging an oversized calendar on the wall above her desk, and transferring all of her readings, assignments, and exam dates from her course syllabi onto it, colour-coding with highlighter.
As Ellie began to find her footing academically, she also started to feel at home with the Cascades. Third-year veteran Grace Warkentin came alongside to show her what it took to compete at a high level in practice, day in and day out. She also got to know her teammates better thanks to a number of creative activities organized by head coach Janelle Rozema.
While the squad wasn't able to enjoy casual social interaction at the gym due to pandemic protocols — they'd do a COVID symptom check upon entry, practise in accordance with the latest provincial guidelines, then exit immediately in a socially distanced fashion, Coach Rozema built community by hosting bonding activities via Zoom, including watch parties of The Last Dance (Netflix's Michael Jordan documentary series).
"I feel like I always have someone to talk to," Ellie says. "I've never really not been part of a sports team, so I don't know any different — what it would be like not to have those people. But I always feel like I have someone by my side. I don't even feel alone."
At the conclusion of the fall semester, Ellie's jaw dropped when she saw her GPA: It was at 3.89, putting her on the Dean's List and on track for U SPORTS Academic All-Canadian honours.
"I didn't think I was doing that well," she says. "I had to try very, very hard. In high school, I wasn't used to having to work as hard as I needed to in university, so it was kind of a shock. I definitely couldn't slack off one bit.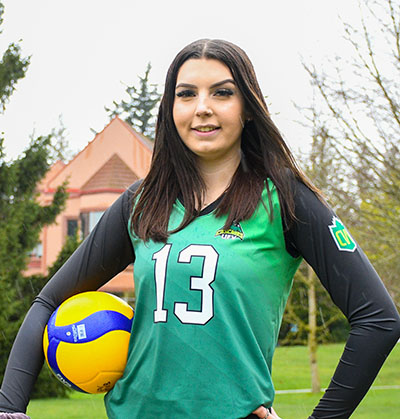 "I felt proud of myself. I wasn't expecting that, at all. It gave me more confidence going into the next semester."
As she looks to the future, Ellie is optimistic… and a bit nervous.
On one hand, she's added a lot of tools to her toolbox this year. She understands how hard she has to work academically, and how to manage her time to give herself the best chance at success. She knows how to access the learning resources that make such a big difference for her.
And she's got a built-in support system around her in her Cascades teammates and coaches.
At the same time, as Ellie looks ahead to the planned return of in-person classes in the fall, there's a bit of trepidation.
"Other than my campus tour, I've never been anywhere at UFV other than the gym," she says with a wry chuckle. "I'll be a second-year, but I still feel like a first-year because I've never been there for in-person classes.
"After this year, I do feel more prepared, but I'm also a little nervous.
"But I'm excited. It'll be a new experience."
This article originally appeared in the 2021 edition of UFV's Skookum magazine. See the PDF version of Skookum here.