Students are not the only ones being evaluated and constantly pushed to excel.
University programs that want to provide an elite academic experience for their students and seek accreditation by internationally recognized organizations must not only meet a certain high standard, but must also prove continual growth and improvement.
Case in point: the UFV School of Business.
In 2018, the School of Business received EFMD (European Foundation for Management Development) international accreditation for its Bachelor of Business Administration program. The EFMD is a global non-profit organization and accreditation body that confirms the quality of management education with established accreditation services for business schools and their programs.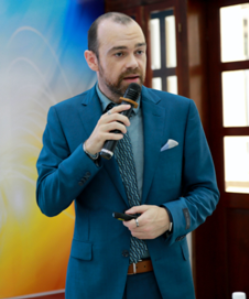 Acquiring EFMD accreditation entails a rigorous selection process, which explains why only 110 programs in 35 countries have received it. But more importantly than the prestige, is what UFV business students can gain from attending a program with this accreditation.
"For students, the accreditation shows that the BBA program offered by the UFV School of Business is aligned with best practices and that we are benchmarking those practices with the best universities in the world," says Dr. Christophe Schinckus, director of the UFV School of Business.
In June, UFV received word from the EFMD office in Belgium that its BBA program's accreditation has been renewed for another three years.
"This is a real honour for us to be recognized by EFMD", Schinckus says – "Being accredited is not only the achievement of a particular project, it is more about a transformative process combining a continuous reflection on our pedagogical standards with a perpetual improvement of our academic practices".
Renewing accreditation is not a simple process, nor is it guaranteed for existing members. It's not like renewing your passport, where you just submit a new photo and pay a processing fee. Universities go through an intense screening process year round, including submitting detailed reports annually, transparency into their academic practices (such as their curriculums, the way courses are assessed etc.), and thorough interviews with students and staff during a campus visit.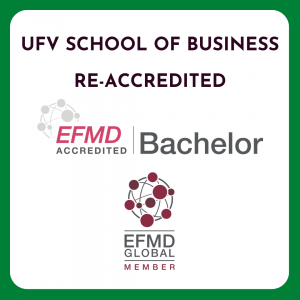 "Every year we have to share a report addressing the recommendations that they give us in order to improve our processes and tactics," says Schinckus, who notes the EFMD also grades progress. "So, it's not only about teaching, it's also about the way we assess the quality of our teaching."
Among the UFV faculty and staff leading the renewal and management process over the past three years were Dr. Luciana Hakak (assistant professor), Karmin Gray (quality assurance, accreditation, & stakeholder engagement assistant) and Dr. Carl Janzen (who served as acting director of the School of Business while the search was ongoing for a permanent director).
Schinckus, who joined UFV in April 2021, has extensive global teaching and managerial experience, including the University of Quebec at Montreal, the London School of Economics (UK), University of Leicester (UK), RMIT Melbourne (Australia), and Taylor's University (Malaysia). He believes that the daily accountability to exceed the standards ensures that the students are receiving a unique education experience that is current and relevant to the work environment.
Another advantage of having an accredited program is that the School of Business can be recognized for its distinct ability to integrate real-life industry experience with solid academic skills — particularly from an international business lens. This membership also provides the school with unique opportunities to interact with a global network of companies, public sector organizations, and consultancies.
It is that kind of advancement that prompted Schinckus to take on his next career challenge in Canada.
"I joined UFV because in my interaction with the faculty at the school, I really had the feeling that it's great timing now to build something special here," he says. "I can feel that there's a momentum going on here and this accreditation is a huge part of that."