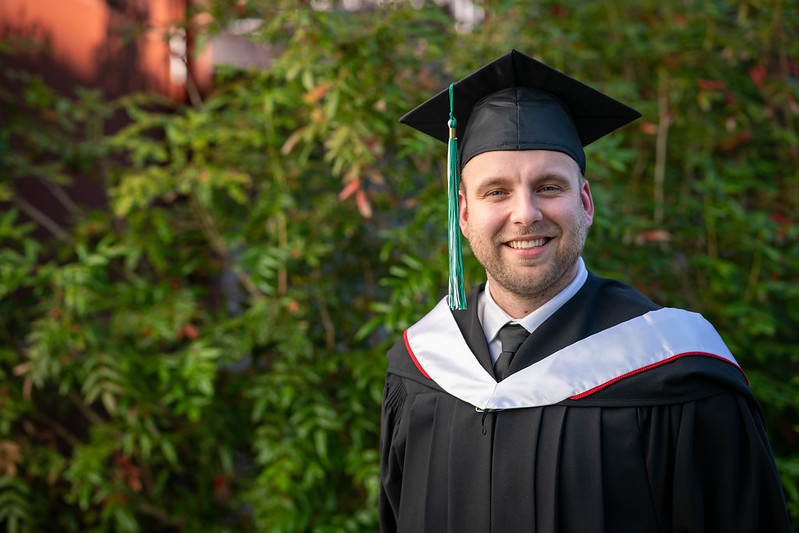 Even as a child, the intricacies of law have always appealed to Ryan Buhrig. So, when it was time to pinpoint a career, it was no surprise which field he would pursue.
The only question left was: which direction of law would serve his greatest purpose?
As an undergraduate student at the University of British Columbia studying business with a specialization in organizational behaviour in the early 2010s, Buhrig had his sights set on law school until one of his professors interjected.
"She actually recommended that I try policing as a career and it really made me think," says Buhrig, a native of Surrey. "And for me, it was just kind of an opportunity to stay active, which is very important to me, and the chance to really make a difference in my community."
Since receiving that advice, Buhrig has gone on to excel in both the field and the classroom. He has seven years of experience working in law enforcement and is also graduating this year from UFV with a master of arts degree in criminal justice (and a perfect 4.33 GPA). It is this rare combination of dedication, passion, and academic achievement that has earned Buhrig the prestigious Governor General's Gold Medal, presented to the student from a master's degree program with the highest academic standing.
"I felt honored, given that I graduated with a number of exceptional classmates as well," he says. "It is a privilege for the university to acknowledge me."
Buhrig joined the RCMP in Saskatchewan upon earning his bachelor's degree from UBC in 2014. When returning to BC in 2017, he became a member of the Port Moody Police Department.
With solid experience of policing in the field under his belt, Buhrig's next move was to expand his knowledge on the administrative, systematic, and psychological side of law enforcement — an extension to what he was studying at UBC several years back. He returned to school in 2019, enrolling in UFV's criminal justice master's program.
"A lot of my degree was based on organizational culture within police departments and looking at how it correlates to performance," Buhrig says. "It was that academic background that I took into my master's program at UFV."
For his master's major paper, he explored organizational culture — specifically masculinity — within police departments and how it contributes to negative organizational outcomes such as lower job engagement, increased stress, diminished psychological wellbeing,and increased rates of PTSD.
"One of the things about being a police officer, we're often kind of siloed into thinking about how things are done specifically in policing," says Buhrig, who credits his major paper supervisors, Irwin Cohen and Amanda McCormick, as major influences during his time at UFV. "One of the things that the program did, in particular, was to give me a full perspective of the entire criminal justice system."
His master's program also enabled many unique, outside-of-the-classroom learning opportunities for Buhrig, such as working with the Community Justice Initiatives Association (CJI), a non-profit society located in Langley focusing on restorative justice. But he concedes the global pandemic limited the graduate students' ability to interact with peers from a variety of areas of criminal justice.
"I found that part of it to be kind of particularly challenging, just because we were getting a lot of value from those face-to-face interactions," he says, adding the program did have an effective remote learning system that allowed them to carry on despite the constraints of COVID-19.
In June, Buhrig accepted a position with the new Surrey Police Service, which according to its website will be an innovative, modern, and proactive division that reflects Surrey's diverse urban community and implements proven community-responsive approaches to building safety and well-being.
"It's a very exciting opportunity for me to be part of something new and apply the knowledge from my Master's program," says Buhrig, a resident of South Surrey.
He also has ambitions to be on the administrative leadership side of law enforcement, where he can help make systematic changes that will help the police force become more efficient, more prepared, and more connected with the diverse communities they serve.
After all, this is his passion. Forget the accolades, the awards, and the perfect GPA. Acquiring knowledge and figuring out how to implement it in real-world scenarios is what matters most to Buhrig.
"For me, it's not about marks, it's more about the academic journey that I find interesting," he says. "That's one of the things I've enjoyed about the criminal justice program at UFV is that it was all extremely relevant. We really explored real things that were happening in the world right now.
"So for me, it was just really about being able to dive into those deeper."