Late last month, Alona Gurieva was at home in Langley when she received an unexpected email. It was from Christina Slavik, the department head of Child, Youth, and Family Studies at UFV, letting Gurieva know that she was the recipient of the 2021 Governor General's Bronze Medal at the University of the Fraser Valley, awarded to the student in a two-year program with the highest grade point average.
It was a prestigious honour that was equally as confusing as it was flattering.
"I didn't know what this award is all about," admits Gurieva, who is graduating with an Early Childhood Education diploma. "After I found out, I was in disbelief that it really happened to me. Like, why me? I'm really honored and happy that I got it because it has been a big journey for me."
She is not kidding about the journey. While everybody has their own educational and career story, and their own barriers, Gurieva took an almost unheard of route to get to her current role as star student. She has been studying full-time for the better part of the last decade, and earning high marks — she accomplished a perfect 4.33 GPA in her last 60 credits.
"Maybe that's the only thing I can do…I can study," she says with a laugh.
Prioritizing education has always been sacred to Gurieva. Back home in Ukraine, she had earned a master's degree in law. But when she immigrated to Canada with her husband and her young child 10 years ago, Gurieva had to start her educational journey from scratch. Literally.
The first step was enrolling at a language school to learn English. Then, she attended high school in Langley, before she decided the next level of schooling would not involve studying law.
"I was trying to find something else that I'm really passionate about and it was actually children," says Gurieva, whose own children are 9 and 14. "That's how I found out about UFV's early childhood education program."
Gurieva has been studying at UFV since 2019; the first year-and-a-half was earning her certificate in Early Childhood Education. She then continued into the ECE diploma, specializing in Infant/Toddler care.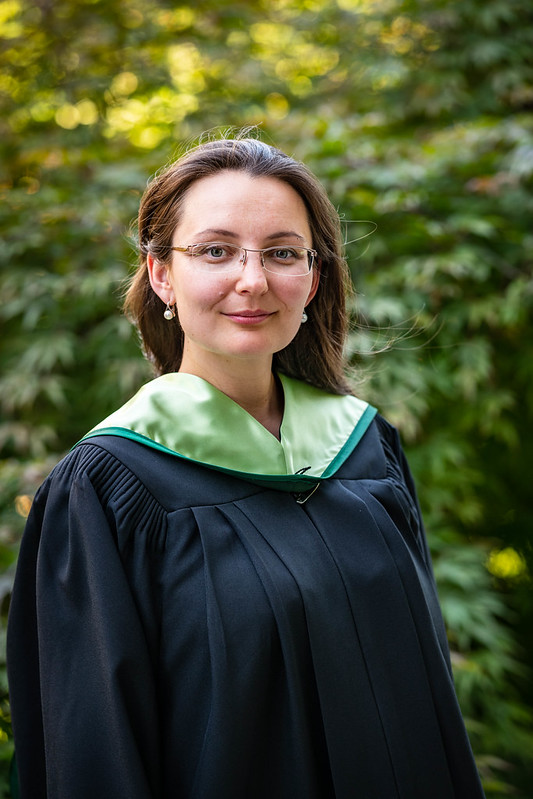 Childcare professionals are in high demand. Early childhood educators and assistants are sixth on the Globe and Mail's list of the 10 jobs expected to be in highest demand in B.C. for the next decade. She completed her first practicum at the LCS Building Blocks Preschool in Langley.
"I really enjoyed my education program because, compared to my experience when I was getting my law degree, it's totally different," says Gurieva. "It's so friendly and lively. The instructors and professors are so enthusiastic about sharing their knowledge and experiences with us."
She also credits Harmony Wilson, her manager at her first practicum, for elevating her learning curve.
"I found that my viewpoint of children changed a lot in a good way when I came into the program."
Through her combined experiences in the classrooms and practicums, Gurieva had learned techniques on how to guide children, support their healthy development, and empower them to discover their own identities. Gaining a better understanding of how kids observe and learn enabled her to become a better teacher in both a professional setting and with parenting her own children.
"In the last few years, I've had the best memories and greatest learnings," she says. "We had lots of hands-on experience when we were creating together as a group. We were coming up with games and doing new activities outside. Together, we had lots of laughs."
With the great memories, there were also challenges. The pandemic year made it hard for her to get matched up with a practicum in an infant/toddler centre (although she eventually found one). And speaking of infants, Gurieva is currently pregnant with her third child.
For the first time in a decade, she will take a pause on being a student herself. She will focus on raising her children while figuring out what is next. It might be more schooling, a classroom or daycare job, or something totally unexpected.
"I used to make up stories for my children." says Gurieva. "So, maybe I will write children's books. It's just a big dream at the moment, but we'll see."
One thing we have learned about Guerieva is she is versatile, she marches to her own beat, and she takes aspects of everything she has learned and morphs it into something refreshingly new. So, perhaps we will see her name in print as a children's author.