We asked the UFV community how their pets have helped them cope during the pandemic.
Winston the TA
Robin Anderson, History
Within the COVID context I built my online History 101 course last summer with Winston (my daughter's dog) as the teaching assistant in several sections (over 150 students) in the summer, fall, and winter semesters. He played an important role in the course, and his images were used extensively to lighten the course for students. The students through three semesters LOVED him, and often referred to Winston in their emails (and occasionally in their written assignments…). As a result, Winston played an important role in helping maintain student engagement with the course.
---
Conversation pieces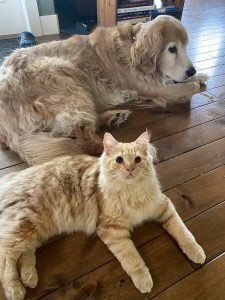 Anne Russell, University Relations

Fourteen months. Four, sometimes five, of us working and studying from home. My son went to high school, but his social life was severely restricted. Which left us all with not much to talk about. There's only so many times you can say, "how was school today?" and get an answer beyond "all right."
With almost nobody leaving the house, there's just not a lot of news to share about friends or family or what so and so said at the office or in class.
But our four cats and one dog provided us with a lively narrative to relate about who chased whom today, who was up a tree, who had another encounter with a squirrel, who rolled in the leaves and came in covered in them, and who ran headfirst into a wall again (that would be Joey, our visually impaired one-year-old ginger cat).
The hijinx of our pets brightened our day and gave us some actual news to talk about at dinner time. And we kept connected with our adult daughters when they moved away again for work or school by sharing funny photos or videos of animal antics.
—-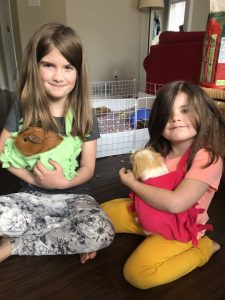 These pets were literally guinea pigs
Heather McAlpine, English
We were lucky enough to welcome a pair of guinea pig brothers in November, a day after the health order discouraging even outdoor gatherings was announced. Before the pandemic hit, we knew we wanted our kids (Frances, 9, and Georgie, 5) to have some kind of pet, but the likelihood of another shutdown spurred us to action in the fall. The days were getting shorter and while my kids play well together (usual sibling squabbles aside) things looked kind of bleak.
My husband and I have owned guinea pigs in the past and knew we loved them, but we weren't sure if our daughters would be allergic, or if we could handle caring for pets on top of looking after kids and working from home. At first, we volunteered to foster Rocco and Ozzy from a local small-animal rescue for a limited period of time. But the moment we plopped a pig in each kid's lap and their eyes lit up, I knew these fuzzy potatoes were family. After a week, when the rescue texted me asking for pictures so she could advertise the pigs for adoption, I told her we would keep them.
Since then, the girls have delighted every day in feeding their pigs big leaves of lettuce and piles of fresh-cut hay; they've cuddled them, helped trim their little nails and taken them out to the garden for exercise; they even took an online class to learn how to make guinea pig carriers so they can tote their furry friends all over the house.
Guinea pigs are not an especially long-lived animal, but we are hopeful these pandemic pigs who saw us through some tough times will be with us for many years to come.
—–
Therapeutic kittens
Danielle Deschamps, Assessment Services

I bought two beautiful adorable cats – Lady and Gizmo — last year just before the pandemic….
They are a pure source of joy for all the member of our family.
I have a brother who lives with me since 2019. He is under treatment for stage 4 lung cancer.
The cats visit him in his room and have conversations.
They bring love and I'm sure it helps my brother to stay happy.
When my 16-year-old grandson comes home the first thing he does is take the cats in his arms and receive love from them.
I have a niece who lives with me — the daughter of my brother who's sick — and she was depressed with the pandemic and her Dad having cancer …but since we have the cats she's happy to pet them and when she comes back from work they greet her showing they're happy to see her.
For me they are my joy — they sleep beside me, work with me on the computer …when I cook they follow me in the kitchen …probably wanting food!
And when I paint they play with my brushes and paint with me.
They really are a source of joy and love since the pandemic began, for my family and me they are the centre of attraction and foster connections between all of us to help ust stay happy and positive.
____
Dean's support staff
Tracy Ryder Glass, Dean of Professional Studies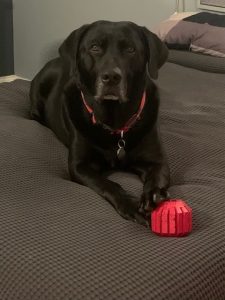 This is Ty — over the pandemic he has transitioned well into his new role as the Dean's remote office lead support staff responsible for group fitness, mental health check-ins, security and mandatory break reminders (especially where timing of lunch or dinner is concerned).  Above all else he's an amazing listener! Thank you Ty!
____
Forging new bonds by staying home
Cindy Jardine, Canada Research Chair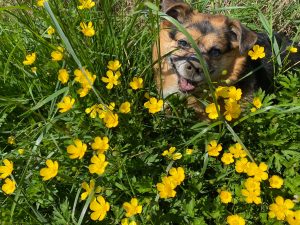 This is a photo of our dog Riley, taken behind the Farmhouse Brewing Co..  Riley is smiling because she has been doing her favourite thing in the whole world — digging for mice.  If you look closely, her face and mouth are covered in dirt. Riley has been our joy during the pandemic. Going for walks with her is what gets me out of the house (and away from my computer screen) at least once a day.
Because I travelled frequently before the pandemic, Riley had always thought I was just someone who occasionally visited 'her' house. So the 'glass half full' viewpoint of being home all the time is that the dog finally knows I am also one of the family, and is now also my dog (not just my husband's dog). As a rescue dog, Riley has always had trouble showing or accepting affection. Being home all the time has allowed us to introduce her to snuggles and cuddles, which she now even seeks out on her own.
____
Life-work balance coach
Tiina Higgins, Office of the VP Students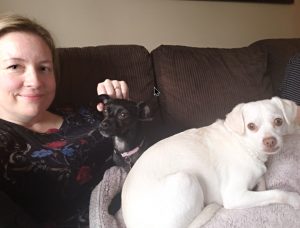 My trusty canine Toby (the white one) has been a real trooper during COVID. He makes sure I get a balanced combination of snuggly 'couch time' and multiple walks every day. And —because one dog is never enough — in March, my family adopted a second rescue dog, Maddie (the black one)! It's been an adventure watching these two work out their relationship, and they do keep us entertained!
And, if anyone else out there has room for another fur kid, I highly recommend Small Dog Rescue BC Society. J
____
Cuddles from puggles
Peter Geller, Interim Dean, Applied and Technical Studies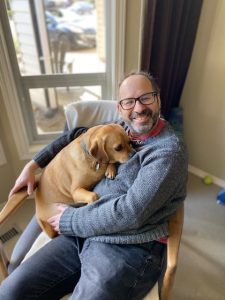 Cuddles from our puggle Bram were a key part of keeping happy and healthy during the pandemic!
____
Cat granny
Debi Block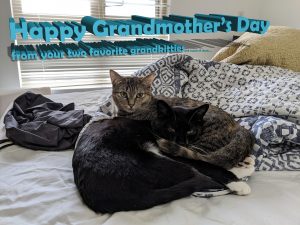 My son Dan and daughter-in-heart Natalie adopted two cats (Max and Peanut) during COVID. I have yet to meet them but Dan sends me pics and video of them regularly to brighten my day. This was Mother's Day!
____
Office assistant
Dennis Huston, Office of the CIO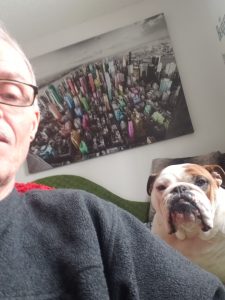 This is my Lillian Rose… she has been my ' Office Assistant' since the work from home began for me in March 2020. For those who have been on Team calls and such, you would certainly recognize her presence!
She enjoys watching the Teams meetings.
____
Goofy personality
Kayla Webster
Centre for Experiential and Career Education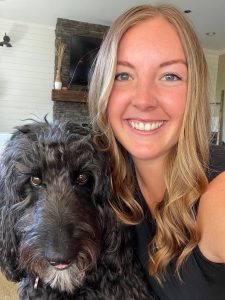 My furbaby's name is Oakley and she is my 6-year old Goldendoodle. She is the friendliest, cuddliest, most loveable furry friend (although I'm sure everyone's saying that about their pets). She honestly makes me laugh every day with her goofy personality, which has been so beneficial to my mental health through COVID.
____
Exercise inspirer
Madhavee Inamdar, SASI
When we asked for Mother's Day photo submissions, Madhavee sent us this photo, stating simply: "Juno is my son."
But he's also a bundle of energy.
"Because of Juno we walk at least 10 km morning and evening together as he is a real high energetic husky. And he only walks if my husband and I are together with him. So during the pandemic I also learned that we can't separate! Juno needs us together."
____