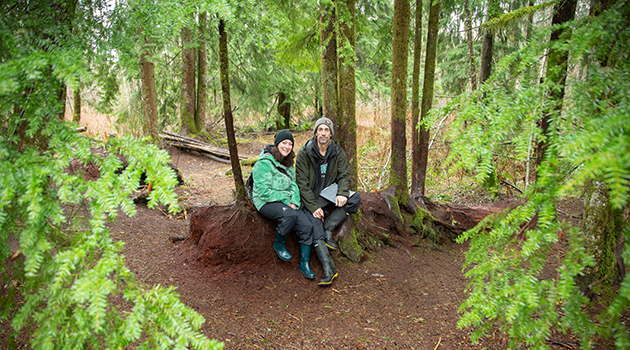 UFV students help shape curriculum for a school with environmental focus
Donovan Toews and Michelle Lefebvre are a part of something big.
Ecosystem big.
The UFV student duo stand in a forest beside a school playground on a rainy day in north Mission.
On the other side of a fence separating Donovan and Michelle from the yard, students run back into the dry shelter of the recently reopened Stave Falls Elementary.
Donovan moves to inspect the bramble of his environmental nemesis: the invasive Himalayan Blackberry. Michelle crosses a creek and stops to observe bird signs on a tree.
They are at home in this alternative classroom beside the school.
"Our future is the education of the younger generations," says Donovan, a BA student majoring in geography and minoring in communication. "And if we help them understand the importance and role of the environment, as they grow and become more involved in the community, as they start getting older and start voting and becoming leaders, they will be able to use that knowledge to make real change."
They're helping create that change by advising the school in its development of an environment-focused curriculum: Donovan by invasive species removal and restoration of native plants, and Michelle through her extensive knowledge of birds.
There are countless lessons to be taught in and around those brambles and bird signs.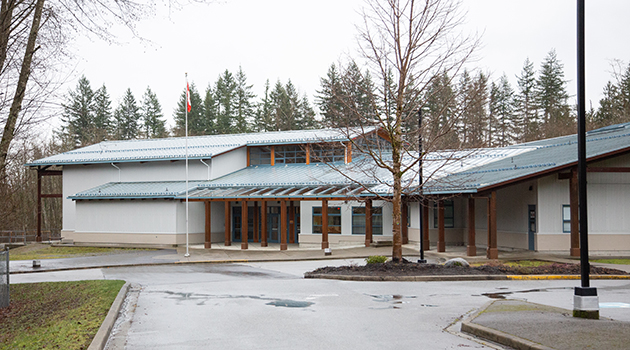 Set in 10 acres of land just south of the Mission Municipal Forest, a reconstructed Stave Falls Elementary is completing its first full school year after a decade-long dormancy. Re-emerging as a result of community lobbying, the improved site offers a focus on outdoor education, forestry, and Indigenous culture.
"Our staff chose to have Michelle and Donovan join us on the first growth planning day we had in September," says Elena Di Giovanni, principal of Stave Falls. "Everything was foreign and new and really overwhelming: 10 acres of forest, a small staff coming from very different places. And we converged in this beautiful library and mapped out a plan together."
Di Giovanni and her staff had a long list of immediate needs. The teachers at Stave Falls were placed only a few weeks before classes started and the school was already growing very quickly.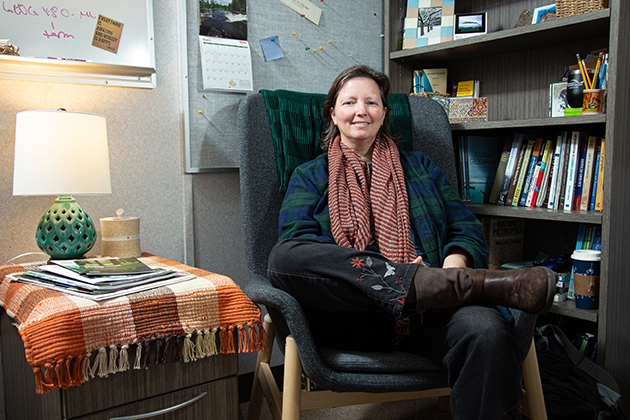 "They lucked out that we have these talented UFV senior undergraduate students," says Dr. Michelle Rhodes, chair of Integrated and General Studies and Environmental Studies at UFV.
Rhodes is the university's representative in the Stave West Leadership Team, a multi-stakeholder group working in Mission, in accordance with the Stave West Master Plan to "advance sustainably-managed community forestry hand-in-hand with safe outdoor recreation" on crown lands west of Stave Lake.
The team includes the District of Mission, three First Nations (Kwantlen, Matsqui, and Leq'a:mel), RCMP, BC Conservation Officer Service, Ministry of Forest Lands Natural Resource Development (FLNRD), Mission Public Schools, UFV and BCIT.
Using funding from UFV's Fund for Innovation in Teaching (FIT), Rhodes and Larissa Horne, UFV's Experiential Education Coordinator, have been developing an inventory of projects in Mission's forest lands that can potentially involve UFV students — including invasive species management and bird education at Stave Falls Elementary.
"We have one student each semester working on a project inventory," Rhodes says. "The idea is to have the research students sit down with some of the key stakeholders and ask them: 'What are your top priorities? What are your projects? What are you seeing as really important?'"
Faculty and students take the inventory, gather details on prioritized projects for each stakeholder, and then identify if there are good student learning opportunities associated with those projects.
That sweet-spot, where there is synergy between student interests and immediate stakeholder needs, is where the magic happens.
Students get credits for experiential learning in a setting that reveals to them how industry works in their field of study. At the same time, some Stave West organizations with scarce resources have their prime concerns addressed.
"Sometimes we can, sometimes we can't," says Rhodes. "Stave Falls Elementary has been a really good case of responding to immediate needs."
Donovan and Michelle "absolutely address an important need" according to the school's principal.
"Their expertise and depth of knowledge is helping us build our understanding of possibilities and content areas we can teach, as well as giving us the tangibles we need," says Di Giovanni.
Stave Falls staff needed help, and they needed it fast.
Without UFV's involvement, that work would have fallen on teachers who don't necessarily specialize in those subjects, during a time when they were rebooting an entire educational institution.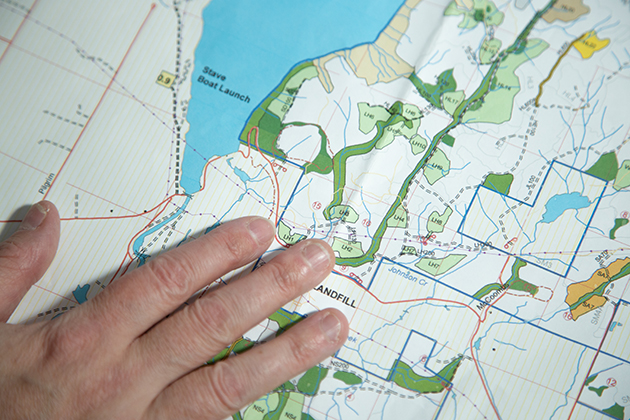 The Mission Municipal Forest is the oldest continuously operating community-run forest in all of Canada.
Within that 10,000 hectares of land is Stave West, a large, 50-kilometre square area that has a great amount of demand placed on it from recreational users. The area includes high-value lakes and the foreshore flats, a scenic waterfront along the west side of the Stave reservoir where dropping water levels expose extensive sandbars and the lake bottom.
How do you operate a working forest with visitation increasing to the level of many B.C. provincial parks? And how do you balance all of the stakeholder needs on that land?
The Stave West Leadership Team was born from a vision of the stakeholders to try to find a way to attract families and desired users back into the area, to turn it into an educational space, and begin taking steps towards reconciliation with First Nations.
That process has been successful. More policing and security, public education, new campgrounds, and more use by families have deterred some of the worst of the activities, and culminated in the creation of the Stave West Master Plan in 2015.
"It will be an ongoing challenge," says Rhodes. "But thankfully everybody around the table is committed that this has to be a process that's inclusive, that really balances various types of opportunities."
Educational partners like UFV can play a strong role in discussions around the leadership table. Long-term research is sought for everything from biological and ecological remediation needs to looking at better ways of embracing Indigenous values in signage and outreach.
"It's exciting because there's an opportunity for this in our backyard," says Rhodes. "The District of Mission and its forestry department have said this whole time: 'We want UFV as
our partner.'"
UFV students from Graphic and Digital Design (GDD) and Communications recently finished interpretive signage design standards, and 10 UFV faculty members from different disciplines, including geography, biology, communications, graphic design, and history, will be involved in project work with the Stave West area this year.
And there's the Stave Falls Elementary partnership, where Donovan and Michelle have already made an impact.
"We've had a lot of movement around this in a very short period of time and a bottom-up approach to engagement with the forest," says Rhodes.
With the living inventory UFV is helping create, the list of potential partnerships goes on: the Fraser Valley Mountain Biking Association could ally with students who need environmental assessment experience for new trails; the Back-Country Horsemen of B.C. could team up with GIS students for some of their mapping projects; there's a strong need for plant identification and cultural use mapping where UFV Indigenous studies students and biology students would both be valuable.
Rhodes sees no limit to the potential for educational experience in the community.
"The idea behind the project inventory is that we can continue to update it, we can let it breathe as priorities change," she says. "It gives us a chance to go to our faculty and say 'These are the District of Mission's needs,' and it opens it up to a huge number of projects for our students."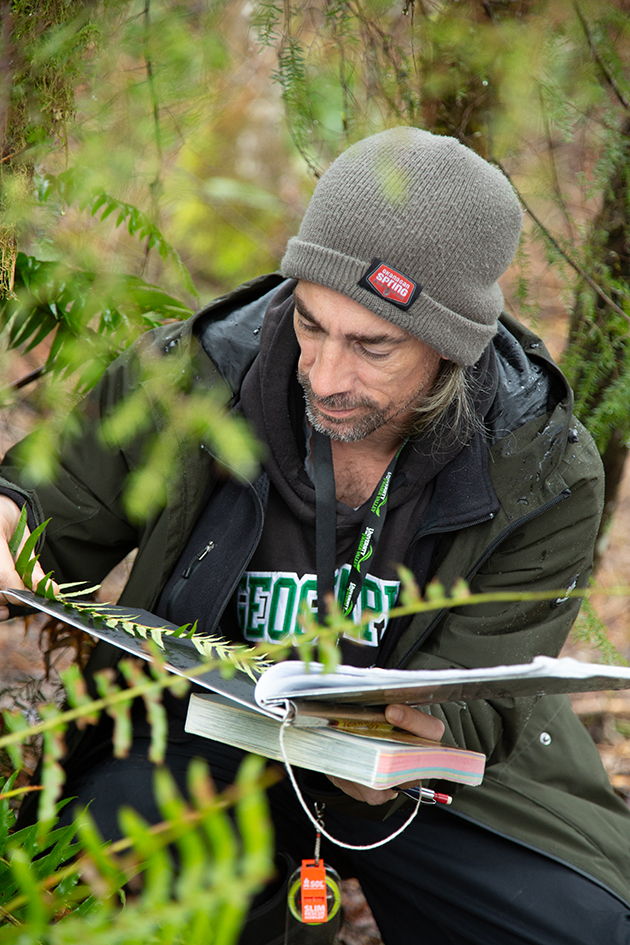 Donovan fell in love with plants years ago when taking a biogeography course at UFV. It was his first real introduction to how vegetation works with the geography of an area and environment, and it quickly turned into a passion. Part of that enthusiasm was the challenge of tackling invasive species.
Michelle found her way to these Stave Falls Elementary woods because of her love for beaked and feathered vertebrates. This UFV senior geography student is an avid birder.
Now the two are not just working to help shape the Stave Falls curriculum, but also the outdoor "classroom" itself. Both Michelle's and Donovan's specialties directly addressed urgent needs from Stave Falls Elementary.
Donovan's removal-and-restoration plants management plan will act as something of a guided evolution of that learning ecosystem, and it will also provide an ongoing lesson for the students.
"I'm making sure they've got some clearing spaces so that they can have a group of students standing around with a talking point," he says.
Some areas will also eventually be created for learning about forest habitat, Donovan adds.
"It is not only for children to learn, we're trying to restore it back to its natural state so that they can have the biodiversity of birds and mammals," he says. "They see a few little birds like the chickadees, but for the most part a lot of the birds have been pushed away."
Michelle's bird habitat management plan fits naturally alongside Donovan's project in the interconnected scheme.
"A bird can tell you a lot about the environment," she says. "If it's full of invasive species, you're going to get fewer bird species there than you would in a natural environment."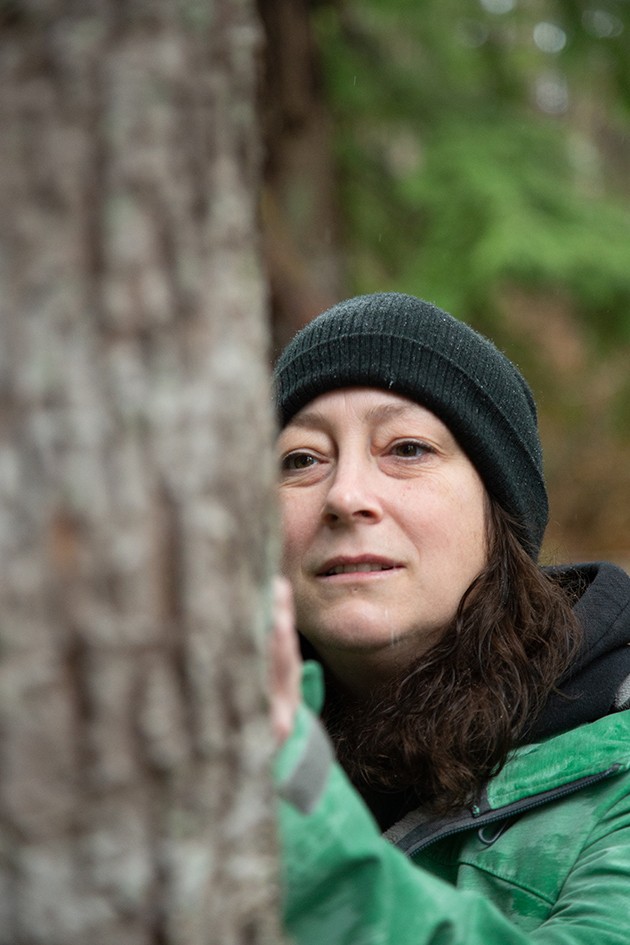 Michelle is creating a booklet of the most common birds at Stave Falls Elementary. That inventory will help her successors develop a learning curriculum around birds: How to do math with birds, identifying seasons with birds, talking about climate change using bird trends.
"Most kids like birds," she adds. "They know what a robin is, so you start
off with those."
And the Stave West mascot is an owl, so there's already a strong symbolic connection for Michelle to build on.
Rhodes' hope is to have a UFV summer student take both of those plans and turn them into usable lesson plans for the school.
That generational handoff is a key part of the program, with needs from the same stakeholder addressed by different faculties over time, building on previous work.
"It definitely starts at the roots," says Donovan. "They have an idea of the end-product, but they need the people to design and implement and start actually building it up from the ground."
That's why it's useful to get UFV students involved, he adds, so students can take what they've learned at school and actually put it to use.
"You're back out there, you're with people, you're being an educator, you're being a leader in that sense," Donovan says. "I would not have been able to do anything like that without UFV. You don't get these sorts of opportunities at larger undergraduate universities."
All of Michelle and Donovan's efforts are meant to encourage Stave Falls students to become citizen scientists. The hope is they will influence their families and others to grow into active participants of the Stave West environmental and organizational ecosystems.
Those planted seedlings are branching out, joining UFV and many others who are part of the great, interwoven stakeholder group of Stave West.
"Everything is connected," Donovan says.