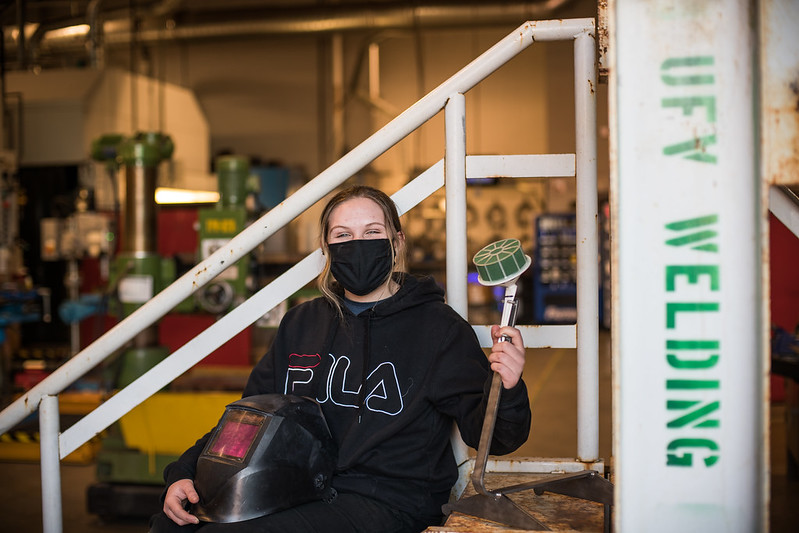 Here's a riddle for you: what is the correlation between bridal bouquets, metal welding, and car repairs?
In a normal work setting or school day at UFV, very little, other than that programs involved with them all fall under the broad trades training category. But recently, UFV's Floral Design, Welding and Auto Collision Repair and Refinish programs collaborated on an unlikely, but original custom project: a functional floral stand.
As floral design trends have shifted to specialized holders for elaborate bridal bouquets in recent years, florist supply companies have discontinued selling the traditional stands that prop up holders. Other florists have come up with alternative methods to secure the bouquet holders while designing, but most can't offer the same support as using a proper bouquet design stand.
With students unable to create complex floral styles without proper stands, Angela Henderson, an instructor with the Floral Design Certificate program contacted Industry Services and Part-time Trades coordinator Anna Mayo for a solution. Mayo stepped up immediately to help.
"Anna asked me to give her all the information about what I needed, including pictures and exact measurements, and said she would talk to the Welding program," said Henderson.
Matt Olafson, a welding instructor at UFV, was on board from the jump. He saw this project as a win-win, in which his program could lend a helping hand to the Floral Design program as well as provide a unique learning opportunity for his students.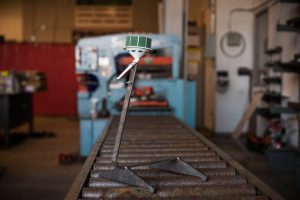 "Each of the unique disciplinary areas here at UFV have a lot of knowledge, experience and expertise to offer each other's endeavors," said Olafson. "Here in Welding, it's easy for us to lend our skills to just about anything metal. I'm always seeking ways to provide more real-world scenarios for my welding foundation students."
The students improved upon the existing stand design with a prototype to increase usability and strength, delivering a more aesthetically pleasing fixture. Welding Foundation student Sierra Sullivan took care of drawing and designing of the parts in Autocad, CNC plasma cutting, forming and the welding of the prototype. While Ashleigh Rogers, a welding student, oversaw the designing and building a simple fitting jig, CNC plasma cutting, and forming all the required parts for production.
"It's endlessly valuable to give a student a task that requires job planning, materials and process selections, and the utilization of a broad suite of their developing skills," said Olafson. "The pride in a job well done, with lessons along the way, was evident."
"I am very pleased, I think the design that the welding students came up with is superior to the original stand," added Henderson. "It is sturdier and better balanced and will support the weight of large bridal bouquets better than the original stand.
"I have told them that they need to market this design to other florists, or to the floral industry as a whole."
To protect the unprotected metal of the prototype from rusting (since florists constantly water wedding bouquets while designing), Mayo and Henderson enlisted the help of the Auto Collision Repair and Refinish program to coat the metals with water-resistant paints that are used on cars. As a result, the stands have longevity that spans over two decades, according to Henderson.
Thanks to help from the Welding and Auto Collision programs, students in the Floral Design program will long benefit from an innovative new floral stand that will enhance their creative visions.
"I am very happy that the culture at UFV is such that different departments are willing to collaborate with each other and help each other out when there is a need," said Henderson.