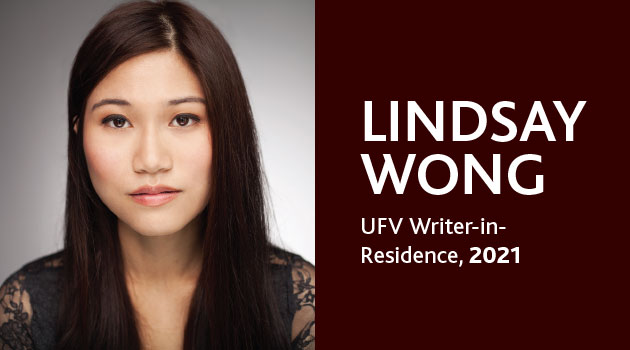 As a wide-eyed intern at publishing powerhouses like Wendy Lamb Books/Penguin Random House, and ICM Partners in New York City a decade ago, Lindsay Wong saw firsthand how competitive — and simultaneously discouraging — scoring a book deal is in reality.
"When I was working with the legendary literary agent, Amanda Urban [at ICM Partners] I'd get 500 queries a day from different people who were all aspiring writers and a lot of them really good," said Wong, who is the Writer-in-Residence at UFV for 2021. "When you work behind the scenes, you realize there are so many people and you have to figure out how to stand out."
Wong is sharing all her knowledge and tips on how to break in with the UFV writing community. On Thursday, March 25 at 10:30 am, Wong, along with an Ottawa-based literary agent, Carly Watters, will host a live virtual Q&A session titled The World of Publishing. (Register here.)
Wong, who grew up in Coquitlam, is the author of the critically acclaimed memoir, The Woo-Woo: How I Survived Ice Hockey, Drug-Raids, Demons, and My Crazy Chinese Family. But her path to getting published was anything but linear.
After graduation from the University of British Columbia with a degree in creative writing, Wong earned her MFA in literary nonfiction from the prestigious Columbia University in New York. However, when it was time to shop her debut book, a process she started while writing the manuscript as part of her MFA, she was met with numerous rejections. Thirteen to be exact.
"That was very frustrating getting all the rejections and feeling disappointed and wondering if I was good enough," admits Wong.
She persevered, relentlessly contacting decision-makers before eventually landing a book deal. During her time as Writer-in-Residence at UFV, she has heard from students with similar aspirations who have inquired about the process of getting published.
During the pandemic we are all currently living through, writers have more time to start or finish a book project, but most are unaware of how to contact an agent or solicit a publisher. Wong says that the overflow of information on the internet — from paying an editor or self-publishing — can actually provide more confusion to an already complex process.
"I think some people aren't sure what the correct information is when it comes to next steps," said Wong, who has two books slated for release in the next few years. "Hopefully, this workshop will be able to kind of answer all their questions and give people a clear step-by-step process."
Helping explain the roadmap is Carly Watters, who is also Wong's agent. Watters is part of the Toronto-based P.S. Literary Agency and represents award-winning and bestselling authors in the adult fiction and nonfiction categories and select children's books. Wong adds that Watters has a pristine eye for talent, gives honest and constructive feedback, and understands the role branding plays in marketing a writer.
In the end, Wong hopes writers in the UFV community will leave the Zoom Q&A with their inquiries met, and a stronger understanding of the work, patience, and luck associated with realizing your dreams of becoming a traditionally published author.
"I hope they just feel inspired to keep going," said Wong, who has a passion for encouraging and advancing all aspiring writers, particularly ones who are female and BIPOC. "This journey can feel scary and you don't know whether it will take one year or five years to find an agent and see your book on the shelves.
"By getting all these tips and understanding the work involved, hopefully, you'll have a better chance."
Lindsay Wong's last day as UFV's Writer-in-Residence is April 2. UFV students can get in touch with their English professors to schedule a writing consultation with Wong.
-30-