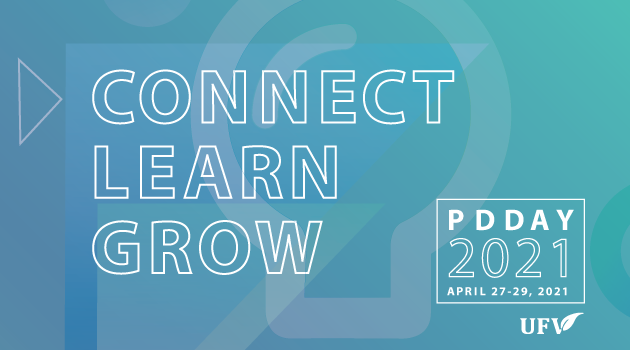 Dr. Maureen Wideman can relate to all the working-from-home traps that a pandemic year can present: The Zoom fatigue; the yearning for face-to-face interaction; the being confined to the home office.
Recently Wideman, the AVP of Teaching and Learning at UFV, even discovered that she had low Vitamin D levels.
"I was sitting in my office for the last year and not getting outside," said Wideman, whose Teacher and Learning department takes a lead role in organizing UFV's annual PD (professional development) Day. "So, that was a big wake-up call and I'm sure I'm not the only one."
It's been two years since UFV's last PD Day for employees, where the theme centred around innovation. With last year's event cancelled due to the pandemic, the organizers and committee wanted to conceptualize a theme for this year's PD Day that every faculty and staff member, as well as students, can relate to and learn from.
"The focus of this year's PD day is wellness," said Wideman. "It's about taking care of yourself and your family, and ensuring that you're healthy and taking the time to exercise."
Unlike previous years, where it was a single-day in-person event, the 2021 UFV PD Day, which is titled Connect, Learn, Grow, is a three-day virtual event that will occur from April 27-29. Online registration opens on Thursday, April 1.
Consistent with the theme, the three days are designed to spread the event out and allow participants to come and go as they please, as well as attend the workshops, keynote speeches, and entertainment that will provide them the most growth and value.
This year, there will be two keynote speakers: Dr. Lee Brown, a former director of the Institute of Aboriginal Health at UBC, who will speak on emotional wellness during the pandemic; and ‌Dr. Susan Biali Haas, a world renowned expert in burnout  prevention, who will talk about stress management and living a resilient life.
"These were two leaders in their fields who really spoke to the committee as far as their perspectives on wellness and bringing a fresh perspective to our university," Dr. Wideman said.
On top of the speeches and breakout sessions, there will also be times to smile and enjoy the arts, courtesy of a couple of talented professors. UFV English professor Rajnish Dhawan will provide the laughs during a stand-up comedy set; and Jonathan Hughes, the Director of UFV's School of Land Use and Environmental Change, will play live music with his guitar.
Although there will be plenty of takeaways that will translate into improved work performance and fulfillment, Wideman and the other committee members hope that the healing and growth tools learned will translate into improved overall happiness.
"These are a couple of days where we're learning how to be our best selves," said Wideman. "This has been a very stressful year and we're all trying to figure out how we can best manage the stressors that are in our lives and have a little fun along the way."
See the full PD Day workshop lineup here:
https://www.ufv.ca/pd-day/
UFV PD Day is supported by: