Dr. Andy Sidhu has been reappointed as Chancellor of the University of the Fraser Valley by the UFV Board of Governors. His three-year term will begin on April 1.
A champion of community engagement and integration, Dr. Sidhu was first appointed in 2017, and formally installed in 2018, as UFV's third Chancellor. He took over from Dr. Gwen Point, who served as UFV's second Chancellor from 2014-18, following two terms by Dr. Brian Minter. UFV began the practice of appointing a Chancellor after receiving university status in 2008.
The Chancellor is appointed by the UFV Board of Governors upon the recommendation of the Alumni Association and consultation with the UFV Senate.
"We are very pleased that Andy Sidhu has accepted this reappointment. His commitment to UFV and to our community is exemplary," said John Pankratz, UFV Board Chair.
The UFV Board of Governors values his wisdom, his leadership, and his experience. We are thrilled to have him back."
"I am honoured by this reappointment and proud to continue serving this fine university and our community," said Dr. Sidhu.
"Our people, the timing, the place — UFV is ideally situated to lead in diversity, inclusion, equity, and Reconciliation in the Fraser Valley. I am thrilled to be part of UFV, the House of Transformation, as we look to a brighter future for our students and for our communities," added Dr. Sidhu.
An accountant by trade before emigrating from Malaysia in 1974, Sidhu is best known for founding B.C.'s first multi-language newspaper, the Punjabi Patrika (now The Patrika). Printing 15,000 copies every Friday in English and Punjabi, The Patrika was established as a beacon of inclusivity and multicultural connection more than two decades ago, and most recently received a 2021 Fraser Valley Cultural Diversity award.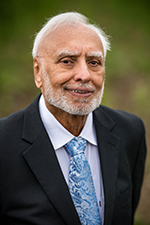 Sidhu is the recipient of a Queen's Diamond Jubilee medal, the Order of Abbotsford, and a Fraser Valley Cultural Diversity award. He received an honorary degree from UFV in 2017 in recognition of his outstanding community service. He is a benefactor to local health care and recreational initiatives and has volunteered with more than a dozen groups, including the UFV South Asian Studies Institute, the Abbotsford Foundation, the Indo-Canadian Business Association, Abbotsford Community Services, and Abbotsford Hospice. He is well known as the founder of B.C.'s first multi-language newspaper, the Punjabi Patrika (now the Patrika).
"Dr. Sidhu's dedication and deep desire to help UFV engage our community and transform lives is admirable and highly valued by the university. We are delighted he is returning to lend his expertise and guidance to our work," said Dr. Joanne MacLean, UFV President.
As Chancellor, Dr. Sidhu serves as a member of the Board of Governors and the Senate and acts as ceremonial head of UFV. He presides over convocation, conferring UFV degrees, diplomas, and certificates, and serves as an ambassador for UFV at major events.
Dr. Sidhu is looking forward to his next term.
"One of the things I enjoy most about UFV is collaborating with our board and the dedicated faculty and staff who work tirelessly to improve and move forward in inclusive ways that are respectful of the cultural diversity we have here in the Fraser Valley," Sidhu noted. "As the world changes, UFV is not standing still, we are engaging our community and leading the change we want to see in our society."