Nerlap Sidhu is a teacher who believes her role extends beyond the classroom.
She's a dedicated volunteer, community engager, and change-maker, whose commitment to improving society has earned her the Betty Urquhart Community Service Award.
Sidhu, who earned a Bachelor of Arts degree at UFV in 2004, teaches at Eugene Reimer Middle School in Abbotsford.
As a relentless volunteer with a strong ability to articulate the vision and need for community connection, Sidhu has planned, and executed a series of impactful community projects including: Lean on Me (2020), We Are Canada (2020), Character Matters (2019), Walk of Integrity (2018), Random Acts of Kindness (2018), Voices of Courage (2017), Empathy Fence (2016), and the Antiracism Education Project (2020).
Most recently, her latest initiative that focuses on anti-racism, the Equity Backpack Project, has received significant media attention.
Through these initiatives she has motivated and inspired many individuals, businesses and professional agencies from across the region to come together and volunteer their time and expertise. This interactive connection has been a catalyst for increased collaboration and has fostered a positive symbiotic relationship between local community members and students.
Sidhu has worked hard to ensure students in the community learn about the many important roles that exist within the Fraser Valley. The Lean On Me project highlighted this work through the creation of a video dedication to all front-line workers during the Covid-19 pandemic. The video was a collaborative effort involving local students, educators, healthcare and emergency service workers. Another project she initiated, We Are Canada, encouraged individuals from small and remote communities across Canada (including Abbotsford) to share their stories of what it means to be Canadian in 2020. These stories inspired individuals in various regions across the nation to realize the difference that they can make within their communities.
Sidhu's innovative approach to connecting local volunteers with students has helped them to see themselves as positive and impactful contributors to both their local community and the greater society.
"Nerlap Sidhu has demonstrated that the work of one dedicated and motivated volunteer has the ability to have a profound impact within the community and as such, we are very pleased to recommend her for this award," said Craig Toews, VP External at UFV.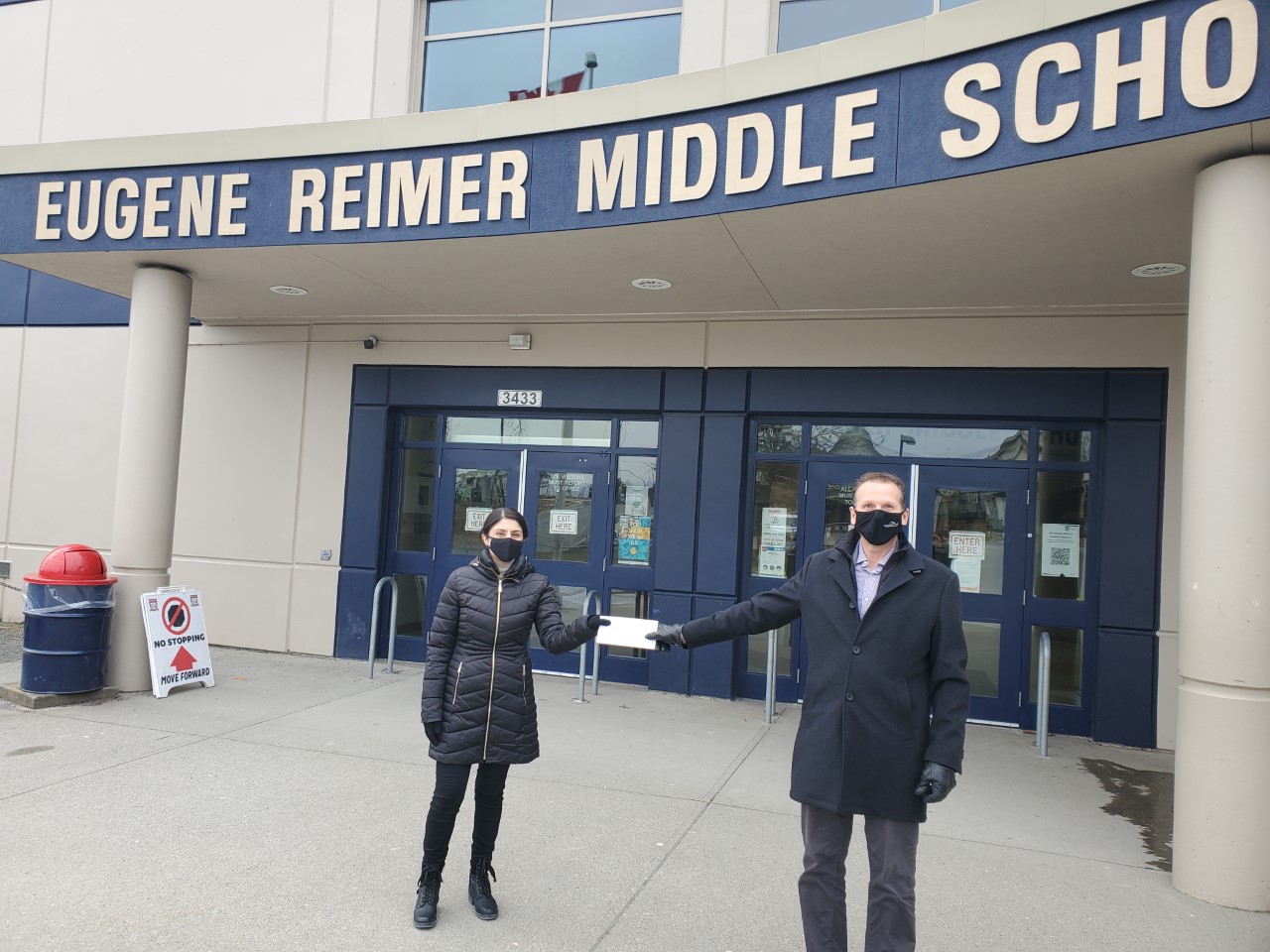 "It is an incredible honor and privilege to be recognized for building bridges between home, community, and schools with our students," Sidhu notes. "It feels awesome to be able to share this award with our Eugene Reimer students, parents, our teachers at Reimer, Abby PD, Mayor Braun, many other Abby schools, and community members in Abbotsford that participated in community-building work with us. Most importantly it makes me feel proud that our Eugene Reimer students' voices are being heard and valued. Our students feel empowered to share their life narrative and take positive actions make a difference in our community."
Sidhu says that she is inspired by her strong desire to see her students and other children succeed.
"Children are our future and setting every child up for success is at the heart of my work. I am also inspired to reimagine education by researchers who have paved the way, such as Gloria Ladson-Billings, Ted Aoki, Jo-Ann Archibald and many more. Finally, I find my inspiration by continuing to learn from exceptional leadership and role models such as Mr. Ian Levings, principal at Eugene Reimer Middle School."
At the heart of all the projects she initiates is the theme of bringing people together.
"I choose what we will focus on based on the lived experiences, heritage, and language of our students in the classroom and their passions. We integrate that with what is needed to uplift, bring hope and love into our community. Bringing students from across Abbotsford, BC, or Canada together around community work allows our students to feel heard, and empowered. I choose activities that allow our students to see a bit of themselves in others and celebrate each other's stories."
Suki Grewal, who nominated Sidhu for the award, is an admirer of her dedication and passion.
"I am proud to know Nerlap and am continually inspired by her passion for learning, for community outreach, and, ultimately, for improving the life experiences of all those who are involved in these projects," she says. "Her service has made a significant difference to the community of Abbotsford."
Sidhu is infolved in a Pro D Day focused on the Equity Backpack Project on Feb 24.
https://sites.google.com/learn34.com/equity-backpack-february-24/home