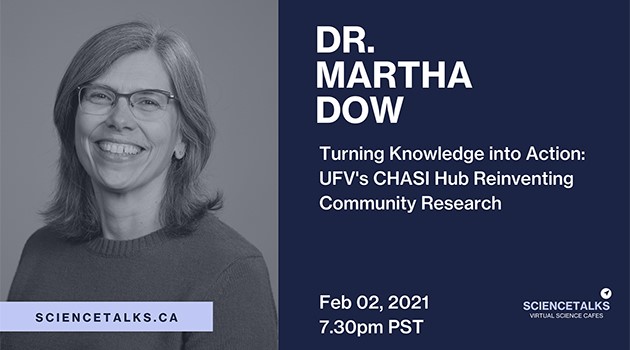 If you've been wondering what UFV's Community Health and Social Innovation Hub has been up to in its first 10 months, you'll want to check out Dr. Martha Dow's presentation in the ongoing Science Talks lecture series on Tues, Feb 2.
Dow, the Director of CHASI, will be speaking on the topic of Turning Knowledge into Action: UFV's CHASI Hub Reinventing Community Research.
The Community Health and Social Innovation Hub (CHASI) is a physical and virtual gathering space, bringing UFV researchers and students together with health and social service professionals. The aim in creating that space is to foster innovative thinking that helps solve current and emerging challenges — and to find opportunities in those challenges. UFV CHASI's founding partners include the First Nations Health Authority, Fraser Health Authority, and the Divisions of Family Practice in Abbotsford, Chilliwack, and Mission, which represent family physicians in those regions.
"While we are incredibly excited about the projects, proposals, and partnerships that we have been developing, my talk will focus on the how of CHASI," Dow says. "All of our work places student development and community collaboration at the core of our model of engagement. These are difficult times and to have six undergrads and six more post-grads so engaged in difference-making projects, many of which are addressing aspects of the pandemic, has brought them a sense of hope and purpose that we all need right now.
"We already have 16 faculty associates from nine different disciplines across three faculties at UFV," she notes. "It is that commitment to meaningful interdisciplinarity that our community is responding to with requests for collaboration on an incredibly diverse array of initiatives."
Examples of that collaboration can be found in CHASI's partnership with the Aboriginal Firefighters Association of Canada (AFAC) on three projects: an assessment of residential fire risk, development of a national directory, and a GIS project contributing to site selection of fire centres in remote locations.
"We are very excited to have developed a strong relationship with a national Indigenous organization that emphasizes community-centred work," Dow notes. "And we are excited to announce that we have formalized our commitment through an MOU with AFAC."
She adds that CHASI ties in well with UFV's mission and values.
"We believe CHASI exemplifies UFV's aim to be student-focused and community-attentive. There is a very intentional way in which we are merging student, faculty, and community needs and resources that is timely and action-oriented and, most profoundly, focused on equity and access."
This orientation is illustrated with current projects focused on vulnerable youth, sexualized violence, social isolation, food security, and COVID risk exposure.
To find out more about CHASI's work, check out the Science Talks presentation on February 2 via Zoom. Register at https://www.sciencetalks.ca/.