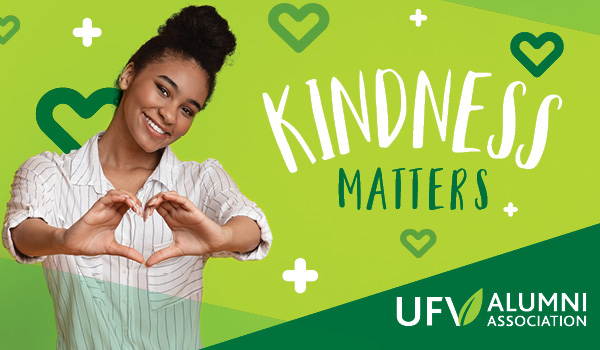 Kindness matters, especially in the stressful times we have been living through since the onset of the COVID-19 pandemic in March.
UFV's Alumni Association decided to recognize compassion, dedication, and positive contributions to society in the midst of this crisis.
To that end, the association created the Kindness Matters awards. The public was invited to nominate UFV students or alumni who merit celebration.
"This has been a stressful and challenging year for everyone," notes Alumni Association Chair Derek Froese. "We wanted to do something to celebrate those who are working to help others, advocating for social justice, and taking care of our environment."
The nomination categories included advocacy champion, land steward, and kindness ambassador.
"We received some really wonderful nominations and are looking forward to sharing many of their stories over the coming months," says Diane St-Denis, UFV interim manager of Alumni Relations. "It's refreshing to hear of so many students and alumni exemplifying the values of kindness and compassion during this difficult time."
Stay tuned for stories about some of the student and alumni nominees.