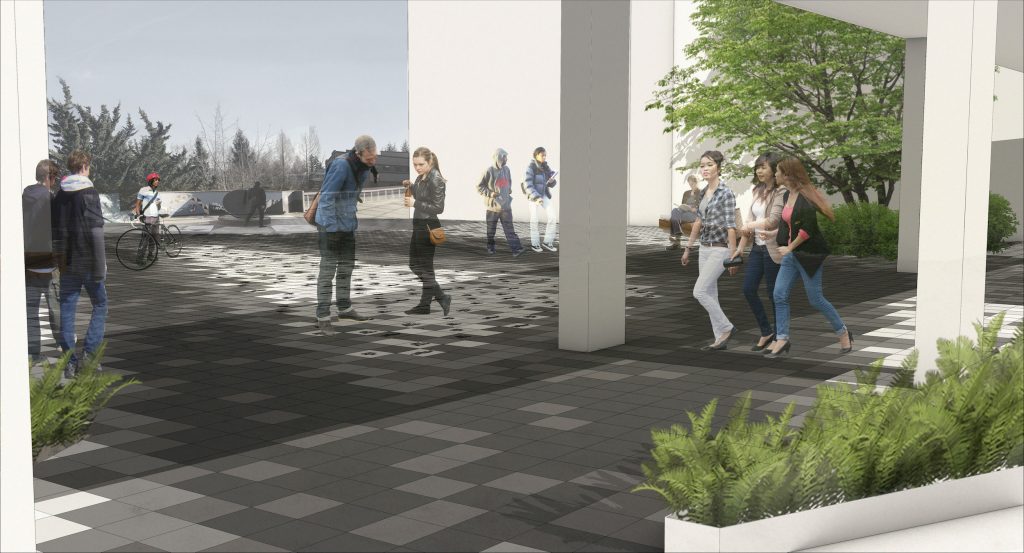 If the University of the Fraser Valley helped shape your life's path, you are invited to pay it forward by helping to pave the future of UFV.
The university is currently planning a revitalization of its entrance way between Buildings A and B on the Abbotsford campus, making it a more welcoming and accessible environment. It will feature attractive landscaping, bench seating, and a new plaza featuring custom-engraved paving stones.
Alumni, donors, and all who believe in the transformative power of education are invited to order a paving stone to "leave your mark" at UFV. Proceeds will support students in financial need through the UFV Alumni Association bursary program.
"We know that UFV holds a special connection for many members of our community. UFV is woven into the everyday experience of Fraser Valley life. Our alumni operate businesses you depend on, deliver your healthcare, teach your children, and much more," said Anita Nielsen, executive director of advancement at UFV. "The main entrance to UFV is an important threshold for anyone who comes to campus, and marking that entrance with commemorative paving stones is a great way to highlight that special connection."
Local supporters who have already ordered a paving stone include long-time friend of UFV Diane Delves, CEO of Quantum Properties, and alumni Stacey Irwin of Abbotsford and Janet Les of Chilliwack.
"UFV holds a special place in the hearts of my family," Delves noted. "All three of my children attended UFV (and two met their future spouses there). This is why I sponsored a paving stone in the name of my family. Also, as the owner of an Abbotsford-based business it is important to me to support our local institutions that are essential to the economic growth and the vibrancy of our city. Quantum Properties has been a long-time supporter of UFV through scholarships and other events and I am proud to sponsor a paving stone in the name of my company."
Janet Les, who earned a bachelor's degree in 2008, chose to support the campaign because of the value she and her family place on the education they received.
"I am happy to support the campaign. I graduated from UFV in 2008 and all five of my children attended at one time or another. We are a UFV family who value the education we received. Now, in my role as a community ESL instructor, I encourage learners to attend UFV because the education and support there is exemplary."
Stacey Irwin (BBA '97) is a long-time UFV supporter who was happy to step up and order a paving stone.
"The Paving Stone initiative for UFV is a wonderful idea and a great opportunity for anyone who has been associated with the university over its many years as a student, graduate, alumnus, community partner, or faculty or staff member," Irwin said. "What a great way to leave a legacy. Ordering a commemorative paver really helped to bring my time and ongoing commitment to UFV full circle. I want to celebrate that and our students/graduates who are changing the world."
To find out more, go to: https://giving.ufv.ca/stories/paving-the-future/
If you are a UFV alumni, go to: https://alumni.ufv.ca/paving-the-future-faq/