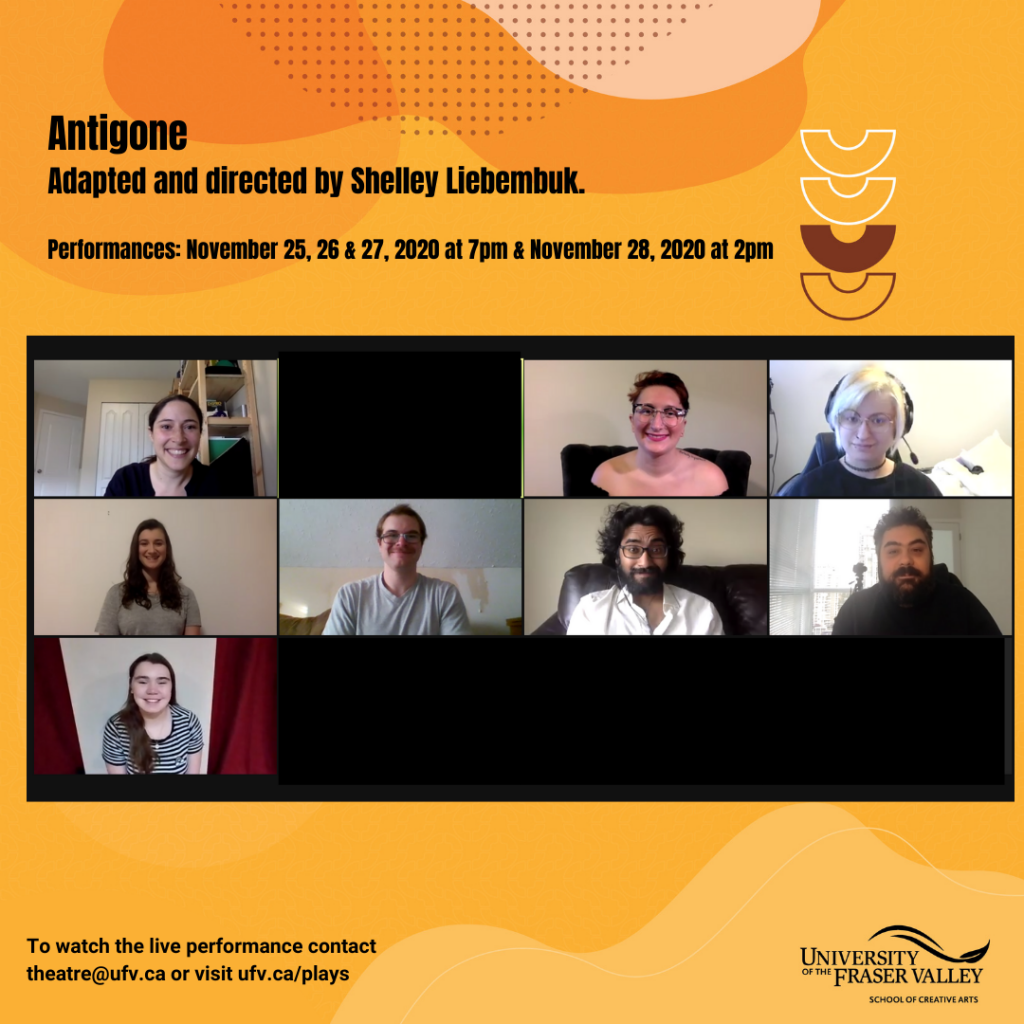 The University of the Fraser Valley Theatre area and the School of Creative Arts present the first production of their 2020-2021 season, Antigone, adapted and directed by UFV faculty member Shelley Liebembuk.
Responding to the challenges presented by the pandemic, UFV Theatre is creating and will present this work as live-stream performances via Zoom. This exciting experiment of composing within this medium allows for new discoveries in how actors can interact across their individual Zoom panels with each other, and with the audience, in addition to learning how they can perform alongside virtual scenography.
Scenographer Parjad Sharifi and the production crew will include a digital media team that will be creating virtual scenography. This includes exploring the possibilities of the Zoom interface to live-stream the performances, and create virtual backgrounds, along with virtual costumes and props through applications like Lens Studio.
Liebembuk has adapted Sophocles's classical Greek tragedy, from an English translation by Ian Johnston, down to a one-act play with a three-person cast. Audience will be treated to an action-packed half-hour, which captures the complex conflict between Antigone and Creon, as Antigone defies state law to bury her brother — dismissed as a traitor — in order to uphold what she deems a higher law of honouring the dead.
With this online production, UFV Theatre provides students the opportunity to discover how to continue to create in these times — an important challenge being taken up by theatre artists all around the world.
Shelley Liebembuk is a theatre scholar, actor, and dramaturg. Liebembuk's most recent directing credit is Brecht's Saint Joan of the Stockyards at Mount Allison University's Drama department (Winter 2019).
Post Performance Talkbacks will occur after every show, which promise to enhance audience members' understanding of the performance.
Production designers include, Parjad Sharifi (scenographer), Heather Robertson (costume design), Arjun Krishnaprasad, Makayla Pollock (digital media team, students) and Raven Phoenix (sound design, student).
Performances: November 25, 26 & 27, 2020 at 7pm and November 28, 2020 at 2pm
Performances will be held via zoom and are free of charge.
Please email theatre@ufv.ca for information on how to attend this zoom production. Bookings will be done through Eventbrite.
About the 2020-2021 Season of Theatre at UFV
Arising out of the challenges presented by the pandemic, UFV Theatre's 2020-21 season will continue to experiment with live performances via a virtual platform, including the Winter 2021 show directed by Parjad Sharifi in March 2021.
The Devised Theatre Showcase is the final project presented by UFV Theatre's fourth year Devised Theatre class, and is a chance for students to apply everything they have learned in the course. Audiences can expect a brand-new production devised by students.
Follow the UFV School of Creative Arts @ufvsoca on Facebook and Instagram this spring for more details about these engaging student works.
For more information about UFV Theatre productions go to www.ufv.ca/plays.