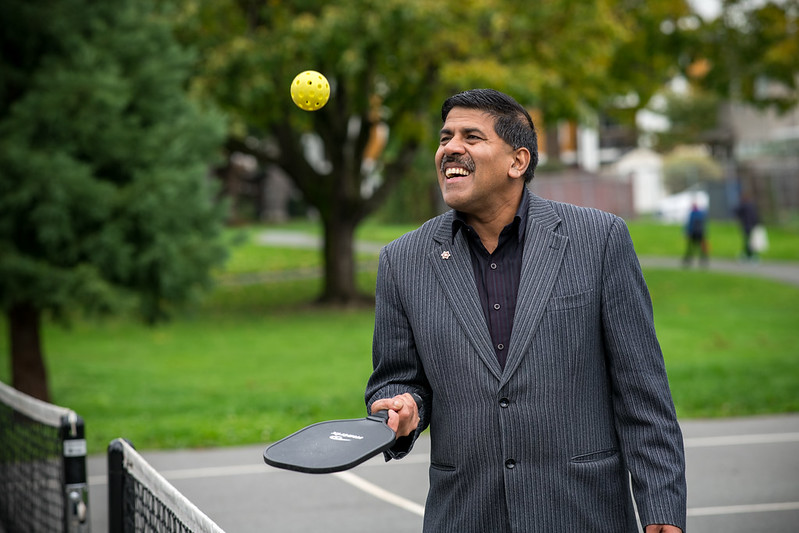 Comedian.
Playwright.
Pickleball aficionado.
There's more to Dr. Rajnish Dhawan than being a professor of English at UFV.
The Chilliwack resident can often be found on stage at comedy nights from Chilliwack to Vancouver.
And since coming to Canada in 2009, he has written and produced four plays.
He's also a frequent figure on local pickleball and badminton courts.
Dhawan tried stand-up 30 years ago, but he didn't really act on his comedy itch until settling in the Fraser Valley.
"I heard there was a comedy night at the Rosedale Pub, so I asked if I could take the stage, and to my surprise the promoter said yes."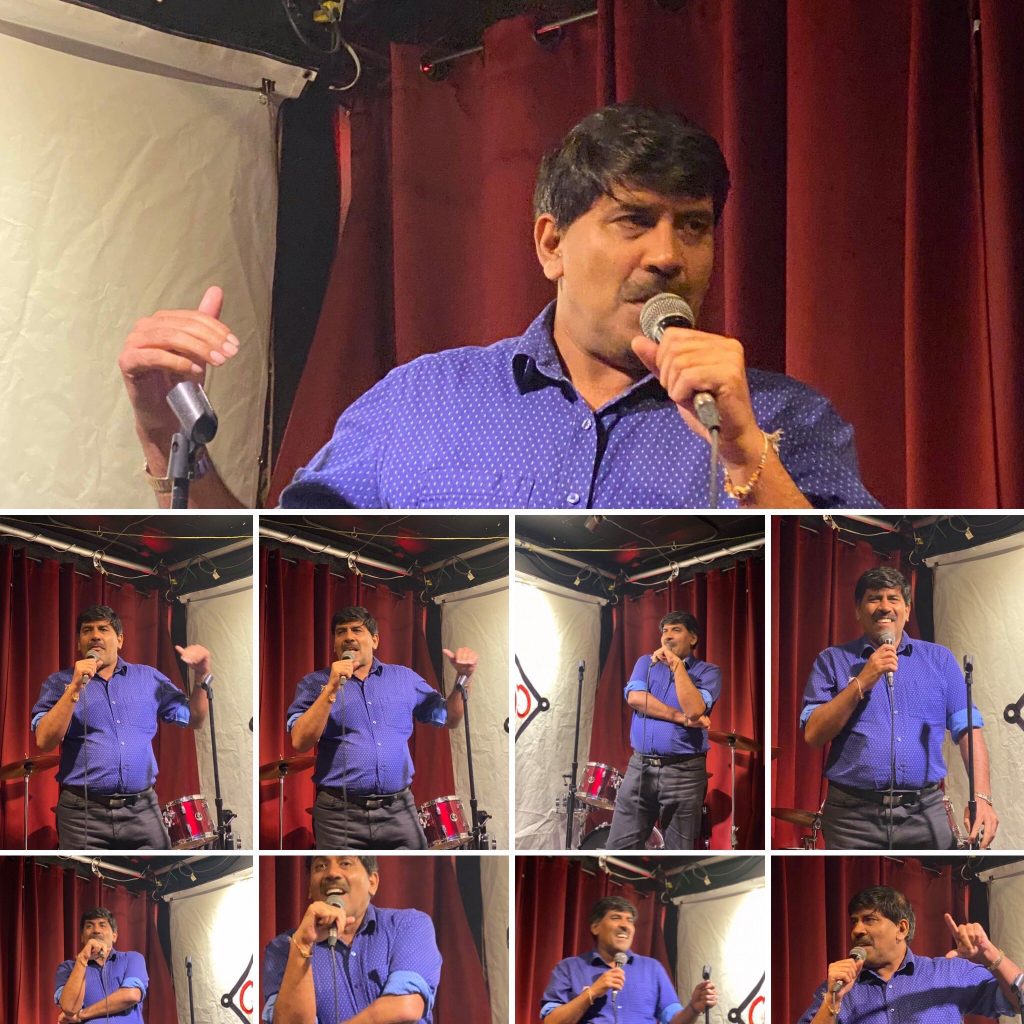 It was 2017 and he had recently finished writing, directing, and producing his play A Full House, which focused on four characters who had experienced terrorism.
"A Full House was based on the experience of terrorism, and I lived through times of terrorism in the 1980s in the Punjab. After the darkness of the experience of writing and presenting that play, I thought I needed to do something lighter. I turned to comedy."
But he didn't just leap onto the stage with no preparation.
"Being an academic, I decided to research the methodology of stand-up comedy. I found that almost all 'ethnic' comedy comes across as defensive and apologetic. It assumes that this is a white person's country and that we are intruding, and for doing so, we offer you something to laugh about based on our culture."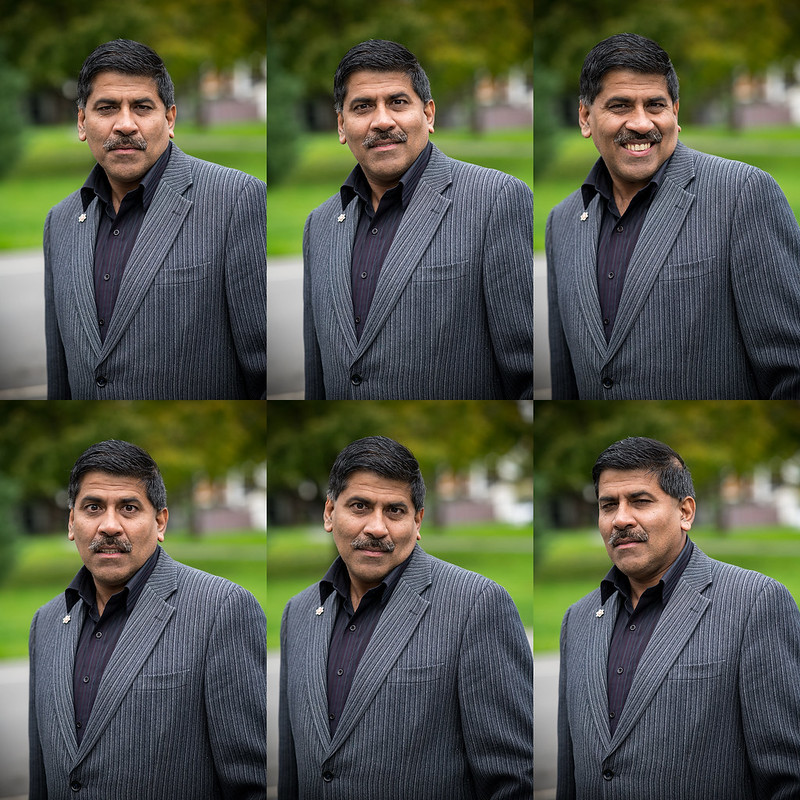 He decided to turn that on its head.
"I came to Canada in 2009 in the skilled worker category, so my comedy subverts the stereotype of the poor uneducated immigrant. I go on stage with a persona of 'I'm better than you.' I tease the audience that I am a brown guy from India teaching university English to white Canadian students. I encourage them to laugh with me, not at me.
"I tell them that they might find the Indian accent something to joke about, but that there actually is no one Indian accent. Then I sing Pretty Woman with the accent of some of the 22 languages spoken in India.
"There's a stereotype that Indians are cheap, so I subvert that by creating a rich guy persona, based somewhat on my own life but greatly exaggerated, and ask the audience if they've ever been to an Indian wedding, some of which cost more than a condo in Vancouver.
"I am not apologetic for being an educated, professional, immigrant."
His biggest challenge? Not having suffered enough in what he admits is a life of privilege.
"Comedians find their material from pain, but I have not had a difficult life. I got a good education in India that was almost free, and I grew up in comfort."
Dhawan has taken some big risks in his life in pursuit of his dreams.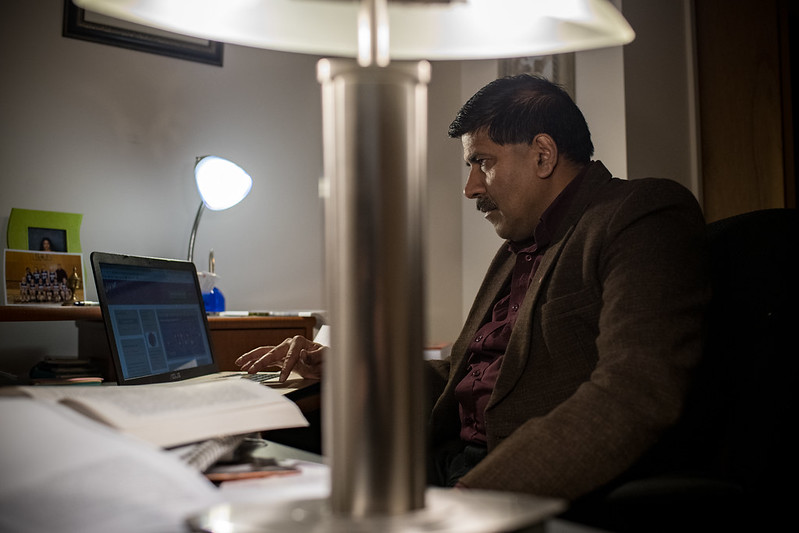 At age 26, he was a newly qualified doctor of Ayurveda medicine.
"I was a poster-boy for being a dutiful son, but I hated that life. I knew that literature was my calling, so I enrolled in an MA program, became a college instructor, and eventually got my PhD."
It wasn't a total stretch.
"I was always tops in English at school, and my dad was a professor of literature but more on the poetry side. I was always a drama guy."
He tried his hand at writing for TV in India, and spent some time writing for a major network show, but decided that the busy city life in Mumbai was not good for him and his family.
And then, another big risk, moving to Canada with his wife and daughter in his late 30s.
"We immigrated almost a whim. A friend had opened an immigration consultancy and needed some educated clients, so I was his poster boy.
"I thought I might as well give it a try, see if Canada wants me. It turns out Canada wants me more than India does! I have felt very welcome since beginning to work at UFV."
While teaching English, he tried to keep active in applied activities such as writing and producing plays, partly so that he could provide advice based on experience for his students, but also because he had ideas to express.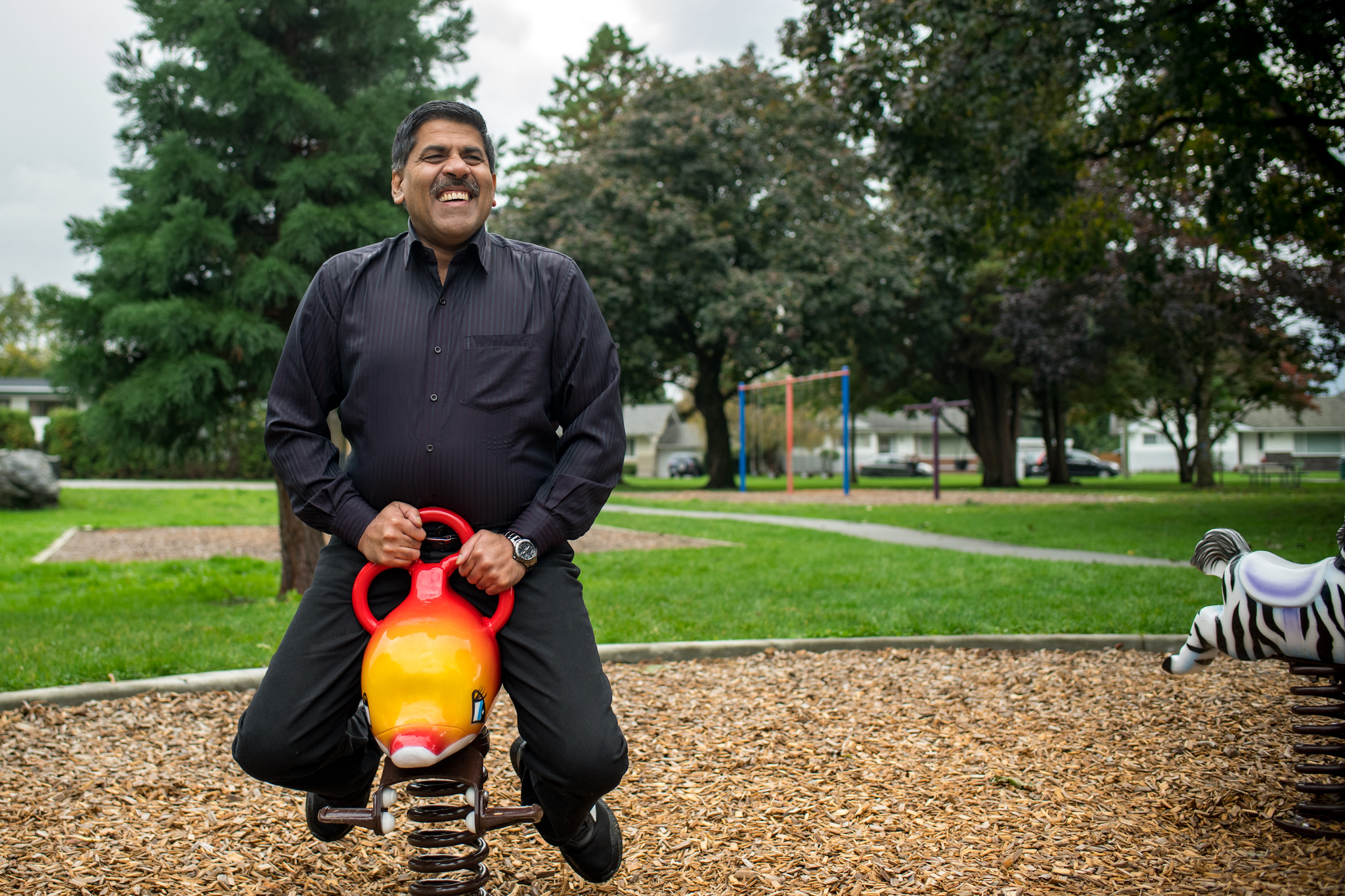 He notes that humour has been medicine for him.
"I grew up in Amritsar, India, amidst a lot of violence. To deal with the stress, we would make jokes. I think that's why we don't suffer from PTSD much. The twin cities of Lahore, Pakistan and Amritsar, India have a strong history of comedy. It may seem offensive, but there is a tradition of leg-pulling and one-liners.
"There is comedy in the air where I grew up. I am a Hindu who was educated by Christians, who married a Sikh, and learned comedy from the Muslims."
For the past decade he and his family have lived in Chilliwack, a city not known for having a significant South Asian population.
Soon after his arrival, he began to follow the work of Canada's Truth and Reconciliation Commission.
"I feel at home here because of the TRC. I quickly came to realize that with the exception of Indigenous people, we are all immigrants. A woman in Tim Horton's asked me where I was from, and after a brief conversation she said, 'we are a very welcoming people here.' And I challenged her assumptions by answering, 'yes, WE are.'"