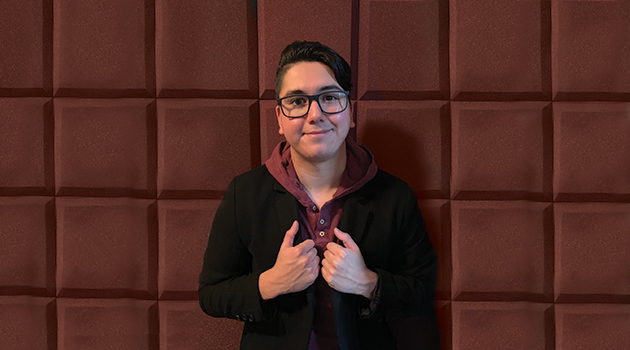 Aaron Pete (BA Crim '17) is the personification of the saying "it takes a village to raise a child."
He grew up along the corridor of downtown Chilliwack's Wellington Avenue, the only child of a single mother with a disability.
As he made his way to and from Central Elementary each day, he did so under the watchful eyes of the owners of the coffee bar, the café, the bookstore, the gift shop, and the bowling alley. They all knew him by name.
He and his mother both attended programming at the local Family Place, including some family literacy programs sponsored by UFV, and he opened his first bank account at the local credit union.
Special support and programs through his elementary, middle, and high school years helped him to succeed and to understand more about his Indigenous heritage.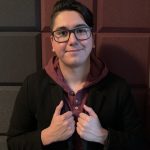 Along the way, he and his mother reconnected with their Indigenous community of Chawathil First Nation (near Hope, B.C.), a connection that had been weakened when his mother was placed into foster care as an infant.
All these supporters created a circle of support for Aaron.
When he enrolled in first-year classes at the University of the Fraser Valley and decided on his major, that circle of support grew to include the School of Criminology and Criminal Justice, where he found inspirational professors and mentors.
Through his practicum placements he got introduced to the workings of the legal system, and gained employment as a Native Courtworker for the Native Courtworkers and Counselling Association of BC.
And after working for a year after earning his BA in Criminal Justice in 2017, these supporters all cheered from the sidelines as he entered law school at the University of British Columbia.
Now in his second year in the Allard School of Law at UBC, Aaron is focusing on his studies, but also on giving back, and continuing his passion for lifelong learning outside of the law curriculum.
His method? Launching his own podcast.
The Bigger Than Me podcast is all about role models. Aaron invites people he's met through his studies, practicums, and work experience, and community members he's admired from afar.
He's the first to admit that there is some self interest in creating his own podcast. It gives him the chance to have lengthy conversations with people he wants to learn from.
"I grew up without a father, and I crave role models. I want to learn from and hear from people whose opinions and intellect I admire."
He's not that enthusiastic about networking at parties and meetings, so it's also a form of career networking for him. He invites guests he's interested in getting to know better.
But he also wants to share their knowledge and ideas with the community at large.
"We need to build up more role models, for our community," he notes. "There are amazing individuals out there, making a real difference! Yet we lack a place where we can hear from them in detail. I define role model as someone who has experienced adversity in their job, personal life, or business. Second, they must want the best for themselves, their family, and their community. Moreover, they must want this today, next year, in 10 years, and for future generations. And I want to be able to have interesting, intellectual conversations about interesting topics. I want to expose my friends, family, and the greater community to those topics."
Several of his guests have been UFV alumni, including Chilliwack city councillor Jason Lum and local Indigenous leader David Jimmie. He's also invited three of his former instructors or professors, Zina Lee, Mark LaLonde, and Jon Heidt, to share their insights.
"My crim professors were incredibly motivating for me. That's why it's been such an honour to invite them to be on my podcast."
And they return the praise.
"The School of Criminology and Criminal Justice is proud of all that Aaron's accomplished so far," says Zina Lee. "Aaron is a role model in his own way: applying what he's learned to do something he loves. He's also a great example of UFV's mission: engaging learners, transforming lives, building community."
Aaron has paused new episodes until the new year while he concentrates on his law studies and finals, and it planning a twist for the next set of episodes.
"I will be inviting some guests whose views differ significantly from my own, because I feel I can learn from them too," he notes.
In addition to his studies and his podcast, Aaron has worked with UFV crim practicum students on a project compiling information about resources and support available in local Indigenous communities for people who find themselves in court. As well, Aaron is currently working with a  local law firm to support Indigenous communities to achieve reliable matrimonial property law.
These days, when he walks down Chilliwack's Wellington Avenue, he thinks about a future that will see him as a lawyer practising his profession at the nearby Chilliwack Courthouse. He still thinks fondly of all who have supported him along the way, and sometimes still sees them on the street.
And he also thinks fondly of his time at UFV.
"I thought law school was out of reach for me, but I found people through my UFV criminology studies who convinced me that it was possible."
He's looking forward to finishing law school, articling as a lawyer, and staying in the Fraser Valley to give back.
"I've learned that I can be part of the solution, and others can be too."
Find the Bigger Than Me podcast at: https://biggerthanmepodcast.buzzsprout.com/.