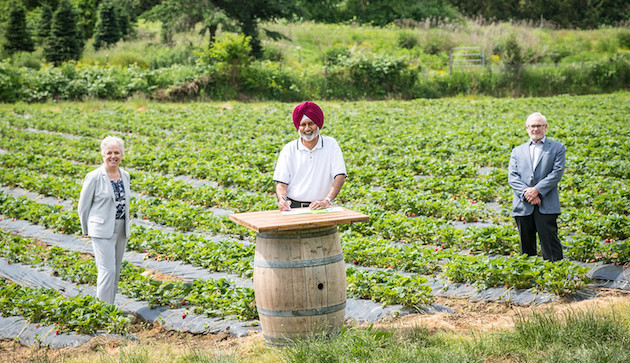 Abbotsford's Dr. Malwinder S. Dhami just can't help himself – he is a self-professed giving addict who likes to help students to further their education. Dhami, a local dentist, just established his eighth endowed leadership award at the University of the Fraser Valley, this time in support of students in Agriculture.
Maan Farms of Abbotsford hosted a signing ceremony for Dr. Dhami, Dr. Joanne MacLean, UFV President and Vice-Chancellor, and John English, Dean, Faculty of Applied and Technical Studies. The Maan family has their own connection to UFV – son Amir graduated in 2016 with a Bachelor of Business Administration, Agriculture Management.
Dhami's other endowed awards support students studying Nursing, Halq'emeylem, Punjabi, Dental Assisting, and Education. They also provide support for students transferring to UFV from Chandigarh, India and for students of any other program at UFV. He has also donated to support UFV programs and initiatives, such as the South Asian Studies Institute, the Theatre department, Athletics, Peace and Conflict Studies, and more. UFV gave Dr. Dhami an honorary degree in 2018 in recognition of his generosity and extensive community work. Dr. MacLean is grateful for community partners like Dr. Dhami.
"Dr. Dhami has made immense contributions to UFV, and continues to generously support our students, our programs, and our community. Because of donors like Dr. Dhami, our students have the support they need to build the future of agriculture. UFV is extremely grateful for his contributions. They help make UFV the exceptional university it is, one where we all work together to engage learners, transform lives, and build community."
Student awards transform lives and in turn, UFV students build our communities. They use these funds to help with expenses including tuition, textbooks, rent, food, and transportation. Donations given for student awards go further than simply providing financial support: they encourage students to believe in themselves and pursue their dreams.
To establish your own named award or to make a donation to an existing student award please visit ufv.ca/giving or contact Natalina MacLeod, Associate Director, Principal & Planned Gifts at natalina.macleod@ufv.ca or 604-557-7618.